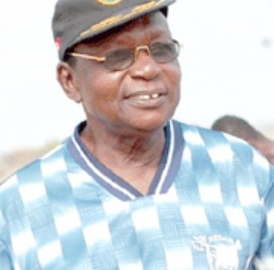 MR. Osam Doudu distinguished himself as a coach and an astute Administrator for Ghana for service to National positions and Club and for Africa at large working as a coach Instructor and also a Consultant of CAF because of his indebt knowledge of football.
He was a General Secretary of the Ghana Football Association. He has contributed in the training of a number of Coaches across Africa as an Instructor of CAF and UEFA/FIFA.
His knowledge was recognized by other African countries for the restructuring of Football especially in Gambia-where he was responsible of qualifying Gambia to a historic African Youth Champions (U17) in 2002 and automatically qualified for World Cup in that particular year.
Mr. Fred Osam will be remembered for his coaching achievement of the various successes of Ghana in Africa (1978 and 1982) with the Black Stars. He will also be remembered as a very successful coach especially at the National teams' level. Coaching all the teams from the Black Stars, Satellites and the Starlets and has participated in various Africa and World Competition.
'OSAM ' as he was called even by his players has nurtured many players and some of his qualities to be remembered is his ability to instil discipline in a team and also players although he has a sense of Humor.
He was a member of the Technical and Development Committee of the GFA. He will be remembered for his contribution in formulation of policies for the development of football.
Mr. Osam was a Friend, Mentor, teacher and a father to the young generation of both gender. He propelled an irony of hope and direction to whoever that met him for his pieces of advice. We did not know he was faring us well. He had a good old friendship group (Mr. E.K Afranie, and Mr. Sam Heman Arday) all of blessed memory.
They showed love, companionship brotherhood, love and tenacity of purpose in their professionalism in the discharge of their duties… He will be remembered with the numerous sense of humor he had with Mr. Afranie (witness account - Afranie asked Mr. Osam to either drop him off or Give him enough money to fare him home- The two continued until Mr. Arday came in to ask Osam to take Afranie home since they two came to the meeting together…This was how humorous he was with his peers and transcended to the younger generation.
What a sad story of a legendary group of great achievers for the tireless and selfless service to mother Ghana and football.
He left a huge legacy for the generations to emulate, Osam as he was affectionately called, we will remember you greatly…
"MAY YOU REST IN THE BLOSSOM PEACEFUL HANDS OF GOD"