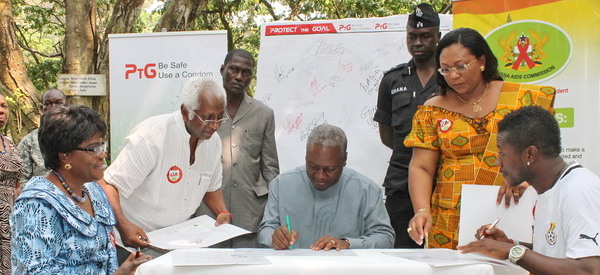 The Ghana Football Association (GFA) has signed up the senior national team the Black Stars to join "Protect the Goal" campaign of the United Nations.
The GFA's plan is to use the UNAIDS campaign as part of the measures to eradicate AIDS in the country.
The Black Stars will be used to record messages directed mainly at the youth to educate them on the dangers of the dangerous disease.
This is part of the GFA's deep social responsibility programmes meant to use football for societal good.
Earlier in January, the President of Ghana, John Mahama attended an event to send off the Ghana Black Stars National Football Team to the Africa Cup of Nations.
During the event, President Mahama signed a pledge supporting the "Protect the Goal" campaign.
The Captain of the Black Stars also signed and read out the pledge.
As part of advocacy activities in the lead-up to the tournament, UNAIDS country offices were able to enlist the support of other national football federations to the Protect the Goal campaign.
During the Africa Cup of Nations, UNAIDS is partnered with the Ghana Football Association to implement the "Protect the Goal" initiative.
During the campaign, UNAIDS and the Black Stars disseminated HIV prevention messages on large electronic screens to football fans in all stadiums where the Africa Cup of Nations football games are taking place.
The captain of the Black Stars Asamoah Gyan read a statement calling on players, football fans and young people to support the campaign.
The "Protect the Goal" campaign will continued until the 2014 FIFA World Cup in Brazil.
"Football appeals so much to young people and I am thrilled to have such a groundswell of support from the stars of African soccer," said UNAIDS Executive Director, Michel Sidibé.
"I know this is just the start of an astonishing campaign which will generate much enthusiasm among fans all the way to Brazil 2014."
Video: Watch the Black Stars Protect the Goal campaign video