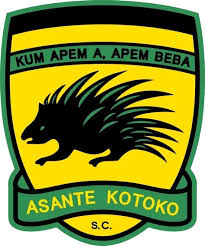 Kumasi Asante Kotoko was formulated by 13 young men led by a young driver, Kwasi Kuma ably assisted by his close friend Lawrence Yaw Asamoah, an electrician. In early 1924 Kwasi was thrilled in a game he watched in Accra between Accra Standfast and Accra Hearts of Oak and envisage his own team. In 1924 Kwesi and Asamoah formed Kumasi Rainbow
Two years later the name was changed to Ashanti United after the leaders had succeeded in recruiting a number of young promising students from ECM (Anglican) and AME Zion Government Schools all in Kumasi.
In 1931 it was decided once more to change the name of Ashanti United to Kumasi Titanics. The story goes that Titanics did not find enough luck in their new name and in 1934 they adopted a more powerful name- Mighty Atoms.
Still the club did not see enough progress and in 1935 Mr. James Frimpong, suggested a change of name from Atoms to Asante Kotoko. This was after he had obtained special permission from the Asantehene Nana Sir Osei Agyeman Prempeh II.
The club was officially inaugurated on August 31, 1935 before a great assembly of chiefs and people from all walks of life. The Asantehene and the Atipinhene were elected as patrons of the club. Baba Yara Sports Stadium (Kumasi Sports Stadium) is the home venue of Kotoko
HONOURS
National Titles Ghana Premier League: 23 Titles 1959, 1963-64, 1964-65, 1967, 1968, 1969, 1972, 1975, 1980, 1981, 1982, 1983, 1986, 1987, 1988-89, 1990-91, 1991-92, 1992-93, 2003, 2005, 2007-08,
FA Cup: 8 trophies 1958, 1959, 1960, 1978, 1984, 1997-98, 2001, 2014 2012, 2013 Ghana Super Cup: 2 trophies
Ghana SWAG Cup: 12 Titles 1981, 1988, 1989, 1990, 1991, 1992, 1993, 1998, 2001, 2003, 2005, 2008
Ghana Telecom Gala: 3 times Champions 1999-00, 2001, 2005
GHALCA Top Four/Top Four Cup: 3 2003, 2007 and 2016
Ghana Annual Republic Day Cup: 3 2004, 2005, 2008
International Titles 1970, 1983 African Cup of Champions Clubs & CAF Champions League: 2 Champion