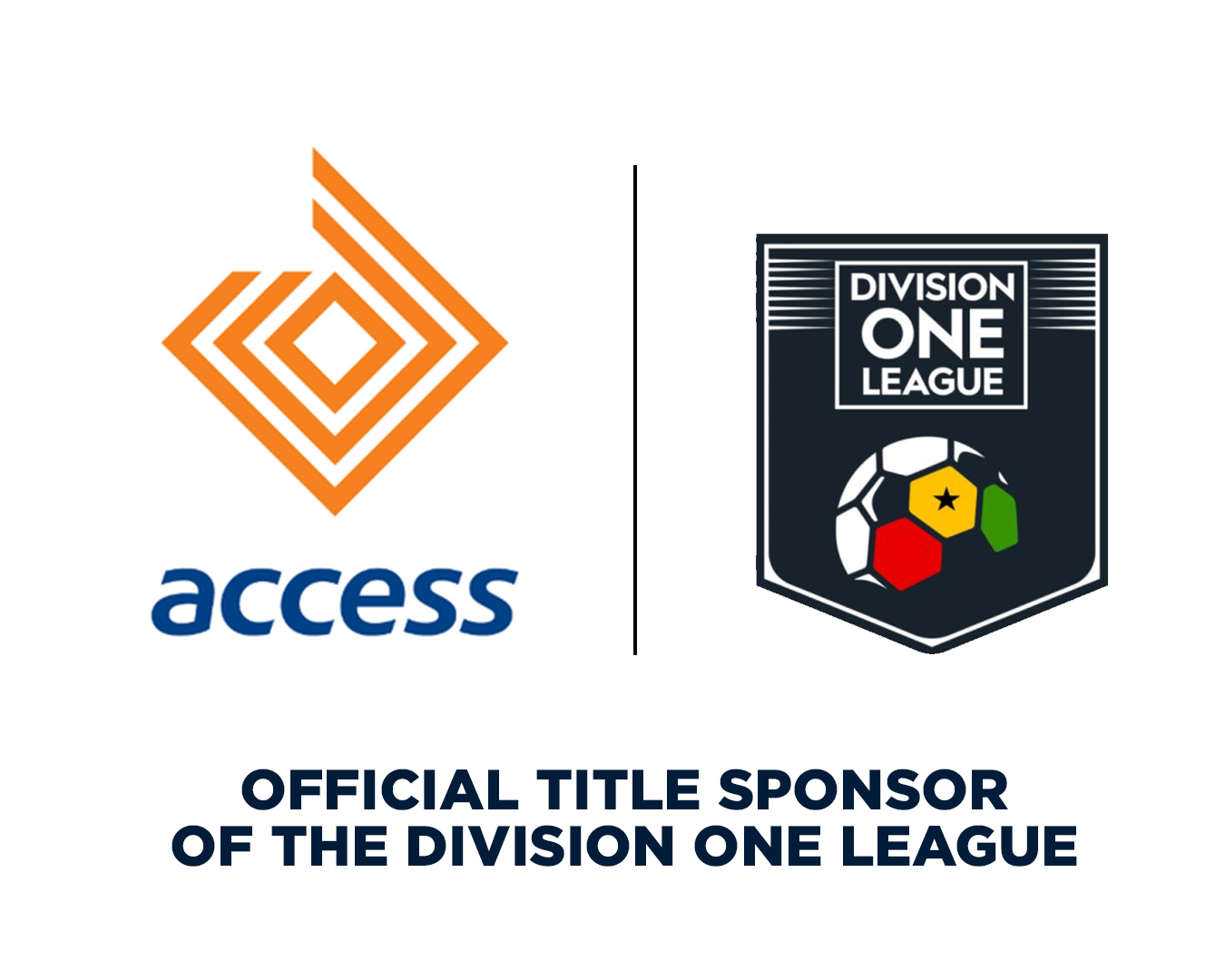 The 2022/23 Access Bank Division One League (AB DOL) will officially commence this weekend across the respective match venues across the country.
Games are expected to be played from Friday, September 30 through to Monday October 3, 2022.
Following a decision by the Executive Council of the GFA, Zone 1 has been divided into A & B.
The Referee's Committee of the GFA has announced Match Officials for Match week 1 of the new season.
Below are the Match Officials for Match week 1:
No. 
REFEREES, VENUES &OTHER OFFICIALS
 
 

ZONE 1B

DATE: SATURDAY, OCTOBER 1, 2022

MATCH: BOFOAKWA VS BAFFOUR SOCCER ACADEMY – LIVE ON GFA APP

VENUE: SUNYANI CORONATION PARK

REFEREE: DAVID ADANNEY

ASSISTANTS: PATRICIA KYERAA & KOFI KODIO MATTHIAS

4TH REFEREE: SAMUEL YEBOAH

MATCH COMMISSIONER: RICHARD GYABAAH YEBOUR

VENUE MEDIA OFFICER: THOMAS OPOKU

GFA CAMERAMAN: EMMANUEL LARTEY

DATE: MONDAY, OCTOBER 3, 2022

MATCH: UNITY VS YOUNG APOSTLES

VENUE: NANA FOSU GYEABOUR PARK

REFEREE: OLIVER TETTEH

ASSISTANTS: ABRAHAM NDEEGO & PAUL ADUKO

4TH REFEREE:  MAURICE ANANKANI

MATCH COMMISSIONER: ABUBAKAR ABDUL GANIYU

VENUE MEDIA OFFICER: PRINCE AGYEMANG

GFA CAMERAMAN: ERIC ASOMA

DATE: SUNDAY, OCTOBER 2, 2022

MATCH: BA UNITED VS NKORANZA WARRIORS – LIVE ON GFA APP

VENUE: SUNYANI CORONATION PARK

REFEREE: SULEMANA LATIF

ASSISTANTS: MOHAMMED ALHASSAN & MOHAMMED MOHAMMED

4TH REFEREE:  BARIKISU SALIFU

MATCH COMMISSIONER: KWASI ASANTE

VENUE MEDIA OFFICER: THOMAS OPOKU

GFA CAMERAMAN: EMMANUEL LARTEY

DATE: SUNDAY, OCTOBER 2, 2022

MATCH: BREKUM ARSENALS VS MIGHTY ROYALS

VENUE: GOLDEN CITY PARK

REFEREE: SINTUO ALHASSAN TONSUGLO

ASSISTANTS: FORKUO ALIDU M. & ISSAH MUMUNI BAGURICHER

4TH REFEREE:  NIATRI SINTUO AZIZ

MATCH COMMISSIONER: ALHASSAN ALIDU ALHASSAN

VENUE MEDIA OFFICER: STEPHEN KYEI

GFA CAMERAMAN: REINDORF OPOKU

ZONE 1A

DATE: SUNDAY, OCTOBER 2, 2022

MATCH: MAANA FC VS KUMBONG BINBIEM

VENUE: MALIK JABIR STADIUM, WA

REFEREE: MOHAMMED ZAKARIA

ASSISTANTS: SULEMANA MOHAMMED & SAMUEL KUSI ANTWI

4TH REFEREE:  ENOCH DIAWUO

MATCH COMMISSIONER: ABUBAKAR KASSIM

VENUE MEDIA OFFICER: ISMAIL SANNI

GFA CAMERAMAN: ABDUL SAMED

DATE: SATURDAY, OCTOBER 1, 2022

MATCH: STEADFAST VS WA SUNTAA

VENUE: ALIU MAHAMA STADIUM

REFEREE: NATHAN ANAFO

ASSISTANTS: GEORGE A. AKISIBOKA & KWOSE BONIFACE

4TH REFEREE:  NAOH JOSHUA

MATCH COMMISSIONER: EDWARD AYAARNA

VENUE MEDIA OFFICER: SEY MUBARIK

GFA CAMERAMAN: JESSIE ATTA

DATE: SUNDAY, OCTOBER 2, 2022

MATCH: WA YASSIN VS KASENA NAN-KANA UTD

VENUE: OHENE AMEYAW STADIUM

REFEREE: JOHN KOOMSON

ASSISTANTS: JONES A. BOATENG & ABDUL RAHMAN ABUGBILLA

4TH REFEREE:  ALI ASANTE

MATCH COMMISSIONER: MUMUNI ISSAKA

VENUE MEDIA OFFICER: OSMAN FAISAL

GFA CAMERAMAN: LORD YEBOAH

DATE:  SUNDAY, OCTOBER 2, 2022

MATCH: DEBIBI VS ELEVEN WONDERS

VENUE: DEBIBI PRESBY PARK

REFEREE: AMADU IBRAHIM

ASSISTANTS: IDDRISU ISSAHAKU 7 IDDRISU IS-HAQ

4TH REFEREE:  SEILA MAHAMMA

MATCH COMMISSIONER: EDWARD AMONO MONEY

VENUE MEDIA OFFICER: EMMANUEL ANAFO

GFA CAMERAMAN: KWAKU KWANING

ZONE 2
DATE: SUNDAY, OCTOBER 2, 2022

MATCH: ASEKEM FC VS PACIFIC HEROES

VENUE: BEPOSO MINI STADIUM

REFEREE: EMMANUEL ODOOM

ASSISTANTS: SEIDU ABDULAI & MUSAH M. BASHIRU

4TH REFEREE: ERIC OSAFO ASAMOAH

MATCH COMMISSIONER: ABUBAKARI MUSTAPHA

VENUE MEDIA OFFICER:

GFA CAMERAMAN: JAMES ATTOBRAH

DATE: SUNDAY, OCTOBER 2, 2022

MATCH: ELMINA SHARKS VS NZEMA KOTOKO

VENUE: NDUOM SPORTS STADIUM

REFEREE: EMMANUEL GRAHAM

ASSISTANTS: ISAAC DUODU & AUGUSTINE AFFUL

4TH REFEREE:  ISAAC BROBBEY

MATCH COMMISSIONER: SAMUEL BAAH

VENUE MEDIA OFFICER: JONATHAN NELSON ACKON

GFA CAMERAMAN: ISHMAEL ODARTEY MILLS

DATE: SUNDAY, OCTOBER 2, 2022

MATCH: SEFWI ALL STARS VS ASOKWA DEPORTIVO

VENUE: BIBIANI DUNS PARK

REFEREE: JIBRAEL SULEMAN

ASSISTANTS: MARY TEI VS AGBESHIE ADAMS

4TH REFEREE:  JOSHUA LAKONNAM

MATCH COMMISSIONER: JOSEPH BUCKMAN

VENUE MEDIA OFFICER: SETH ADJEI

GFA CAMERAMAN: ISAAC NYARKO

DATE: SUNDAY, OCTOBER 2, 2022

MATCH: NATIONS FC VS ALL BLACKS

VENUE: KWAME KYEI SPORTS COMPLEX

REFEREE: ERIC KORNIE

ASSISTANTS: JAMES AINOOSON & EMMANNUEL ASUMANG ARTHUR

4TH REFEREE:  BISMARK ASANTE

MATCH COMMISSIONER: FRANK NIMAKO

VENUE MEDIA OFFICER: ABDUL JALIL-AHMED

GFA CAMERAMAN: MARK SASU

DATE: SATURDAY, OCTOBER 1, 2022

MATCH: KENPONG FC VS SOCCER INTELLECTUALS – LIVE ON GFA APP

VENUE: GOMOA FETEH PARK

REFEREE: JAMES TAYLOR

ASSISTANTS: BLESS AWADZI 7 DIVINE GBOLOMOR

4TH REFEREE:  FRANCIS ANKRAH

MATCH COMMISSIONER: OSEI KWADWO

VENUE MEDIA OFFICER: SHAIBU ISSAKA

GFA CAMERAMAN: EMMANUEL KPAB

DATE: SUNDAY, OCTOBER 2, 2022

MATCH: FUTURE STARS VS WAFA

VENUE: EJISU OKESE PARK

REFEREE: UMAR ABUBAKARI SADIQ

ASSISTANTS: MICHAEL LAMME & PATRICK APPIAH KODUA

4TH REFEREE:  GILBERT AMOAH AYARIGA

MATCH COMMISSIONER: THOMAS AGGREY

VENUE MEDIA OFFICER:

GFA CAMERAMAN: ISAAC ARYEE

DATE: MONDAY, OCTOBER 3, 2022

MATCH: SKKY FC VS EBUSUA DWARFS

VENUE: NDUOM SPORTS COMPLEX

REFEREE: DANIEL OTENG APPIAH

ASSISTANTS: JOSHUA ANANI & PETER PATRICK OSEI

4TH REFEREE:  RICHMOND ADJEI

MATCH COMMISSIONER: EMMANUEL TWUMASI

VENUE MEDIA OFFICER: HADI MOHAMMED

GFA CAMERAMAN: ISHMAEL ODARTEY MILLS

DATE: SUNDAY, OCTOBER 2, 2022

MATCH: HOLY STARS VS NEW EDUBIASE

VENUE: CAM PARK, AIYINASE

REFEREE: COURAGE AMPOFO

ASSISTANTS: BONOMIA TORDIA BASHIRU & JOHN ANSAH

4TH REFEREE:  BRIGHT AMEDONU

MATCH COMMISSIONER: DAWSON AMOAH

VENUE MEDIA OFFICER: STEPHEN APAKA QUAICOE

GFA CAMERAMAN: BEN ENYINDA

ZONE 3

DATE: SUNDAY, OCTOBER 2, 2022

MATCH: KRYSTAL PALACE VS SUSUBIRIBI –LIVE ON GFA APP

VENUE: AKOTEX PARK, AKOSOMBO

REFEREE: DANIEL BOATENG ATUOBI

ASSISTANTS: MOSES AMEGBETOR & SAMUEL DAVOR

4TH REFEREE:  JOYCE O. APPIAH

MATCH COMMISSIONER: OWARE DENNIS AMPAW

VENUE MEDIA OFFICER: DAVIS NII ATTUQUAYE CLOTTEY

GFA CAMERAMAN: FELIX ANYANE

DATE: FRIDAY, SEPTEMBER 30, 2022

MATCH: ATTRAM DE VISSER VS AS RENCES FC

VENUE: TEMA SPORTS STADIUM

REFEREE: PROSPER ACQUAH

ASSISTANTS: JOHN ANSAH & EMMANUEL AKANDEE

4TH REFEREE:  FEDINAND NYANNYI

MATCH COMMISSIONER: SAMUEL ANNOR

VENUE MEDIA OFFICER: NICHOLAS AKUSSAH

GFA CAMERAMAN: DAVID KPELIH

DATE: SATURDAY, OCTOBER 1, 2022

MATCH: VISION FC VS MIGHTY JETS

VENUE: NII ADJEI KRAKU II SPORTS COMPLEX

REFEREE: GIDEON NII COFFIE

ASSISTANTS: JOSEPH LARYEA & NII KPORTI NARTEY

4TH REFEREE:  PETER ANSAH TEYE

MATCH COMMISSIONER: EDMUND OSANQUAYE

VENUE MEDIA OFFICER: PRINCE TAGOE

GFA CAMERAMAN: DAVID KPELIH

DATE: MONDAY, OCTOBER 3, 2022

MATCH: NANIA FC VS HEARTS OF LIONS – LIVE ON GFA APP

VENUE: TEMA SPORTS COMPLEX

REFEREE: DANIEL OPPONG AMOAH

ASSISTANTS: FESTUS N. NBANGNAN & FELIX APULA

4TH REFEREE:  JOSEPH PIMPONG

MATCH COMMISSIONER: K. MENSAH BEDIAKO

VENUE MEDIA OFFICER: GABRIEL OBU

GFA CAMERAMAN: EMMANUEL OSEI

DATE: SATURDAY, OCTOBER 1, 2022

MATCH: GOLDEN KICKS VS LIBERTY PROFESSIONALS – LIVE ON GFA APP

VENUE: TEMA SPORTS STADIUM

REFEREE: ALPHONSO ATIAPA

ASSISTANTS: PAUL ADEYEGBE & DANIEL CONNEY

4TH REFEREE:  EMMANULE BAAH

MATCH COMMISSIONER: FRANCIS ABEEKO DONKOR

VENUE MEDIA OFFICER: STEPHEN ABOAGYE

GFA CAMERAMAN: SOLOMON POAKWA

DATE: SUNDAY, OCTOBER 2, 2022

MATCH: VOLTA RANGERS VS AKATSI ALL STARS

VENUE: HO SPORTS STADIUM

REFEREE: S.K. MAWULI KLU

ASSISTANTS: WISDOM TETE & ERNEST AKATEY

4TH REFEREE:  JOSEPH OSAFO

MATCH COMMISSIONER: KUEDUFIA FAMOUS

VENUE MEDIA OFFICER: DZIDODO RUBEN ADJAHOE

GFA CAMERAMAN: RICHMOND OBENG

DATE: SUNDAY, OCTOBER 2, 2022

MATCH: TEMA YOUTH VS NA GOD FC

VENUE: TEMA SPORTS STADIUM

REFEREE: BRIGHT APEAMENYO

ASSISTANTS: BLESS KLU & BABAVI NGORLI ESO

4TH REFEREE:  CALEB ABOTSI

MATCH COMMISSIONER: SOWAH GHARTEY

VENUE MEDIA OFFICER: GABRIEL OBU

GFA CAMERAMAN: EMMANUEL OSEI

DATE: SUNDAY, OCTOBER 2, 2022

MATCH: UNCLE T VS KOFORIDUA SEMPER

VENUE: FRED CRENTSIL PARK, PRAMPRAM

REFEREE: KWADWO APPIAH NYARKO

ASSISTANTS: KWADWO ATETORGBOR & ABDUL ADAMS SAMAD

4TH REFEREE:  HANS MENSAH

MATCH COMMISSIONER: CAESAR-HEH FRANKLIN

VENUE MEDIA OFFICER: STEPHEN ABOAGYE

GFA CAMERAMAN: ISAAC ARYEE
GFA COMMUNICATIONS