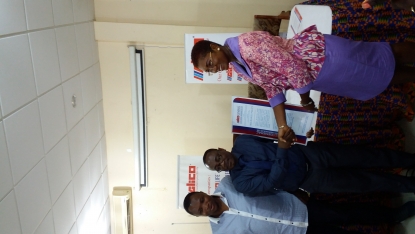 GLICO GROUP, one of the leading insurance companies in the country, has presented an insurance cover to the tune of GH¢500,000 to the senior national soccer team, the Blacks Stars.
The insurance is to help the team to excel in their remaining 2017 African Cup of Nations qualifiers.
GLICO is also motivating the team with an amount of GH 20, 000.00 for Sunday's qualifying match against Mauritius in Port Louis.
According to Nana Efua Rockson, the team will receive GH 7,500 for each of the two remaining last qualifiers against Mauritius and Rwanda.
"We decided to present the team with this insurance cover because we want to see the team win all of their qualifiers and AFCON as a whole," Ms Rockson noted.
Acting General Secretary of the GFA, Isaac Addo who received the cheque said he would move to formalize an agreement between both the GFA and Glico so as to make the latter the insurance sponsors of the Black Stars.
He stressed that the insurance cover will motivate the team to give off their best knowing they are covered and assured Glico of a victory come Sunday against the Mauritius.
The Black Stars who are expected to leave Accra on Friday, are leading Group H with 10 points and a point in Mauritius will seal their place at next year's AFCON in Gabon.