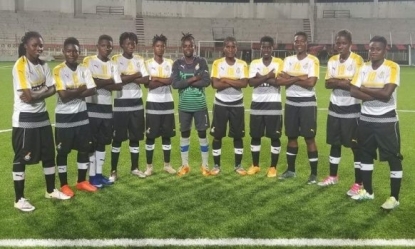 The first Lady of Ghana, Mrs Rebecca Akufo Addo has urged Ghanaians to throng the Cape Coast Stadium for the crucial World Cup qualifier between Ghana's Black Princesses and their Cameroonian counterparts.
The national U20 female team is aiming to snatch one of CAF's two slots in this year's FIFA U20 Women's World Cup to be hosted in France in August.
Ghana drew 1-1 in a fiercely fought first leg tie and with the second leg set to come on on Saturday afternoon, the First Lady of the Republic has rallied support for the team as well as their junior counterparts, the Black Maidens.
The junior female team will also face their final World Cup hurdle on February 2 and they travel to Djibouti for their last qualifying match with the return in a fortnight.
In a video message sent to the team ahead of today's game, Mr's Akufo Addo said:
"My Dear Black Princesses playing Cameroon on Saturday and the Black Maidens playing Djibouti in February. We are proud of what you have achieved so far.
Am solidly behind you and the nation is solidly behind you. So go out there and make Ghana proud. Raise the flag of Ghana high.
Be confident and believe you have already won. I wish you the very best and God bless you I call on All Ghanaians especially our women to go to the Cape Coast Stadium on Saturday January 27 and support our Black Princesses...Go Black Maidens".
The game is expected to kick off at 3pm at the Cape Coast Stadium.