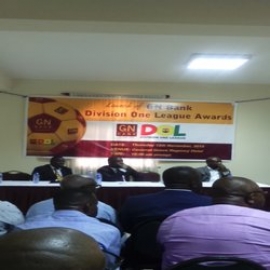 The 2014/15 GN Bank Division One League Awards has been launched at the Coconut Groove Hotel, Accra on Thursday.
The main event which will be the first ever Division One League Awards, will be held on Saturday 12th December, 2015 at the Coconut Groove Hotel in Accra.
Speaking at the launch on Thursday, Division One League Board Chairman Acheampong Owoahene stated that Players and individuals who excelled in the just ended Division One League season will be awarded at the event for their impressive exploits.
"This will ensure that players who have been impressive in the Division One League will also get some recognition", he added.
GFA Executive Committee member, Kweku Eyiah who represented the FA President at the event reiterated how GN Bank (The Peoples Bank) has helped cushion Division One League clubs in the new structure of the second tier league.
Mr. Eyiah further mentioned how players have over the years excelled at the Division One level yet they are not recognized until they move into the Premier League.
"Kofi Owusu who won the Goalking in the just ended Premier League season has been excelling at the Division One level for years but just when he moved into the Premier League he has received recognition for his performance".
"It's for this reason that the GFA is happy that Division One players will now have their own Awards ceremony where they will be recognized and duly awarded", the Exco Member asserted.
Head of Finance and Administration at GN Bank, Mr. Issah Adamu praised the GFA for the just ended Division One League season which he described as the "best organised Division One league" in history.
He pledged the Bank's continuous support for the league in the coming seasons. The DOLB is expected to announce the full list of nominees for the Awards.
Below are the categories for the Awards ceremony: 1. Most Valuable Player of the season
2. Most Promising Player
3. Best Defender of the season
4. Goalking of the season
5. Best Goalkeeper of the season
6. Fairplay Award
7. Best Referee of the season
8. Best Assistant referee of the season
9. Best Match Commissioner
10. Special Award
11. Honorary Award (Prof. Mawusi Dake and Nana Ntiri Denkyi)