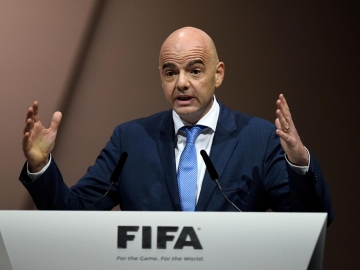 World football governing body, FIFA has congratulated Ghana Premier League champions, Wa All Stars.
In a congratulatory message signed by FIFA President Gianni Infantino, FIFA said Wa All Stars' victory "is a wonderful occasion and an opportunity to draw satisfaction from a job well done".
The FIFA President also described All Stars' success a "true team victory", lauding the efforts of the players, technical team, medical team, management and supporters of the clubs.
Below is the unedited congratulatory letter.
Ghana Football Association
President
Kwesi Nyantakyi
South East Ridge
P. O. Box AN 19338
Accra
Ghana.
Zurich, 20 September 2016
Message of Congratulations to Wa All Stars
Dear President,
Please pass on my own personal congratulations , along with those of the whole football family to Wa All Stars on their performance. A national victory is a wonderful occasion and an opportunity to draw satisfaction from a job well done.
I know that behind this success are the belief and effort of everyone involved. This is a true team victory, and all of you deserve to share in the accolades: the players and coach of course, but also the technical and medical staff and, not least, the loyal fans. The dynamism and commitment of the Wa All Stars team have enabled them to win this title.
Football is proving more than ever that it can transcend traditional boundaries to become a real driver of development. It enables players at all levels to develop their individual skills, tactical understanding and personal dynamism, while strengtheningt team spirit. Football truly is a schoolwork life and I am convinced that everyone , and in particular the young people of today, can be fit from playing football on both a social and personal level. That is why I urge them all in Wa All Stars to continue their work, leading the way on this path of success.
Yours faithfully,
SIGNED
Gianni Infantino