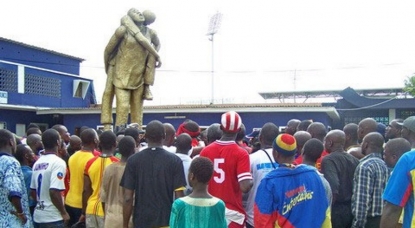 GFA President Kwesi Nyantakyi has said that the tragedy that rocked Ghana football on May 9, 2001, should not only be an occasion to commemorate the departed souls, but an avenue to warn the living when they visit match day centers.
127 football fans in Ghana lost their lives when the two most glamorous clubs in Ghana domestic football history --- Hearts of Oak and Asante Kotoko met at the Accra sports stadium.
The sad day is commemorated every year to wish the dead a peaceful rest in the bossom of their creator.
On the 15th anniversary of the 'black Wednesday', Nyantakyi used the occasion to remind football fans the repercussions that accompany violence at the stadia.
"Any time people gather to commemorate those who departed on May 9 when they came here to support their clubs, it is also an occasion to sound a warning to the living and to also remind ourselves the startling truth and hard lessons that we should learn from whatever disaster that occurred," Mr. Nyantakyi said in his opening address of the event.
"Exactly 15 years ago, more than 125 soccer fans who decided to come to the Accra sports stadium to cheer their teams --- Hearts of Oak and Asante Kotoko perished under very sad circumstances.
"Many of them died after the match and most of them died in circumstances that could have been avoided," he noted.
The CAF Executive Committee member also revealed that the football governing body of the country learnt 'hard' lessons and will always descend heavy on clubs who fail to control their fans.
"The football association have learnt very hard lessons from it. It has influenced regulations and statues of football to the extent that we look very hard at violent conducts at games," he said.