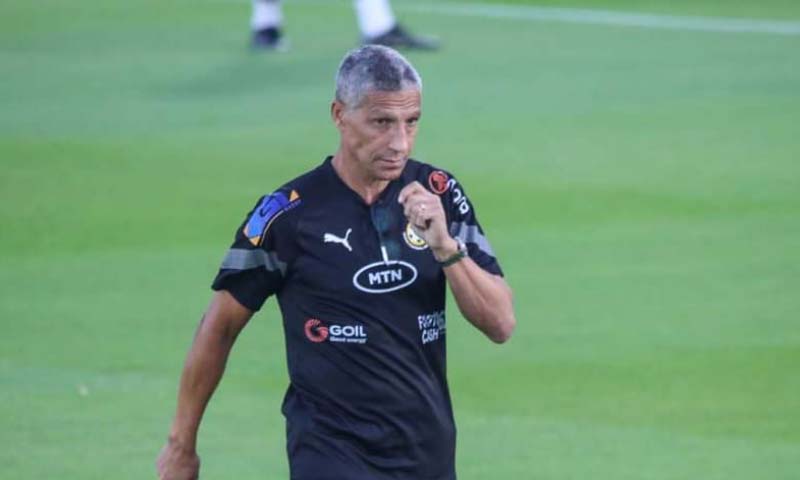 Our head coach Chris Hughton faced the media on Wednesday ahead of the 2023 TotalEnergies Africa Cup of Nations qualifier against Angola on Thursday. The former Brighton and Hove Albion manager touched on the team's preparedness for the clash, the return of Joseph Wollacott, the strength of Angola and the threat they pose, the defensive frailities in recent competitions and many more.
Read on for the full transcript:
On expectations
I have been to Kumasi three times in the last four days so I know the environment as well as I can do. Of course I was involved with the team when we came here for the Nigeria game and I know the difference it made to the team. It's a very passionate support; it's a very vocal support and any team that wants to do well, wants a big crowed behind them and this I am quite sure will happen.  Whatever the numbers are, I know we have a very vocal crowed but I we also know that as players we have the responsibility to return this. And the supporters must enjoy what they see and mostly w cans never guarantee but mostly they want to see a team that is giving everything to get the results.
On conceding easily in recent matches
This is a team tactics. Whenever you play against whatever team you have to analyze the strength of team. If you are conceding goals it makes it more difficult to win football matches. So our responsibility is to get the right balance. Everybody wants to see goals so there will be a percentage of the supporters that want to see more goals and a percentage of the supporters don't want to see you concede more goals so for me it's about getting enough balance to have a team that is a good structured team that defensively is good but to win football matches you need to score and this I am very conscious of.
On absence of Tariq Lamptey
Yes, it's a big miss for us simply because he is only been involved for a short period of time but this is what having a squad is all about because what can happen is you can have players that can get injured two, three weeks before the International call up so you are aware there might be problems and with Tariq we knew that two weeks before that there was potentially going to be a problem. This is about a squad, always there are going to be difficulties, always there is going to be surprises and that can be sometimes two or three days before games, this is where you have to utilize the squad the best way you can and the players the best way you can.
On African football
Apart from being a head coach and assistant coach before that a manager, football is my life so you watch as much football as you can. The continent of Africa is producing so many good players hence the reason why the Africa Cup of Nations has become a bigger part a bigger part in our life. If somebody was born and brought up in England now, the Africa Cup of Nations is shown more regular in England than ever before and that is because of the quality of the teams and the quality of the individuals.
On Wollacott unfortunate injury
Yes, Wollacott is fine. I think he posted anyway. I am not somebody that goes on to social media but I understand the significance of it. But I think there is something that went out but actually wasn't from Wollacott. So he is fine, of course at the time of the concern, very shortly afterwards we determined that he is fine and yes it was a very unfortunate incident.
On Mohammed Salisu
If I look at the squad, the only concern would be about Mohammed Salisu who there has been some concerns about him over the last few weeks. He has had some difficulties, some injury difficulties over the last two week. I know he played last week but his club has used him sparingly because of some of the issues. So this is one that we have to consider so from the squad that we he would be the only doubt that we would have and it's something that we would have to determine and think about today and tomorrow
 On last five coaches failing to win their first games
Yes, it's important we win our first game but also it's not about the head coach. It's about us playing a game against a very good opposition in Angola. It's the points; our aim of course is to qualify for the AFCON and to do well in the AFCON and the only way you can do that is by winning football matches so for me personally, it would be a wonderful thing and of course hugely important to get a win but more importantly for the team. To win this game against a very good opposition in Angola at home with a tough game coming in few days' time is hugely important.
On threat of Angola
I look at my involvement in the team, the squad and association was before I was made head coach so I was aware of course as soon the campaign started and the draw was made that we will play against Angola.  So yes, as each coach will do, I have studied them in their last five, six, seven games. They are technically a very good team and obviously with Portuguese influence and a lot of good technical players so I am in no doubt that they are strong and tough opposition so we have to plan for that as we will do for any opposition. But certainly they have the capabilities and very much aware that they can cause us a lot of problem and we have to be prepared for that.
On the kind of football Ghanaians are to expect from the team
Including today, we have had two days preparation. Some players on Sunday, they arrived on Monday, we trained yesterday and today. The aspects you are looking for is to be tactically good because we are playing against a good technical team. But each coach will tell you the other aspects of the team and that is the emotional ones which is determination, character and will to win, desire and hard work, you know they are elements of the game that come hand in hand with tactics and quality. The best way to get a result in a game is to show the quality that you have, we have already spoken about having to be good defensively, and there is a combination of a lot of things. What you are not able to do in two days is to go over everything that you want so you have to be careful with what you have to do is you have to be clear in your messages; you can't tell the players' too many messages because there is not much time so you have to be clear because mostly you want a team that the supports can look and say this is a team that had really good goal to get the result
On goalkeeping deficiency in recent games 
Our goalkeepers can only be as prepared as anybody else just as the outfield players. You are right in some aspects, the game has changed; goalkeepers are expected to play a bigger part with their feet than may be they used to in the past where goalkeepers tend to kick longer balls, now they are expected to almost, at times be the third central defender. So yes, there are expectations on our goalkeepers but always the most important part of what a goalkeeper has to do is to try not to concede goals, to try to make good saves and try to dominate his penalty area so they are the things that will never change.
On absence of Baba Rahman
It's very easy, Baba Rahman is injured. He is been injured for the past three weeks. If you look at probably the last three week or a month he hasn't played for his club Reading FC.
On who keeps the post now that Joseph Wollacott is back in the team
The answer is, we have a team and a squad that are all working hard for positions and what will happen is that over the period of tonight and tomorrow, I will name my team so at the moment there wouldn't be anybody apart from my close technical staff who will know what the team is.
GFA COMMUNICATIONS