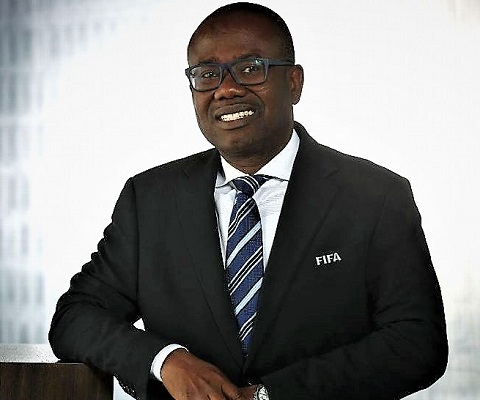 Kwesi Nyantakyi is the President of the Ghana Football Association, 1st Vice President of the Confederation of the African (CAF) and FIFA Council member.
He is also the President of the West Africa Football Union (Zone B) and owner of Ghana Premier League club Wa All Stars.
The banker and lawyer by profession holds an MBA in Strategic Management.
Nyantakyi became the president of the Ghana Football Association on 30 December 2005. He defeated two other candidates, Ade Coker and Kojo Bonsu.
He is regarded as the most successful Ghana Football Association boss since the days of Ohene Djan.
Under his presidency, Ghana qualified for the 2006 FIFA World Cup, the first for the country.
Ghana again qualified for the subsequent 2010 FIFA World Cup in South Africa and the 2014 FIFA World Cup in Brazil.
The Ghana U-20 football team also won Africa's first and only U-20 World Cup also during his stewardship in 2009.
Women's football in Ghana has also seen huge successes under Nyantakyi with both the youth sides qualifying for the U17 and U20 World Cups in all editions, thanks to the concept to develop talent from the schools.
The administration of the game has also transformed with proper permanent structures put in place to ensure that the management of the game is professional, resulting in other federations coming to Ghana to learn the style of management and competitions organisation.
President of WAFU
In 2011, when the then West African Football Union president, Amos Adamu, was suspended by FIFA, Kwesi Nyantakyi was given the nod to be the interim president of WAFU until elections were conducted.
He stood unopposed in the November 2013 elections and was re-appointed for another two-year term as president.
International Football Appointments
Nyantakyi has held several international positions in football. The appointments cut across sub regional, regional to the international state. His appointments include:
President of West African Football Union Zone B. Football organiser at the 2012 London Olympics Member of FIFA Associations Committee Member of the FIFA Council Vice President of the Confederation of African Football
Awards
Kwesi Nyantakyi has endeared himself very much to most Ghanaians due to his several achievements as a football administrator.
In 2012, he was named the thirty second most influential Ghanaian.