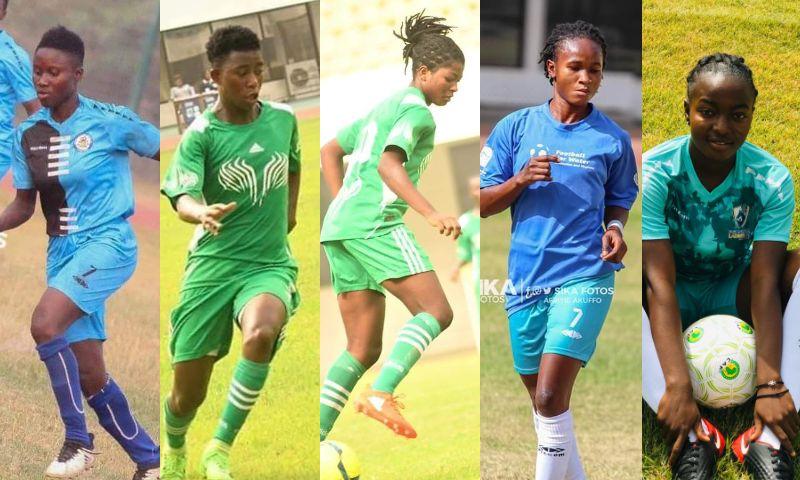 The first round of the Women's Premier League ended a few weeks ago with some entertaining fixtures across the country.
In all, 56 games were played in the Northern and Southern zones with 156 goals produced, averaging a 2.8 goals per match. A total of 3 hat-tricks and 3 hauls were also recorded in the first round of the competition.
Ophelia Serwaa Amponsah, Milot Abena Pokua, Doris Boaduwaa, Rahama Jafar all scored a haul (4 Goals in one match) in different games in the course of the campaign.
A look at the top five scorers in the first round of the 2019/20 Ghana Women's Premier League:
OPHELIA SERWAA AMPONSAH - AMPEM DARKOA LADIES
Ophelia was least expected to fill the void created by Princella Adubea at Ampem Darkoa Ladies FC as her previous season saw her warm the bench mostly due the presence of the latter. That notwithstanding, she got her game on in leaps and bounds with determination that shot up so quickly, netting the first haul (4 goals) of the season on match-day 1, sending an early signal of what she has in store for the season. Again, she recorded a hat-trick on match-day 5, paving the way for a call-up into the national U-17 team, the Black Maidens. Ophelia has been impressive at the international level, bagging 5 goals in the FIFA Women's U-17 World Cup qualifier against Liberia. The most fascinating thing about Ophelia is the accuracy with her finishing and her intricate link-up play.
MILOT ABENA POKUA - HASAACAS LADIES
Milot Abena Pokua has been overly prolific this term - a wonderful all-round player for Hasaacas Ladies in the first round of the season. This is her second season with Hasaacas Ladies where she started in all seven games. She began on a very quiet note but made a huge leap in subsequent games, netting 10 goals, 10 assists and emerging joint top-scorer with Ophelia Serwaa Amponsah. Her performance earned her a call-up to the national U-20 team, the Black Princesses where she scored a goal during the International Women's day friendly in Morocco. Milot is technically gifted and very strong on the ball, a striker who can drop deep or sprint from behind, extremely well-rounded, and in her element virtually impossible to play against. Undoubtedly, she has been a physical menace for most defense lines in the Southern zone throughout the first round.
DORIS BOADUWAA - HASAACAS LADIES
Some struggle in their debut league season, but a heave of satisfaction is already swarming all over Doris Boaduwaa, who signed on to the green and white folds of Hasaacas Ladies from lower-tier side Nana Afia Kobi Ampem Ladies. The lanky forward has nine goals in seven appearances for the "Doo Ladies", a commendable feat for a first timer in the elite women's league. This performance paved way for her first national call up into the National U20, the Black Princesses and featured in the International Women's day friendly in Morocco. Doris got this X-factor around her and spending a few months with Hasaacas Ladies, the youngster has transformed under Coach Yusif Basigi and is now what some would call 'a goal machine'. Her dexterity and electrifying pace looks to be just the starting point of some wonderful years ahead of her football career.
RAHAMA JAFAR - NORTHERN LADIES
Breaking into a team's set-up is a pretty tricky thing to have ticked off one's career accomplishments list, but that's exactly what Rahama Jafar is doing in her second season of the Ghana Women's Premier League for Northern Ladies. Her versatility on both wings and ability to wriggle away from defenders before firing home resulted in six goals in the Northern zone. Rahama is the glue that holds things together although she doesn't score goals for fun like others, but gets the best out of each and every one of her teammates. An invaluable trait to have. This flourishing strides earned her a call-up to the national U-20 team, the Black Princesses and featured in the International Women's day friendly in Morocco. The young promising winger's dribbling and technical abilities on the ball are highlights of her play and has more up her sleeves in the coming years.
BARIKISU ABDUL-RAHMAN - PEARL PIA LADIES
Undoubtedly an experienced and incredible talent gracing the Ghana Women's Premier League for the fourth continuous season for Pearl Pia Ladies in the Northern Zone. She is one of the most disciplined and reliable players for her side and has played every single 90 minutes for Pearl Pia Ladies in the first round of the season. Rahman keeps getting better and better with each passing game with her pace, a never-say-die attitude and willingness to give 100% each and every time she steps on the pitch. She's an extremely clever player too, able to find space in a crowded centre and knows exactly when to speed the game up or slow it down, thus dictating the pace of games for Pearl Pia Ladies.
GFA COMMUNICATIONS