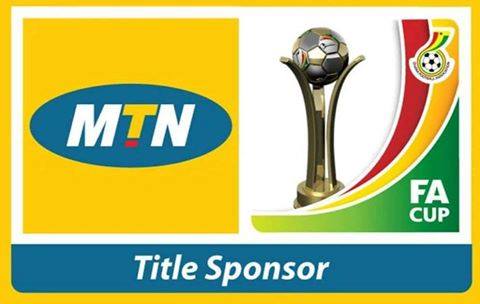 The live draw for the preliminary round of the 2017/18 MTN FA Cup Competition has been held at the launch of this year's competition at the M Plaza hotel in Accra.
The draw saw qualified teams from the various regions paired against each other with the division one clubs also paired against each other.
The 48 Division One Clubs will commence this year's competition with their matches set to  be played on the Friday April 27 - April 29, 2018.
The 48 Division Two clubs will also play from Wednesday May 2-Sunday May 6, 2018.
Below are the pairings for the prelims stage of the competition:
PRELIMINARY ROUND – QUALIFIED REGIONAL REPS
| | | | |
| --- | --- | --- | --- |
| NO | HOME | | AWAY |
| 1. | ROBERTO FC | VS | DREAM CHASERS |
| 2. | NARITA FC | VS | ADIDOME UNITY STARS |
| 3. | HOME STARS FC | VS | LIKPE HEROES |
| 4. | R/STARKE FC | VS | MADINA REPUBLICANS |
| 5. | EMMANUEL FC | VS | REAL ATHLETICO |
| 6. | IMMIGRATION FC | VS | FORTIZO FUTURE PROFESSIONALS |
| 7. | OIL CITY FC | VS | HOLY STARS FC |
| 8. | ENCHI ALL STARS | VS | APREMDO ARSENALS FC |
| 9. | BIS PARADISE FC | VS | ADJOAFUAMAN FC |
| 10. | SUAMPONMAN FC | VS | SWEDRU PROFESSIONALS |
| 11. | UCC YOUNGSTERS FC | VS | SOCCER INTELLECTUALS |
| 12. | WINNEBA UNITED FC | VS | WINDY PROFESSIONALS |
| 14. | FC TAMALE | VS | BOLGA SOCCER MASTERS |
| 15. | TAMALE REPUBLICANS | VS | SANKARA NATIONALS |
| 16. | KINTAMPO TOP TALENT FC | VS | BEREKUM BARCELONA FC |
| 17. | KATO FREEDOM FIGHTERS | VS | KENYASI NEW DREAMS FC |
| 18. | WA YASIN JUNIOR FC | VS | BAMBOI CITY FC |
| 19. | SUPER UPPER STARS FC | VS | JEFFISI UNITED FC |
| 20. | RIVER PLATE ATHLETIC CLUB | VS | KUMAWUMAN UNITED |
| 21. | SUNYANI DC UNITED FC | VS | LISSBERT FC |
| 22. | THUNDERBOLT FC | VS | SHOOTING STARS FC |
| 23. | KOFORIDUA UNITED FC | VS | MEPOM VATENS FC |
| 24. | KWAHU YOUTH ACADEMY FC | VS | BEPONG STORM ACADEMY |
| 25. | ZUARUNGU FC | VS | GUAN UNITED |
PRELIMINARY ROUND - DIVISION ONE
| | | | |
| --- | --- | --- | --- |
| NO | HOME | | AWAY |
| 1 | BEREKUM ARSENALS FC | VS | NKORANZA WARRIORS |
| 2 | NEA SALAMINA FC | VS | YOUNG APOSTLES |
| 3 | BOFOAKWA TANO FC | VS | UNITY FC |
| 4 | BA UNITED FC | VS | KINTAMPO FC |
| 5 | TECHIMAN CITY FC | VS | GLORY STARS |
| 6 | REAL TAMALE UNITED | VS | GBEWAA FC |
| 7 | WA SUNTAA FC | VS | STEADFAST FC |
| 8 | TAMALE CITY FC | VS | PAGA CROCODILE FC |
| 9 | BEKWAI YOUTH FC | VS | NEW EDUBIASE FC |
| 10 | BIBIANI GOLDSTARS | VS | KING FAISAL |
| 11 | ACHIKEN FC | VS | ASOKWA DEPORTIVO |
| 12 | FC SAMARTEX | VS | SEKONDI HASAACAS |
| 13 | SKYY FC | VS | NZEMA KOTOKO FC |
| 14 | KOTOKU ROYALS | VS | OKYEMAN PLANNERS |
| 15 | AGBOZUME WEAVERS | VS | KRYSTAL PALACE |
| 16 | HEART OF LIONS | VS | UNCLE T UNITED |
| 17 | SWEDRU ALL BLACKS | VS | VENOMOUS VIPERS |
| 18 | UNISTAR ACADEMY FC | VS | PACIFIC HEROES |
| 19 | PROUD UNITED FC | VS | STAR MADRID FC |
| 20 | ACCRA LIONS FC | VS | TEMA YOUTH FC |
| 21 | GREAT OLYMPICS FC | VS | VISION FC |
| 22 | AMIDAUS PROFESSIONALS | VS | FC NANIA |
| 23 | ACCRA YOUNG WISE | VS | DANBORT FC |
| 24 | TUDU MIGHTY JETS | VS | SPORTING MIRREN |