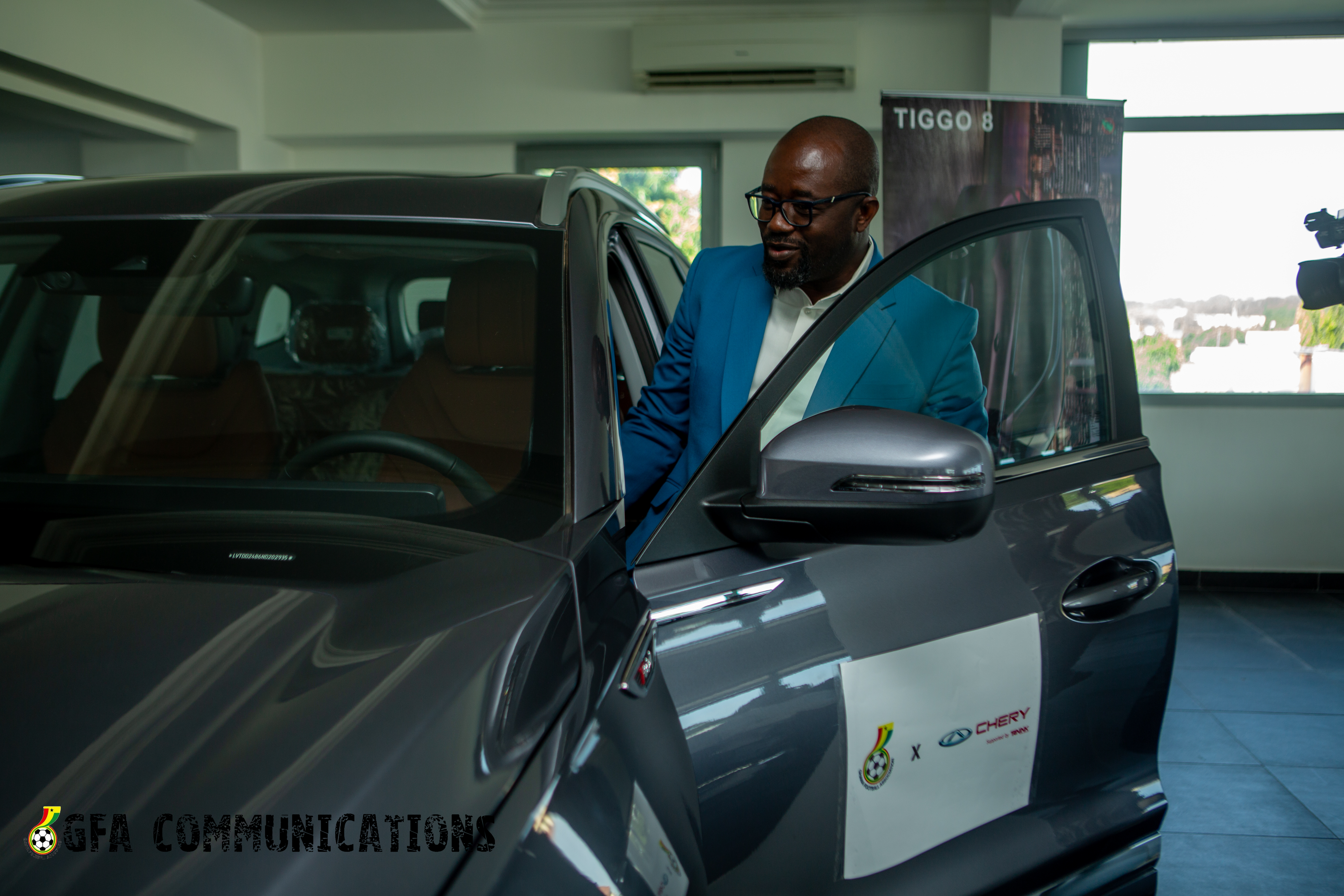 President of the Ghana Football Association Kurt Edwin Simeon-Okraku has mentioned that the three sleek Chery SUV vehicles provided by Tanink Ghana Limited is here to solve the transportation needs of the Association.
He opined that the GFA overtime has ensured that the governance of the sport has improved in leaps and bounds, resulting in the Black Stars qualification to FIFA World Cup Qatar 2022 finals.
He was speaking to the press during the announcement of the partnership between the Ghana Football Association, Tanink Ghana Limited and Chery.
The deal would ensure that Tanink Ghana Limited provide three brand new SUV Chery Vehicles worth $120,000 to the Football Association.
''The GFA obviously is the only authorised entity that supervises the development of football in this country and if it is that today we are in a World Cup mood, it is because the Football Association has overtime been investing in the domestic League and ensuring that our game will be and is on the rise'' he said.
''The FA overtime has ensured that the governance of the sports has improved in leaps and bounds, the results is that Ghana is at the World Cup. Because clearly if we have been very poor, we will not be achieving the kind of results and strides we are making''.
''And we will not be able to attract entities like Tanink Ghana to be supportive of football. Through the hard work of the football Association, our Black Stars have made it to the World Cup''.
''Coming on board means, Tanink Ghana and Chery have identified a need of the Football Association and has provided a solution to the need to ensure that the Black Stars and the GFA are competitive at the World stage''.
''Ghanaians want to see their football thrive and becoming what it is supposed to be. If it comes that there is a need, perhaps that need has been identified by Tanink Ghana and Chery.
''Transportation needs of the Football Association that will ensure that our staff could travel safely and on time to deliver football products to the consuming public is being taken care of by Tanink and Chery'' President Simeon-Okraku added.
Chery develops products according to international standards. Tanink is also exclusive Dealer for Maserati, IDV - Iveco Defence Vehicles, JMC, Dongfeng Commercials, Kubota, Herman Miller and Oppein.
GFA COMMUNICATIONS