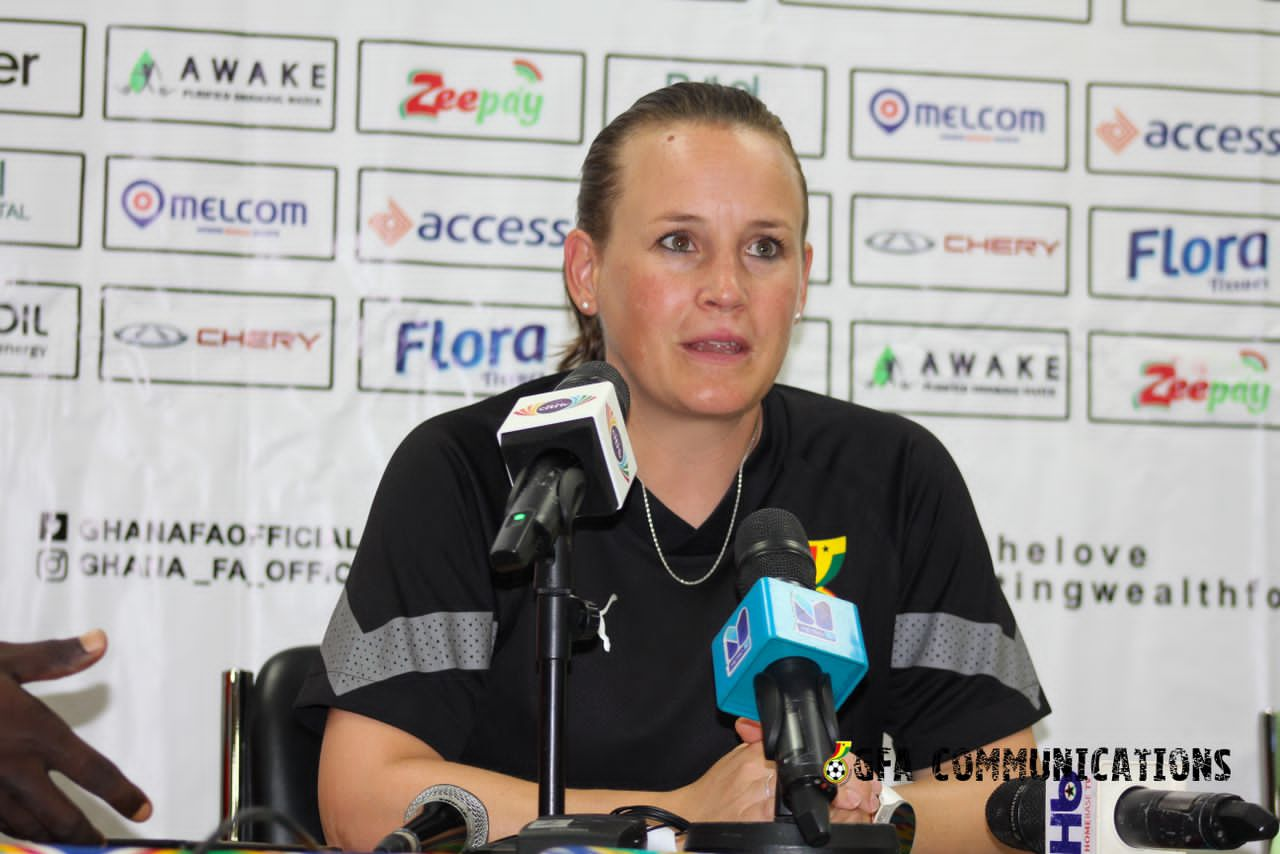 The Black Queens are preparing to take on Guinea in a two-legged tie in their bid to qualify for the next round of the Paris 2024 Olympic qualifiers.
Head coach Nora Häuptle addressed the press on Monday, July 10 at the Media center of the Accra Sports Stadium.
Here is a transcript of the press engagement:
On General preparation
We are very happy and proud to start in the Olympic qualifications. We started our mission voltar and said, we want to turn towards success again. It is a Portuguese world, which means to turn around. So we started the first steps of the mission Volta in February with some international games against Benin. And then in April, two games against Senegal until now we can say we are unbeaten because nobody scored us so the players did a good job.
On Players in Camp
We had a week of pre-camp and training here at the stadium. At moment over 70 players are playing abroad from the Black Queens and we are still partial scouting. So we did a cut down after the first week and had a friendly game against under 15 boys. They were very physical but we put them l in the tactical way like we expect Guinea to play. That was a very good game last Saturday. Now we start fresh and focused with our 20 plus three Keepers towards Guinea.
On possibility of Black Princesses players joining
Yes. I was in Kumasi of course, always scouting and looking out for our top talents in the domestic league. I'm a lot around in the league and have been visited already Tamale ,kumasi ,Takoradi,so I know Ghana pretty well after half a year. I'm very satisfied of course, that we won the WAFU Zone B and the U 20 cup. We had last week four of the players of the squad joining the Black Queens. I'm an educator also and I like to work with young talents and when they continue to work like this, then our future looks bright in Ghana.
On being under pressure to qualify Ghana to the Olympics?
You wanna build some pressure now on me? Laughs -No, look, for me pressure is a privilege because, we put a lot of pressure on us ourselves to deliver. We want to go and qualify for the Olympics. Of course we recognize that our U-23 men could not qualify, which I feel sorry for them. We would take this challenge and uh, face it.
On having right materials to qualify
Yes. When you look the draw, I mean of course you also saw a bit the draw. I think the first steps are very makeable. Somehow we going to face Zambia and Morocco. They are part of the World Cup which is beginning in two weeks. So it will not be an easy route but am pretty convinced with the quality of players we have and a lot of matches, we have the chance to qualify.
Final words
We are trying to create good cohesion in the team but also each individual needs to perform and fulfill the role we demand of them. We ask for absolute support for the team so we can deliver.