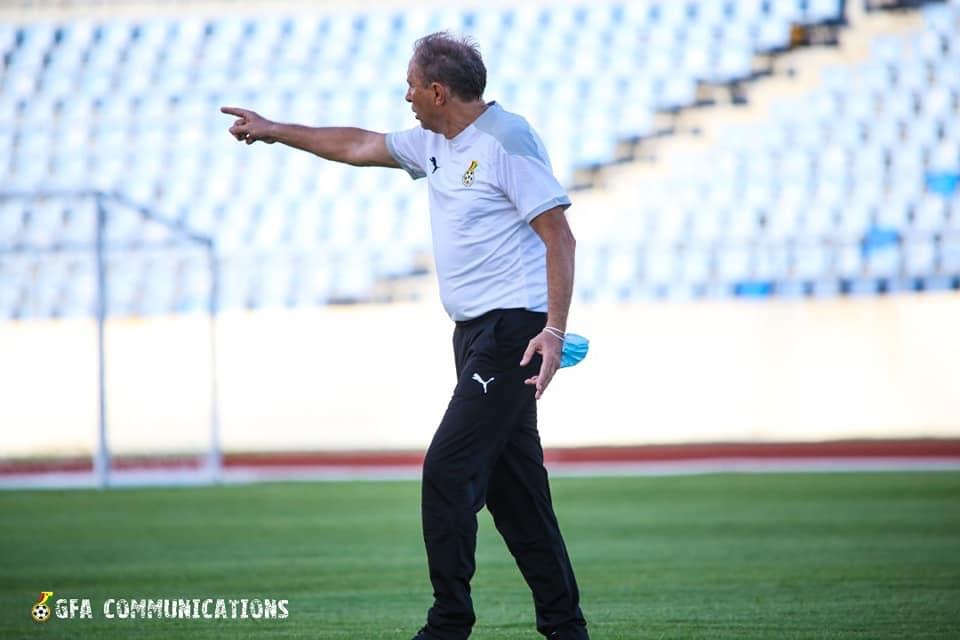 Ghana Coach Milovan Rajevac says his team is growing and will soon show their potential for everybody to see. The 67 year old Serbian said this on Monday, during the pre-match press conference for Ghana's Group C match against Comoros in Garoua.
The Black Stars have yet to win at the on-going Africa Cup of Nations in Cameroon but stand a chance of going through to the round of 16 if they beat Comoros on Tuesday.
Coach Milovan Rajevac also touched on the perceived communication gap with his players, conceding late goals in the tournament and the comparison between this squad and the 2010 AFCON team.
This is what the boss had to say:
On Communication with players being a problem
I don't know where you got this type of idea and you know I picked the team, we were second and we managed to finish the Group stage in first place and I was working here before. Communication has never been a problem. I talk to the players a lot and they understand what we want, we came across some obstacles but we are ready to improve our performance, you know it was a short period of time for all of us so we are the team that is growing so sometimes it takes time and patience but I am sure we will continue in a good period and we have what it takes.
On conceding late goals and not scoring
The biggest obstacle was, we didn't have preparations as planned and we didn't have much time. Of course it's not an excuse, it's a simple fact and we are trying to improve every department of the team. About the goal scoring, we are trying to make things count by scoring more goals, it's something that we are thinking about and trying to solve every day. It's not easy to find another Asamoah Gyan, he was able to score from any position at any time so definitely this team is growing and we are going to sort it out so expect the team to be more efficient in the attack and be more concentrated in the last stage of the match.
On Comparison between this team and 2010 squad
It is difficult to compare situations; this team also has great talents. In the past, in 2009 and 2010, the team was in a process of making a good squad for more than 2 years and the period lasted for more than 2 years. We played in the CHAN final with the Local Black Stars, and also the final of the AFCON so it takes time to establish a team to set up all pieces of the puzzle together. Today, time is hard to come by, we don't have friendly matches anymore, we played four competitive matches – within two months – two in October and two in November. We planned to have three friendly matches within the preparation period, we could only play only one and without all the players at our disposal so these are the circumstances, it's not an excuse, these are different times because of COVID-19 and everything associated with it. To establish a team and to set all the pieces together to complete the puzzle, it takes some time together but we are growing and I strong believe this team the quality and has the potential to show everybody in the future and hopefully very soon.
On trying to implement philosophy to make team come good
Definitely many things in football are changing but some demands of the game these days have not changed.  In this period of course I was working in some clubs and national teams and I had the opportunity to follow everything around the world. But as I said before, the biggest problem is the time. In the Clubs it's easier but in the national team you don't have much time but need to establish something within a short period of time so I am ready and I know what the challenges are in this work and definitely I am trying to improve this team and make this team more progressive and more modern. I believe we are on the right path and if you look at the past, the first match in that AFCON in 2010, we lost to Ivory Coast 3-1 but later in the competition we managed to win more matches to reach the final so sometimes teams start a little bit slowly but in the latter stages in the competition you improve your form and improve the quality of the game and the also in results so I believe these boys have what it takes so we are all doing everything in our power to make it possible and to make the people back home happy.
GFA COMMUNICATIONS