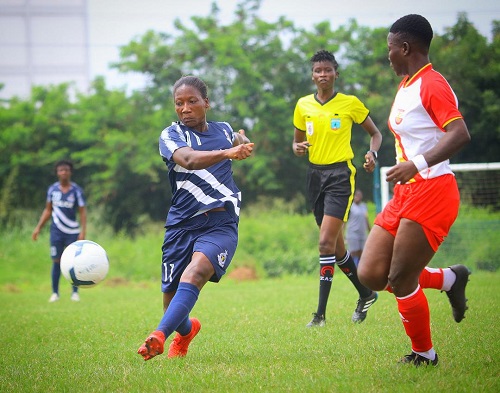 The Malta Guinness Women's Premier League returns this weekend after making way for the Round of 32 of the Women's FA Cup last weekend. Leaders Army Ladies, second placed Hasaacas Ladies, will be fighting for the top spot while Police Ladies, Thunder Queen and bottom club Ridge City aim for points to save their season.
Read on for the Preview of matches in the Southern Zone:
THUNDER QUEENS VRS ARMY LADIES
In the Southern Zone, leaders Army Ladies will trek from Teshie to the McDan La Town Park as guests of Thunder Queens FC. Thunder Queens have gone five consecutive games without a win since their 2- 1 away win over Soccer Intellectuals – resulting in just three points from a possible 15 in their last five games. The one all draw against Essiam Socrates Ladies is the only game Army Ladies failed to snatch all three points in their last 5 games. The leaky defence of the Thunder Queens will be tested by Army Ladies having shipped in 12 goals in 10 Premier League games. Army Ladies would aim to capitalise on their defensive frailties of Thunder Queens having scored 18 goals - one short of Hasaacas Ladies in the Southern Zone.
SOCCER INTELLECTUALS VRS BERRY LADIES
Soccer Intellectuals will welcome Berry Ladies to the Eduyaw Assasan Park on Match day 11 of the Malta Guinness Women's Premier. For the first time this season, Soccer Intellectuals return to their favorite grounds after playing the first half of the season at Mankessim due to the unavailability of the venue. Intellectuals, who stunned Faith Ladies at their own backyard on Matchday 10, would like to continue to amass more points to consolidate their position on the log and also to save their season. Five points separate the two sides in the League table as Berry Ladies sit in 5th place with 16 points – 5 points richer than their host who are 7th in the table with 11 points. New signing Rahama Jafaru who has the penchant of wreaking havoc would prove a great deal for Berry Ladies following her scintillating form since she joined the side in the January window.
LADYSTRIKERS VRS FAITH LADIES
Ladystrikers and Faith Ladies will face off at the Robert Mensah Stadium Saturday. The home side will go into the game as favourites after recording a resounding win over Essiam Socrates in the Women's FA Cup last weekend. Strikers have recorded just one win from their last four home games whilst Faith Ladies occupies the 3rd spot with 19 points after 10 Premier League games. A win for Faith Ladies would push them further up the table as they are only two points adrift of leaders Army Ladies. Lady Strikers are 8th in the 10 club table with 11 points – 10 points off the top and two points above the relegation zone.
HASAACAS LADIES VRS ESSIAM SOCRATES
The Sekondi Gyandu Park will host the tie between second placed Hasaacas Ladies and fourth placed Essiam Socrates.  While Hassacas Ladies are coming from two defeats in their last two matches, Essiam Socrates hold an unblemished record of three wins and two draws from their last five League matches. Essiam Socrates, who lost to Hasaacas in the first round, would aim to take advantage of their slump in form to punish them as the host also hope to use the game as a turning point to pick up the pieces and return to the top spot once again. Hasaacas Ladies are second in the table with 19 points – two points behind first placed Army Ladies who have amassed 21 points after 10 Premier League matches.
RIDGE CITY VRS POLICE LADIES
Bottom club Ridge City will battle Police Ladies on Sunday as both sides eye the three points to save their campaign. Ridge City are the only club without a win in the Southern Zone after 10 matches in the League and the zeal to pick a win against Police Ladies would be high, however, the visitors would push to exert supremacy on the newbies to walk away with the maximum points.  Whiles Ridge City are at the bottom with two points, Police Ladies are a step ahead with nine points. Ridge City suffered another painful 3-2 defeat to Essiam Socrates in their last encounter with the homers' only goal coming from Benedicta Swatson.  Police Ladies on the other hand played a 1-1 draw with Thunder Queens at home. Mawusi Agbenyo's spectacular goal pulled parity for her side after Thunder Queens took the lead in the 25th minute through Gifty Osei.
GFA COMMUNICATIONS