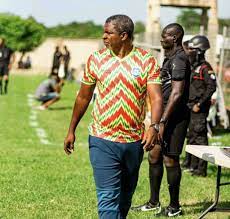 The Ghana Football Association (GFA) has  expressed its best wishes to Coach Maxwell Konadu following the incident at the Sunyani Coronation Park which left him unconscious.
The GFA has also communicated its best wishes to the match officials who were injured following the incident at the match .
The Association condemns the conduct of supporters of the home team, Bofoakwa Tano FC without any reservations and notes  the violations of the provisions of the GFA the Safety and Security Regulations and the Premier League Regulations which took place at the match.
Consequently, Bofoakwa Tano FC has been temporarily banned from using the Sunyani Coronation Park as its home venue indefinitely.
The GFA Prosecutors have been tasked to study all the video evidence and the match reports and prefer appropriate Charges immediately and for the Disciplinary Committee to sit on this matter expeditiously.
The GFA demands that Bofoakwa Tano FC shall immediately assist the Regional Police to cause the arrest of the persons involved in this attack on the away team, and the holding of the match officials hostage, without fail, in accordance with the promise given by the clubs to the Inspector General of Police in our engagement with the leadership of the Ghana Police Service.