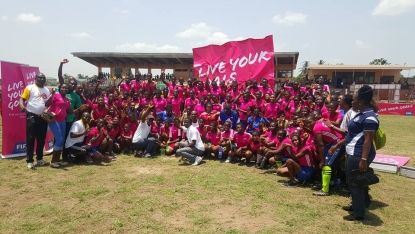 The Ghana Football Association (GFA) has successfully organized the second edition of FIFA "Live Your Goals' Campaign in the Volta regional capital, Ho.
The event which was held at the Ho Sports Stadium is a football clinic aimed at instilling football interest into young girls under the age of 14 as well as creating a platform for them to have time with some experienced national female footballers and coaches.
It also created the platform for the young girls to interact with some experienced national female footballers and coaches.
The rationale for hosting the "LYG" Campaign was to revive the low interest in Women Football in the region.
These young girls were drawn from 10 Schools in the Ho Municipality.
The participating schools were Mawuli J.H.S, Kabore School Complex, RIIS Presby School, Methodist Basic School, Ho Poly Basic School.
The rest are St. Cecilia R.C Basic School, Ho Kpodzi Basic School 'C', Ho Kpodzi Basic School 'D', A.M.E Zion School and Ho Dome E.P Basic School.
Present at the event were members of the Women League Board (WLB), led by the chairperson, Madam Linear Addy, Coach of the female national Under-20 side, Mas-Ud Didi Dramani, former Black Queens goalkeeper, Gloria Zutah, Female Football professionals Ivy Korley and Priscilla Otchere as well as members of the Ghana Football and Volta Regional Football Associations.
Each of the 10 schools was presented with 5 footballs.
The next edition of the "LYG" program would take place at WA in the Upper West and Bolga in Upper East region.