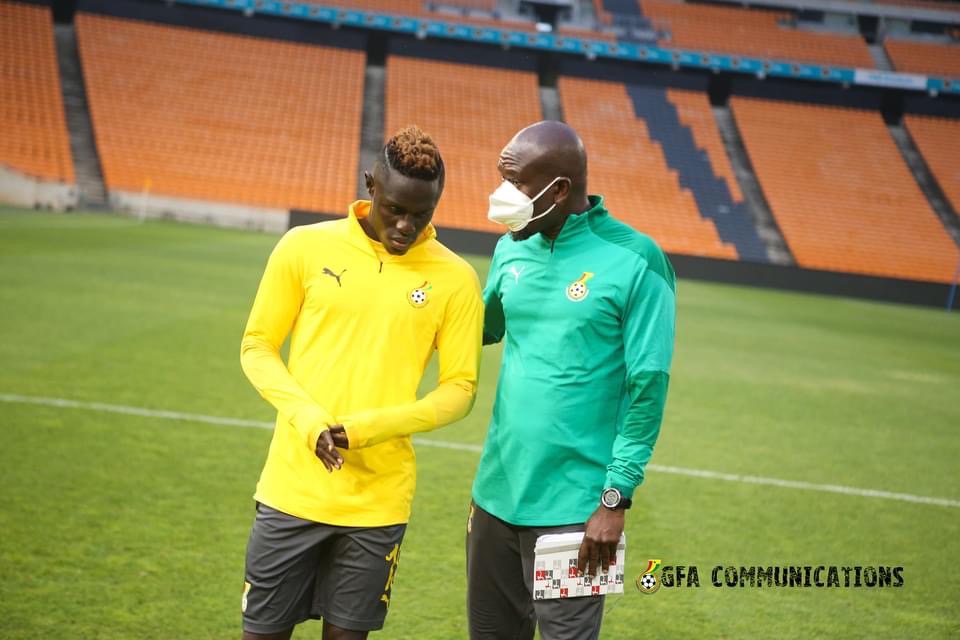 Our Head Coach Charles Kwablan Akonnor expects his players to show class against South Africa in the 2021 Africa Cup of Nations qualifier on Thursday, March 25, 2021.  The Black Stars go into the game as table toppers but the players know that they can't afford to slip against Bafana Bafana at this crucial moment despite playing away.
Ahead of the game, the Communications team of the Ghana Football caught up with the Boss,  to pick his thoughts on the team and strategy for the game.
C. K Akonnor was assistant to Kwasi Appiah when Ghana beat South Africa 2-0 in November 2019 at the Cape Coast stadium.
In this interview, he touches on facing South Africa in Johannesburg, what it means to win on Thursday, team cohesion, playing under pressure and going into the game with optimism.
Read on for the full transcript:
On difference between playing at home and away
It is a different ball game all together, the last time we played them was at home, this time it's their home ground and the pressure is on them to to deliver. Psychologically, they will have to win but we also have to mount a strategy to give us victory.
On build up to the game
I am very hopeful, what I have seen in the last few weeks give me joy. The boys have done very well and if we are able to implement it here, we will be able to get a good result.
On playing under pressure
There is always pressure in football and in a match like this, it's important to do as much as we can to qualify tomorrow.
On Sudan beating São Tomé and Principe
We are not going to look at what Sudan have done. We have to look at ourselves as a football nation. And our people are hungry, they want to see us qualify so it is important for us to do well tomorrow and qualify.
On playing with experience
We have players who are experienced, players who understand what time it is and what we have to do to at any given time to win a match. That I am certain about.
On staying focused for 90 minutes
Against Sudan, it was unfortunate that in the last minute we lost. We wouldn't have been talking about qualification today, if we had drawn that match. But we are men enough to stand firm and say that it is time to deliver and I am very certain that we will do well.
On camping home based players and blending with foreign based players
I was impressed with the home-based players because it's been a long time we camped them for National assignments. They have not trained together for a long time. But they did well and that is why some of them are here. The foreign based players arrived late but on Monday we had a full house and they trained together on Monday, Tuesday and today.
On team chemistry and cohesion
The understanding, cohesion, team spirit and the way they play has been brilliant. Of course before we got onto the field, we showed them some videos and they embraced the fact that this is what they have to do, work together as a team and play together and they were a delight to watch.
On being excited about team spirit
Seeing them play well in training is exciting  and encouraging. I hope that tomorrow they will implement the same spirit and the same understanding of play, once we do that, I believe we will get a good result.
GFA COMMUNICATIONS