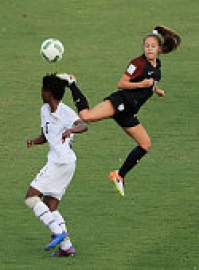 The Black Princesses have been eliminated from the 2016 FIFA Women's World Cup after Monday's 1-1 draw with USA at the Sir John Guise Stadium in Port Moresby, Papua Guinea.
The Black Princesses took the lead in the 20th minute after USA goalkeeper Casey Murphy failed to handle Ernestina Abambila's long range shot.
But the Americans equalised in just two minutes from captain Mallory Pugh's low drive.
Ghana needed a win to enhance their chances of making it past the group stage of the competition for the first time.
Coach Mas Ud Dramani's side however bowed out of the competition with just two points after losing their opening game and drawing against France and USA.
Dramani however insists his team were just unlucky in the competition and will draw lessons from their participation in the World Cup.
"We did our best in this game but it was unfortunate that we failed to win. We played well in the tournament and am sure the players will learn a lot from it.
"What is important is the development of these young players and their future as footballers from the technical aspect of things", the Ghana U20 head coach told Ghanafa.org after the match.
USA and France have advanced to the next stage with 5 points each with New Zealand also knocked out of the competition.