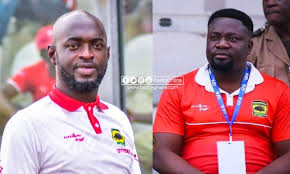 Asante Kotoko PRO Kennedy Boakye Ansah and Club official Isaac Donkor have each been handed a 5 match (home and away) ban from all football related activities in accordance with Article 34 (1) of the Premier League Regulations.
In the GFA Disciplinary Committee's decision on charges brought against these match officials in respect of Asante Kotoko's Match day three game against Berekum Chelsea, the two club officials have also been fined an amount of GHc5000 each to be paid to the GFA within 14 days in accordance with Article 34 (3)(c).
The Committee's ruling and its decision was communicated to both officials through the Club on January 31, 2020 after which their ban took immediate effect.
Additionally Mr Boakye Ansah and Mr Isaac Donkor have both been warned to be of good behavior in subsequent matches or suffer severe punishments for any breach of the GFA's rules and Regulations.