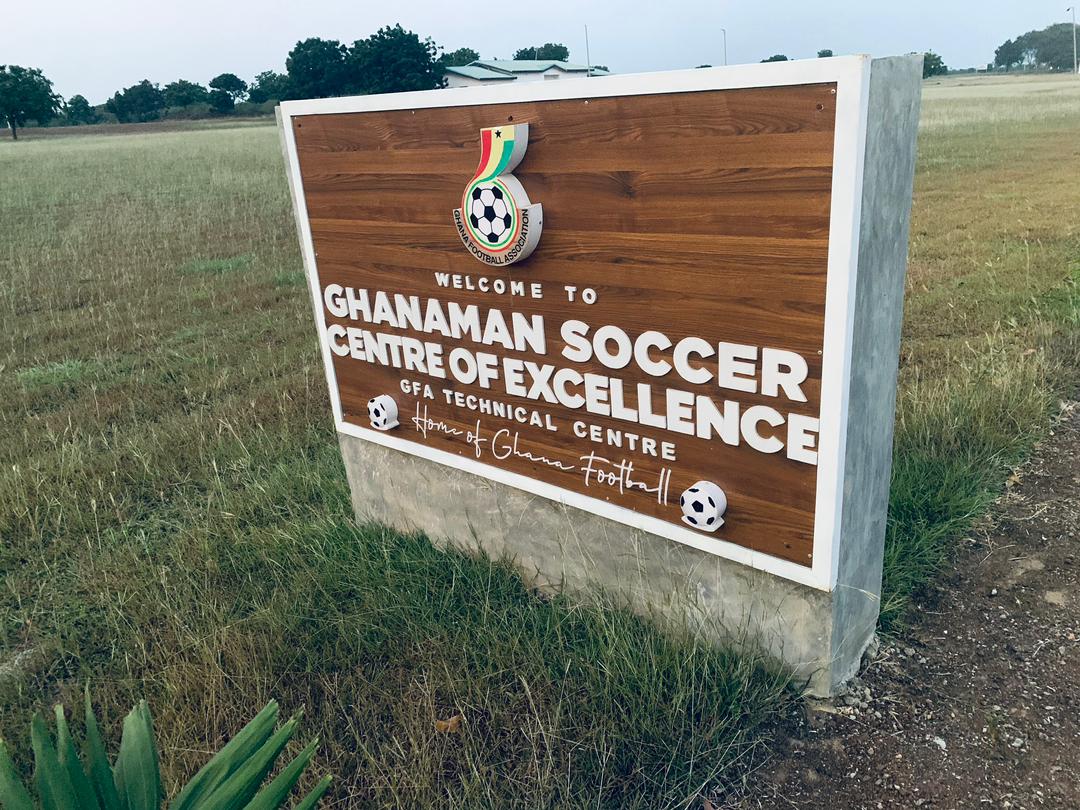 WHO WE ARE
Ghanaman Soccer Centre of Excellence (GSCE) is the Technical Centre of the Ghana Football Association (GFA). It was built in 2004 through FIFA Goal Project and handed over to the Association in 2008.  The Centre is in Miotso, in the Ningo/Prampram District of the Greater Accra Region.  It is about an hour drive to downtown Accra Central.
The Centre is the home of Ghana football, built on a 68-acre land with very beautiful scenery conducive for camping and mental rejuvenation.  It is close to the Prampram and Ningo Beaches making the Centre a great get-away destination for Clubs, Corporate Bodies, Churches.
The Centre is opened from Monday to Friday for administrative work and on weekends for events and campers. 
WORKING HOURS 8AM – 5PM Monday – Friday
10AM – 5PM Saturday – Sunday
FACILITIES
Currently completed are Administration Block, two Natural Grass Pitches, one Artificial turf, Multipurpose Hall, Conference Rooms, 308 capacity Dormitories and convenience shop. If that's not enough, the site also has an outdoor space for sport, business and entertainment events and spacious car park.
When completed, the Technical Centre will have eight natural grass turfs, three artificial pitches, two of which will have regular, and VIP stands. One of these artificial pitches is currently under construction known as the betPawa Park, a mini-Stadium covering an area of 6,825 square metres with a sitting capacity of 6,000 spectators, two changing rooms capable of hosting international matches of all the National Teams.  The Senior National Team "A" will camp and train at the centre and will also host friendly matches at the centre. The Centre will also have two Beach Soccer Pitches and two Futsal Pitches.
In addition, the Centre will house a twelve-unit classroom block and a three-star hotel/hostel facility with 58 guestrooms, medical sports facility, a gym, sauna, two Conference Rooms with 250 and 300 sitting capacities respectively, swimming pool, convenient shops, trophy room, eight workrooms for coaches, VIP Lounges among others.
Administration:
The Centre is headed by a director (insert hyperlink for Director's profile), five administrative support staff and thirty workforce ensuring the efficient running of the Centre.
Activities & Events
The Technical Centre runs all Courses and Training Programs offered by the GFA Technical Directorate. Click here for Courses (insert hyperlink to Technical Directorate).
The Centre also hosts the following programs and events:
Corporate Games & Team Building

Corporate Retreats

Pre-Season Camping

Holiday Camp for Students

Students/Children Boot Camp

Church Retreats

Funerals Receptions

Wedding Receptions

Parties
Camping
All the National Teams apart from the Black Stars 'A', camp at the Technical Centre. The four accommodation blocks named after lustrous football personalities in Ghana are: Block A name after Ben Koufie, former GFA President 2001-2003, Block B named after Sampson Kablan, the former FIFA Goal Program Development Manager in charge of West Africa, Block C, Awuah Nyamekye, GFA President from 1990-1992 and Block D, Jordan Anagblah former Vice President of the GFA from 2011-2012. 
These provides a total accommodation capacity of about 308 bedding for our guests.  The Multipurpose Hall named after Hon. Enoch Tei Mensah, the longest serving Sports Minister and a native of Prampram hosts banquets, trainings/workshops, entertainment events and the Annual Congress of the Football Association.
Non-football guests are also welcome to camp off the football season.  Contact the administration for availability dates.
Telephone: 024 508 1449/0593325311