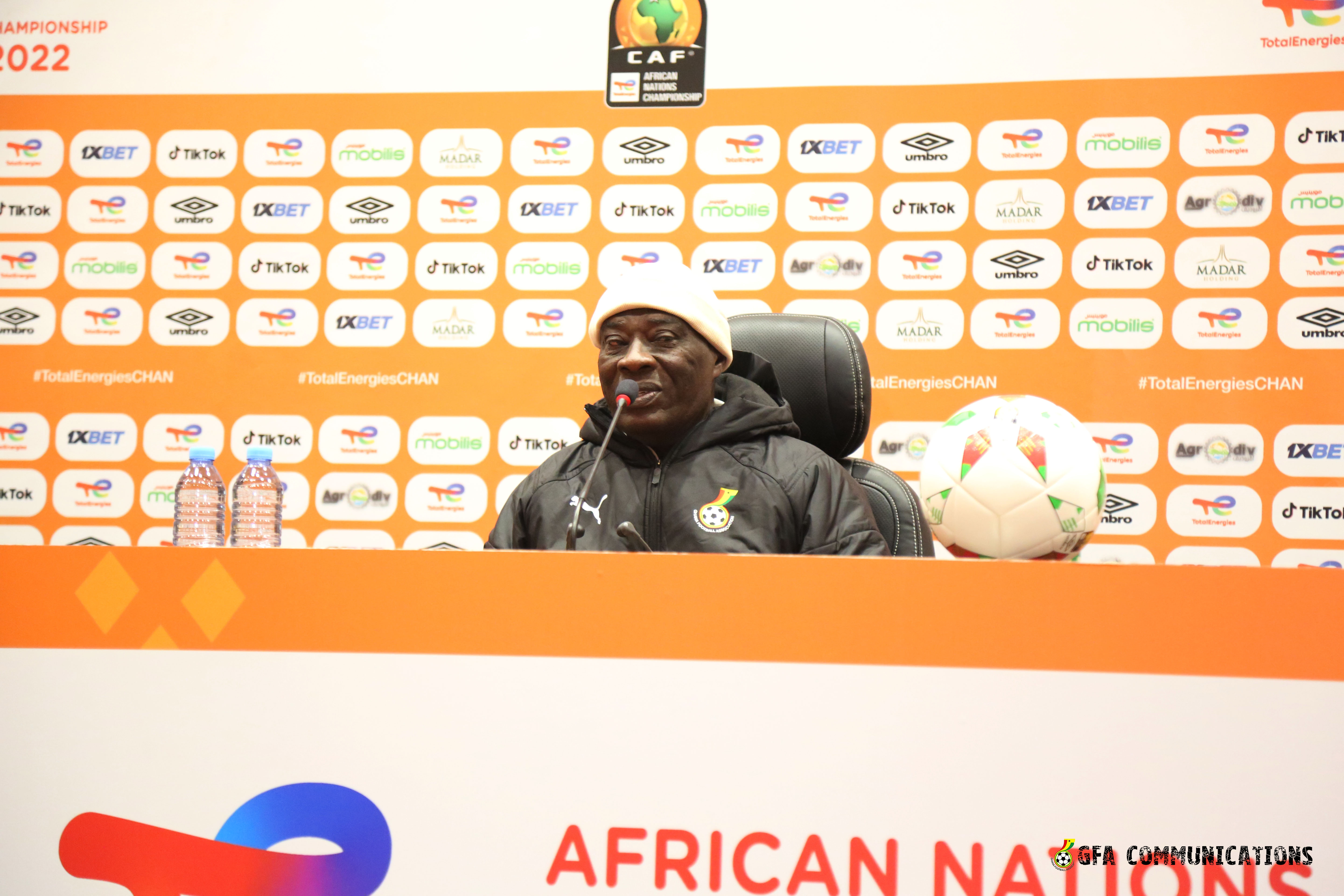 The Black Galaxies of Ghana will be in action on Saturday against Niger in the quarterfinal of the TotalEnergies African Nations Championship in Oran, Algeria.
Ghana qualified to the qualified to this stage from Group C and are set to take on Niger who also made through from Group E.
Ahead of Saturday's game, Coach Annor Walker has been speaking with the media. Here's what Coach Walker said at the pre-match press conference:
On how prepared the team is for the knockout stage of the competition:
After our last game against Sudan, we knew we've qualified and we started preparing for our next opponents. We were patiently waiting to see the team we will face on the next round. Finally we got to know that we have to face Niger and we quickly started preparations to face them. Our  preparations started in Constantine till we got here. We are prepared and ready for tomorrow's game.
On pressure of representing all local coaches in the competition and the desire to win: 
As a coach I was given the opportunity to coach this team. Its a big responsibility and since I took the mantle I've qualified the team to the CHAN. Everyone is looking up to me to make Ghana proud and also bring home the CHAN trophy. There's pressure but not much because I have the men to do the job.
On new revival of Ghanaian local  football which has ended the dominance of Asante Kotoko and Hearts of Oak: 
There's not much pressure because it's a responsibility that depends on me and how I deal with the players. I have prepared my team and they know what they have to do on the field. The players have been with me for about a year and they understand what I expect from them. When the pressure comes to me I put the pressure on the players to do their job on the field to bring victory to the country.
On which team Ghana preferred to meet between Cameroon and Niger: 
Niger has shown that they are a good side. They took advantage and took their chance against Cameroon and that  has brought them to the quarterfinals. We were expecting any of them and we only have to go in and meet Niger tomorrow Nd make it to the semis.
On how prepared the team is for the possibility of playing extra time:
In competitions like this, you have to be ready for the possibility of extra time if the game ends in a draw at full-time. As players even if it travels beyond the 90 minutes they must be ready to play. I  believe in my players to play even if that happens and they will not show tiredness. We are ready if the game travels that far.
On absence of Striker Daniel Afriyie Barnieh due to red card
Every coach needs his top man and its unfortunate my top man Barnieh is out of the game. Its a blow to me but in his absence I have the men who can take his place. It may not be like him but I have trust in all those I have brought here to prove themselves. Maybe it will be a blessing for someone to take his place and also give out his best  so that we don't feel his absence too much.
On what the team has been doing since the last game against Sudan:
We have been preparing and watching the other games as well.  We watched the game between Niger and Cameroon and we learnt a lot from that game. We had days to rest but we didn't  slept. We have been working throughout the week on our mistakes and we are expecting to have a different attitude tomorrow. 
On longer rest days and if that scares Ghana: 
The days of rest we had  does not matter. We have rested and maybe they played few days ago but it may not affect the game tomorrow. After our game against Sudan we have been working on our flaws and we have been working on our tactical approach to the game. There is nothing scaring us and we are focused and ready to face Niger tomorrow. 
GFA COMMUNICATIONS