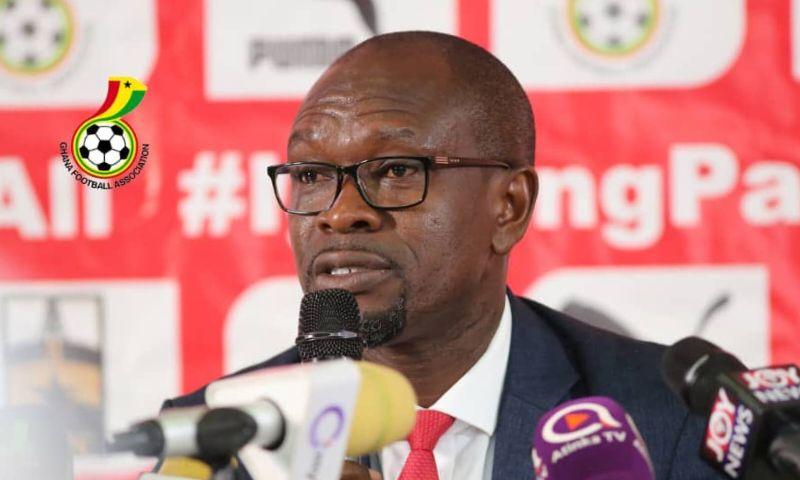 After announcing his maiden squad ahead of this month's 2021 Africa Cup of Nations qualifying games with Sudan, Black Stars head coach Charles Kwablan Akonnor faced the media.
Before naming the list, the new boss gave an account of his three-week European Tour where he met and interacted with existing members of the senior national team he inherited in January as well as potential players. This, he said, aimed at helping him get a 'better understanding of player behaviour and also build some chemistry with them.'
Akonnor disclosed speaking to a number of young talents born abroad about pledging their international future to Ghana.
Alexander Djku (Strasbourg), Francis Amuzu (RSC Anderlecht), Enock Kwarteng (FC Bordeaux), Brian Brobbey (Ajax), Derrick Luckassen (RSC Anderlecht), Jeremie Doku (RSC Anderlecht) and Elisha Owusu (Gent) are targets he mentioned that the Ghana Football Association have been briefed about and assisting him to get them represent the country.
He further indicated it may take some time to get these players [he believes with them on board 'the face of the game of our national team would change'] because they need some convincing and orientation about the Ghanaian culture.
Akonnor went on to announce a squad of 23 players for the two games against Sudan on March 27 and 30, 2020 before opening up to questions from the media.
Read on for a transcript of the media engagement held on Tuesday:
On philosophy and expectation from players…
C.K - One thing I can assure you will be offensive-oriented team, a team that will like to pass the ball quick, move to attack and will be able to create chances. I want players who are disciplined, strictly into our tactical play. Players who do not do this as discussed within the domain of the team would be in a sort of [I won't say] trouble. One of the things that I want to do is to just change the attitude of the players. There are things that we have done in the past that isn't right. But my philosophy is that we are going to be an offensive-oriented team.
Specific European-born players not willing to join?
C.K - Those I spoke to want to play but are not familiar with our lifestyle here, they don't know exactly what is going on, some of them come here and go. They don't know anything about us and I think it's important for us to encourage them to come here and see what is going on.
Managing egos... Brazil 2014 example
C.K - Whatever happened in Brazil is gone but that is why I'm a manager and as I told you, one of the things discussed was mainly off the field issues so it's been part of it, no doubt. Definitely, they embrace the truth that there must be a change. I'm looking forward to [meeting] them. When they get here, we will see how it goes but everything is under control.
Why club regulars like Justice Blay, Frank Acheampong, Salisu Mohammed and Prince Opoku Agyemang missed out?
C.K - With Salisu, I tried to get in contact with him but that didn't work out. The last time we played South Africa he was invited, he didn't come. I'm still in contact with him trying to find out the reasons.
With Acheampong, we've had a bit of discussion about him and he's also in the data[base] where we have over 40 players. We have to also understand we can't invite everybody and these are key guys which we will look to them and invite them. Of course, [Justice] Blay was sick; he just came back. In the last match [for Kotoko], I saw him. He was good and his time will come.
Feeling about the transition from once being the team captain to head coach…
C.K - It's different. Of course, you have to go back to the time I was playing to the time I decided to coach. It's been a lesson and a journey - this journey I wouldn't say has come to an end because I'm with the Black Stars. Black Stars is part of the dream and I'm blessed to have had this opportunity and I will do this to the best of my knowledge. The feeling is good; it tells me I'm doing something and it's an encouragement to me and I need to work harder. This is not my last stop and so I will do it and do it to the fullest.
On what influenced the choice of players for Sudan games
C.K - It's the way we want to play, players we believe are committed and players who have shown over the years that they are good and capable of playing. I must say somebody like Kassim [Nuhu] I'm sure somebody will ask 'why he's in the team; he's not doing well in Europe' but he's shown a lot of commitment when he comes down here. And sometimes we need to close our eyes on the performance abroad. Sometimes we need to focus on what is important like how he has performed whiles he's here and he's done well. The style of play is also important. The other thing is that I wouldn't want to change the team entirely, it will be a big mistake, if you look at the squad, majority of these guys were part of South Africa, it's the continuation of where Kwesi Appiah left off and I would like to continue from there.
A case for Lawrence Ati-Zigi.
C.K - We considered him to be part of the squad but the last games we played, we had Razak Abalora in as an assistant to [Richard] Ofori and then Felix Annan as well. Now Felix is out and we brought in Attah. It's all about the continuation of what we did in the previous match and we want to continue with that but he's being considered as part of the data and we will look at it again.
What for you will be an appropriate return out of the two games against Sudan?
C.K - We all want to win, win and win; if that will happen I have no idea but I believe hard work pays and like I have always said we will work very hard to get the necessary good results - the six points that is demanded from us.
How will you deal with the Captaincy issue and is there a new captain?
C.K - Let this be clear, we have a captain in the name of Dede Ayew. Considering the fact that we have to put in a second captain and then a third captain, I will discuss with the players. I will wait when they get here. We have the names already but it's important that I discuss it with them and my technical team as well.
Were there players called beyond footballing reasons and based on other reasons?
C.K - Probably you may ask that Wakaso [is in not for football reasons] because he is not playing actively now but he's a guy who is part of the foundation and you wouldn't want to take him out. He's part of the team, it is important and so I look at it from the angle where this guy is important within this team. We have the likes of Dede Ayew, Wakaso, Jordan, Partey, Ofori, they are all key guys and sometimes you would want to deal with them on a different perspective. If you ask that question and somebody like Wakaso is one of the guys who goes beyond football reasons
Will there be a general captain?
C.K - We will have two [deputy] captains in addition to what we already have which is Dede Ayew. Our General Captain is Asamoah Gyan
What is it that is going to be in your tenure with regards to inviting players and trying them in as many matches as possible?
C.K - We have a data[base]. Within this, we have a number of players. I wanted 40 but now it's gone over 40 and we want to maintain that squad. Why? Because we don't want to do unnecessary changes. I'm not a fan of changing teams. As long as they stay together, play together, they get to know each other very well and so I wouldn't want to be changing but those who are not here, I will have to be fair and give all those people the chances to play. Of course, there are qualification matches, there are friendly matches and all those things, we will factor it in and make sure we get those unknown or those who have been part and never got the chance again, to play. It is one of the reasons why I went [Jeffrey] Schlupp to talk to him to see the reason why he's not coming and it was an open discussion. You have to be actively playing but sometimes you need to, like I spoke about Wakaso, he's played a couple of friendly matches but it's not enough. But the main thing is to be active.
The end for some players like John Boye?
C.K - John Boye, Jonathan Mensah, Harrison and the rest, I respect them, I have been a player before and I know what they've done for this country and if the need be for them to come into the team, they will. I made mention of the team that played last time and this is my first time, I don't want to change things too much; but those names are important. Like [Daniel] Amartey of Leicester and sometimes those guys that were aware, they are committed players and we need to take care of them. Not necessarily that he is coming to the team but feel that we respect them and I think all these names are important
Just recently Coach Kwesi Appiah was asked what Ghana should do to win the AFCON and he said: "we can't just say we are going to win AFCON. We need to have a long term plan for our national teams and groom quality players before we can win the AFCON. For now, we lack quality players to win the AFCON." Can you juxtapose this statement as against your target to win the AFCON 2021?.
C.K - Talking of quality players, I have made mention of 5 or 6 players which I believe are quality, they will enhance the way we play. These names are with the FA and they have started working on it. We cannot get them now but once we get them it will improve our game, talking of playing the AFCON then I think we have a chance of winning once we have the quality players.
On Asamoah Gyan and Kevin-Prince Boateng
C.K - The last time I checked Asamoah Gyan has not retired, he still remains the General Captain. I had a chat with him at the sports stadium last time and he never told me he's retired so I consider him a part of the team. With Prince Boateng, we spoke. But I don't think he wants to come and play.
Have you spoken to Kwadwo Asamoah and what was his response?
C.K  - With Kwadwo he was injured, he just got back on his feet, hopefully he will stand firm and play then stay without any injury he's an important player. Sometimes it's important that they also have to show the desire of coming to play. He's part of the plan but I want to give him that space to get fit then we will invite him.
How do you say this call-up fits into your plan for the AFCON considering the change in the 2021 tournament calendar?
C.K - Before the decision was made, I wasn't part of the picture but now I'm in. One of the reasons In terms of preparing to get players on board is why I went to Europe and also try and get some names. Hopefully, we will be able to get them on board. Once we do that, it will change the face of our team. This also goes to our local players. They must up their game so that we can have a good blend of local and foreign players and we want to try our best to bridge the gap between the professionals and local players.
GFA COMMUNICATIONS DEPARTMENT