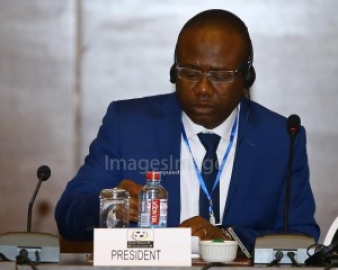 GFA President Kwesi Nyantakyi will return home on Friday morning after he was re-elected onto the FIFA Council by the General Assembly of the Confederation of African Football in Addis Ababa, Ethiopia on Thursday.
Nyantakyi and his delegation from the CAF General Assembly will be met at the Kotoka International Airport 11:00 a.m. by members of the GFA Executive Committee, as well as some key football officials.
The delegation will then proceed to the headquarters of the Ghana Football Association where an official welcome ceremony will be held in his honour by executives and staff of the GFA.
The FIFA Council member will also interact with the media at the headquarters of the GFA, and the media are therefore, respectfully invited.
Nyantakyi was first elected onto the newly constituted FIFA Council in last year, with just six months left for the term of office to elapse.
On Thursday in Ethiopia, Nyantakyi was re-elected for a full, four-year term on the FIFA Council by securing 33 votes, 13 more than his opponent Leodegar Tenga, who got 20 votes.
The CAF General Assembly also ended the 29-year reign of Issa Hayatou as CAF President by electing Madagascar's Ahmad as the new President of CAF.