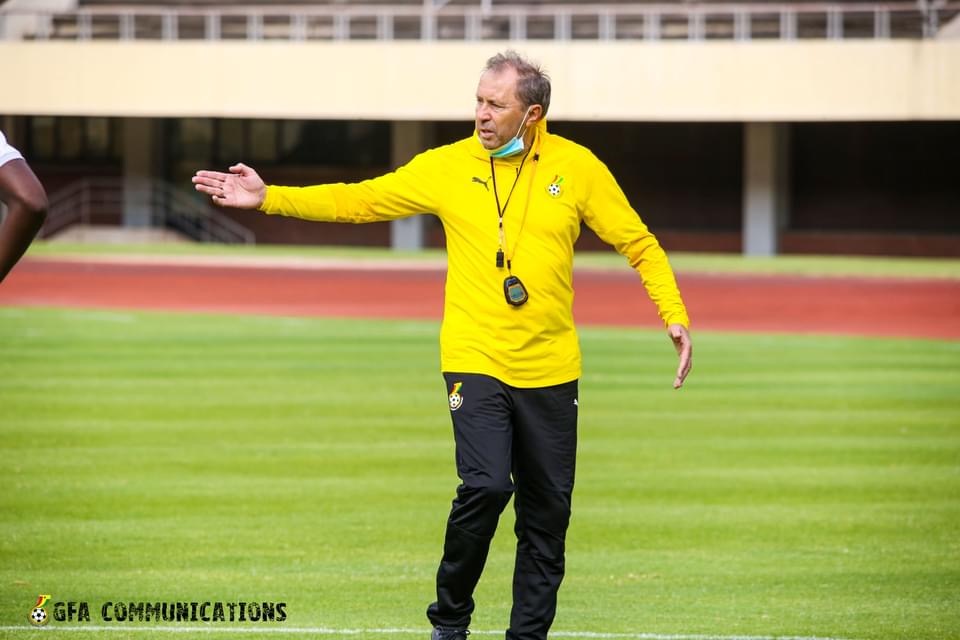 Ghana Coach Milovan Rajevac met the media on Monday ahead of Tuesday's FIFA World Cup Qatar 2022 qualifier against Zimbabwe. The Serbian tactician who led Ghana to a 3-1 win in his first game on his second bow is hoping to get a double over the Warriors to advance the team's course of making it to the Mundial in Qatar. The 67 year old expects his players to react positively against the dreaded Warriors who troubled Ghana in the 1st leg in Cape Coast.
Read on for the full transcript:
Coach on what he is looking forward to in Harare
First of all I will like to thank Zimbabwe for their hospitality. This is my first time in Harare so we feel warmly welcomed and I am very happy to be here. As we all know, this is a very important match for us and we expect a tough match. We respect the team we are playing against and we have a clear target, which is to qualify for the World Cup so we are going to do everything in our power to put good performance tomorrow and try to win.
On pressure on his second debut and how important it is to win
Definitely for us it is very important and we have our target and we know it is not going to be easy. The first match was also not easy because in some part of the match, Zimbabwe showed they also have quality. In the beginning of the second half, we were facing some difficulties which show there is no easy match and it is important to concentrate throughout the match to try to prepare a good game plan and to reach appropriately in some moment. I have faith and I have confidence in my players and I know they will do their best so we are hoping for the positive result. As I said, this is very important for us so we are trying to be positive all the time and not feel the pressure but confident for the match.
On game plan for Tuesday and what Ghanaians should expect
I've been here for a short time and we are getting to know each other very well and it is difficult to make big changes in this short period of time but I think we are growing and we are improving. In every next match, I suppose we make fewer mistakes and try to improve our performance. These players are learning quickly and they are determined because they know what is at stake and so they are aware of the task. We function together and last match, we managed to have a positive result, which is very important. We don't take time for experiments, we need to have good results and we are all aware of that so we will do our best to make it happen.
On pressure to qualify for World Cup
In this kind of job and especially in this kind of situations you have to learn how to manage the pressure. For us it is a must win match and every next match is the most important and hardest match so let's take one step at a time. We have confidence and so we will learn how to handle the pressure because if you cannot handle pressure, you can't succeed in this game. It is something that we have to cope with and I think we will do that successfully.
On Jordan Ayew and whether he will start on Tuesday
I never reveal the starting line up the day before the match because this is not the way I do my work but the goal scorers and attackers often come to crisis and in this circumstances they are trying to overcome the problem and start scoring to make their performance better. We are here and we talk to him. He feels the support he gets from everybody. Whether he starts or comes as a substitute later in the game, we count on all of our players. As I always say, it is important to start the match in an appropriate way and to finish it in the right way.
GFA COMMUNICATIONS