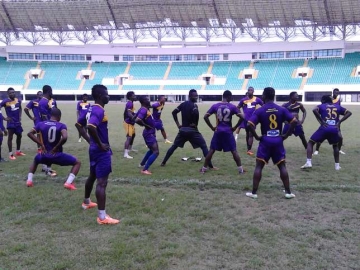 A first leg deficit has left Medeama with a huge mountain to climb as the Mauves hope to overturn the result when they meet Al Ittihad of Libya on Sunday in the return game of the CAF Confederation Cup.
Medeama lost the first leg 1-0 but will be counting on home comfort at the Sekondi Stadium to edge past their opponents and make the group stage in their second attempt in the competition.
With a domestic campaign not too pleasant, the Mauves will need to rediscover their groove beginning with their clash against Al Ittihad, Sunday afternoon.
Just a goal separates both sides before kick off but Medeama coach Tom Strand, though confident, believes the task is a tough one for his charges.
"There is nothing easy about this. It's gonna be tough. Even if it was 0-0, it was gonna be tough. Now we are down by 1-0 and it's even tougher so this game is definitely not over. It's gonna be very difficult match to overcome," Strand said in the build to the game.
Medeama will be hoping to make the last 32 of the competition this time round and much depends on how they approach the game.