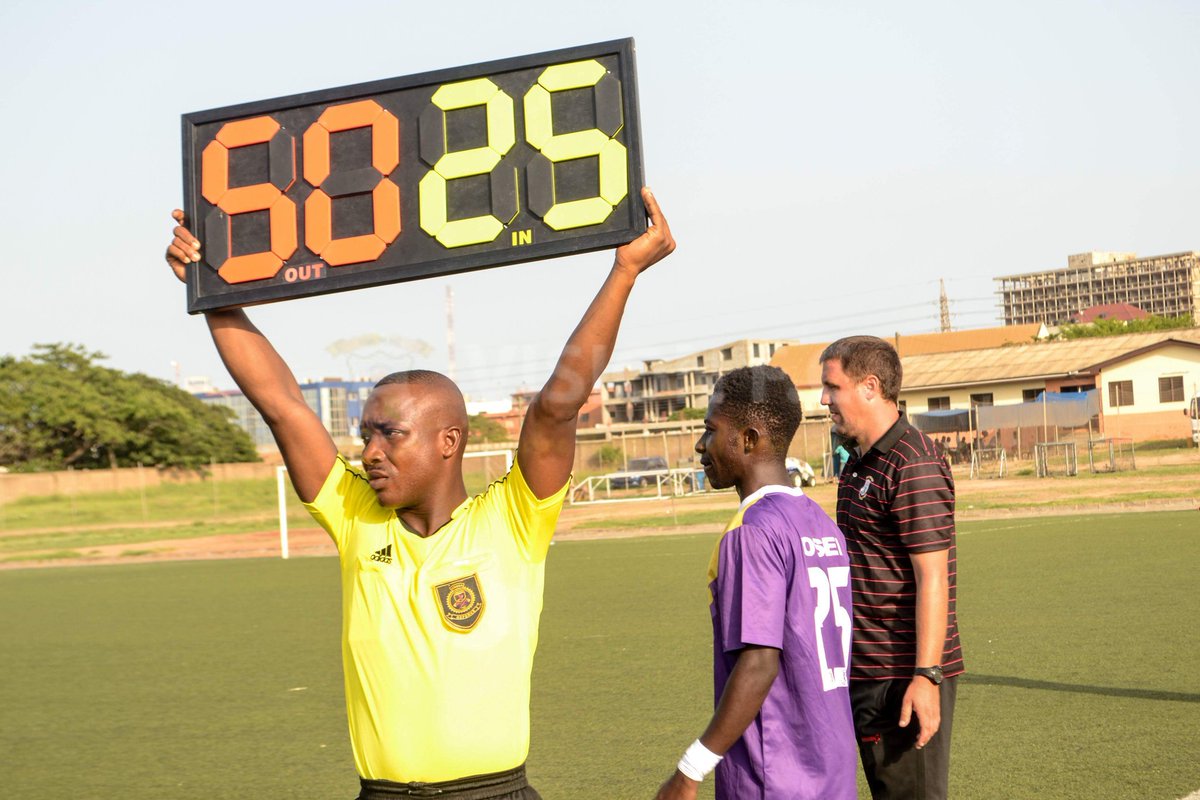 Third tier League sides will engage each other for qualification into the next round of the MTN FA Cup Competition.
Below are the match officials for the Division Three Preliminary sides:
MATCH: BEBETO FC VS DREAM CHASERS
VENUE: Agbozume
REF: Akudzi Martins
ASSIST1: Katamani Michael
ASSIST2: Hoenayi Simon
4th REF: Torgbe Best
MC: Kuedufia Famous
MATCH: HOME STARS VS LIKPE HEROES
VENUE: Ho
REF: Joseph Osafo
ASSIST1: John Akahoho
ASSIST2: Bright Agbenoxevi
4th REF: Gogo Seth
MC: Senyo Alfonse
MATCH: ALL STARS VS UNITY STARS
VENUE: Akatsi Tr. Collage
REF: Elijah Awael
ASSIST1: Michael Agbenuza
ASSIST2: Prosper Agbezuxe
4th REF: Kpewu Simon
MC: Jacob Amegashie
MATCH: R/STARKE FC VS REPUBLICANS FC
VENUE: Abossey Okai
REF: Kamal Deen
ASSIST1: Peter Dausa
ASSIST2: Felix Apulia
4TH REF: Bismark  Appiah
MC: J O. Obuobisa
MATCH: ENCHI ALL STARS VS APREMDO ARSENAL
VENUE: Samaraboi
REF: Benjamin Turkson
ASSIST1: Ranstorm Selby
ASSIST2: Albert Hammond
4th REF: Guggisberg Ameyaw
MC: Emmanuel Twumasi
MATCH: YAAM JUNIORS VS BAMBOI CITY
VENUE: Wa
REF: Karim Abdul Ghanen
ASSIST1: Issahaku Iddrisu
ASSIST2: Issahaku Nuhu Ishaque
4th REF: Mahama Adam
MC: A. A. Alhassan
MATCH: F. C. TAMALE VSSOCCER MASTERS (BOLGA)
VENUE: Tamale Annex
REF: Iddrisu Mustapha
ASSIST1: Yakubu Rahman
ASSIST2: Hussein Jabiru
4th REF: Mohammed Tamimu
MC: Sheni Musah
MATCH: BIS PARADISE VS ADJOFOAMAN
VENUE: Gyandu Park
REF: Salifu Ibrahim
ASSIST1: Gosper Okorie
ASSIST2: Abraham Kyeremateng
4th REF: Frederick Samena
MC: T. K. Aggrey
MATCH: SUAPOMMAN VS SWEDRU PROFESSIONALS
VENUE: Jomsco Park
REF: Emmanuel D. Quansah
ASSIST1: Patrick A, Kodua
ASSIST2: Jacob Aborsabora
4th REF: Mohammed Sey
MC: Dawson Amoah
MATCH: WINNEBA UNITED VS WINDY PROFESSIONALS
VENUE: Sankor Park winneba
REF: Ekow A. Asante
ASSIST1: Bonzie Arthur
ASSIST2: Solomon A. Adjei
4th REF: Moro Yahaya
MC: E. N. Adjei
MATCH: CAPE COAST METRO VS S. INTELLECTUALS
VENUE: Robert Mensah
REF: Richard Owusu
ASSIST1: Moses Keti
ASSIST2: Kofi Acquah
4th REF: Redeemer Attipoe
MC: K Abedu Wilson
MATCH: REAL REPUBLICANS VS SANKARA NATIONAL
VENUE: Tamale Annex
REF: Ayaaba Ibrahim
ASSIST1: Abdulai Alhassan
ASSIST2: Musah Alhassan
4th REF: Seth Zigah
MC: Mohammed Alhassan
MATCH: TOP TALENT FC VS B. BACELONA
VENUE: Kintampo Park
REF: Joseph Awawe
ASSIST1: Lamini Mohammed
ASSIST2: Anthony Adomako
4th REF: George Ocran
MC: Amoako William
MATCH: S. UPPER STARS VS JEFFISI UNITED
VENUE: Wa
REF: Emmanuel Eshun
ASSIST1: Mohammed Alhassan
ASSIST2: Lamin Michael
4th REF: Nankpa Safulai
MC: Dawud A. Razark
MATCH: FREEDOM FIGHTERS VS DREAMS NEW FC
VENUE: Berekum
REF: Sule Issah
ASSIST1: Agyei Emmanuel
ASSIST2: Samuel Owusu
4th REF: George Kumah
MC: Sah Joachin
MATCH: RIVER PLATE CLUB VS KUMAWU MAN UTD
VENUE: Duase Park Kumasi
REF: David Kumah
ASSIST1: Emmanuel Opoku
ASSIST2: Bediako Marfo
4th REF: Otoo Emmanuel
MC: Nicholas Djomoah
MATCH: THUNDERBOLT  VS SHOOTING STARS
VENUE: Apromase Park Kumasi
REF: Nahim Alhassan
ASSIST1: Prosper Avinou
ASSIST2: Emmanuel Dolagbenu
4th REF: Forster Battius
MC: R. S. Addae
MATCH: KWAHU YOUTH VS BEMPONG ACADEMY
VENUE:  Nkawkaw
REF: P C Appiah Ofori
ASSIST1: Prince Frimpong
ASSIST2: Nicholas Adado
4th REF: Awovi William
MC: Agyeman Duah
MATCH: KOFORIDUA UNITED VS VATENS S. C.
VENUE: Koforidua Sec. Tech.
REF: Safo Koranteng
ASSIST1: Michael Boateng
ASSIST2: Charles Abloh
4th REF: Isaack Brobbey
MC: F. Adjetey Sowah
MATCH: ZUARUNGU FC VS GARU UTD
VENUE:Paga Town Park
REF: Solomon Ayine
ASSIST1: Atiah James
ASSIST2: Akande Emmanuel
4th REF: Dominic Asensua
MC: Abubakar A. Ganiyu
MATCH: D. C. UNITED VS LIBERTY F.C.
VENUE: Coronation Park
REF: Samuel Yeboah
ASSIST1: Peter Amoako
ASSIST2: Keneth Tweneboah
4th REF: Fatau Kabore
MC: Nana Gyabaah Yeboah
MATCH: IMMIGRATION VS PHOTIZO PROF
VENUE: Ako Adjei
REF: Michael Sackitey
ASSIST1: Elvis Nti
ASSIST2: Adam Mutawari
4th REF: Joshua Samadzi
MC: J Y Danquah
MATCH: EMMANUEL F C VS R. ATHELETICO
VENUE: Bostal Park
REF: Mathew Addy
ASSIST1: Bless Awadzi
ASSIST2: Danniel Konnei
4th REF: Dominic Sedomey
MC: Ali Plato
MATCH: OIL CITY VS BASEKE STARS
VENUE: Gyandu
REF: Isaac Cudjoe
ASSIST1: Jasper Avinou
ASSIST2: Sherif K. Duah
4th REF: Kingsley Yeboah
MC: E. M. Alhassan