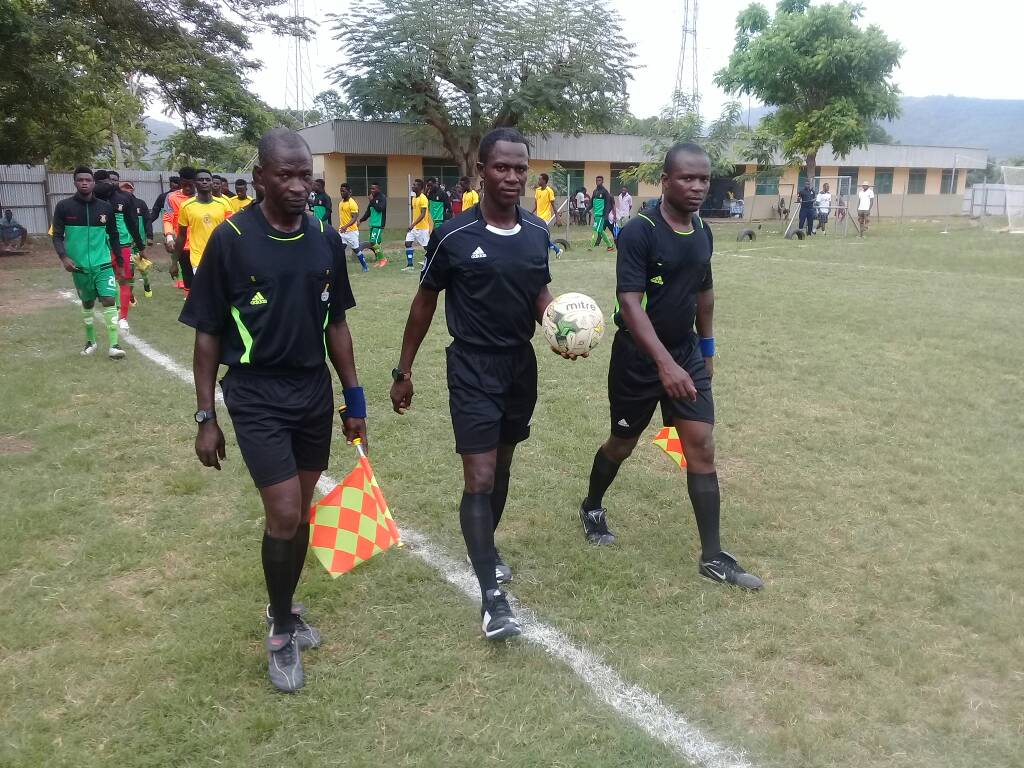 Day Nine (9) of the Ghana Division One League will be played over the weekend across the various match venues.
Below are the officials for the week 9 games:
MATCH: R T U VS BOFOAKWA
Venue: Tamale
REF: Eric S. Antwi
ASSIST1: Halilu Alhassa
ASSIST2: Issah M Bagurichar
4th REF: annor Jawal
MC: Awudu Djan
MATCH: UNITY FC VS CROCODILE FC
Venue: Kenyansi NO1
REF: Kwame Nkuah
ASSIST1: Gilbert A. Mensah
ASSIST2: Isaac Eshun
4th REF: Prosper Acquah
MC: Nana Boamah Darko
MATCH: STEADFAST VS TECHIMAN CITY
Venue: tamale
REF: Mathew Mando
ASSIST1: Arukmi Michael
ASSIST2: Theophilus Akugri
4th REF: Antadana Francis
MC: Fuseini Ibrahim
MATCH: SUNTAA VS BEREKUM ARSENAL
Venue: Wa
REF: Bernard Aidoo
ASSIST1: Frederick Daniel
ASSIST2: Stephen E. York
4th REF: Seth Awitor
MC: M I Salisu
MATCH: GLORY STARS VS NEA SALAMINA
Venue: Sunyani
REF: Ayoo Lukeman
ASSIST1: Robert Aduko
ASSIST2: Haruna Sumaila
4th REF: Adam Xavier
MC: Kwesi Asante Boateng
MATCH: KINTAMPO FC VS TAMALE CITY
Venue: Kintampo
REF: Daniel Abora Abora
ASSIST1: Francis A Sekyi
ASSIST2: Isaac Nyarko
MC: Takyi Appiah
MATCH: B. A. UNITED VS GBEWAA FC
Venue: Sunyani
REF: Noble Koomson
ASSIST1: P. Owusu Ansah
ASSIST2: Kingsley Asare
4th REF: Patrick Donkor
MC: Charles Darkwah
MATCH: N. WORRIORS VS Y. APOSTLES
Venue:  Nkoranza
REF: Hamid CessY
Assist1: Dakura S. Augustine
ASSIST2: Abdul Salim A.
4th REF: Salifu Dondownaa
MC: Alhassan Brobbey
ZONE TWO
MATCH: KING FAISAL VS PROUD UNITED
Venue: Kumasi
REF: Dickson Wellington
ASSIST1: Seth Abletor
ASSIST2: Saviour Amevor
4th REF: Anthony Odai
MC: E K Asante
MATCH: UNISTAR VS GOLDSTAR
Venue: Kasoa
REF: Umar A Sadik
ASSIST1: Alhassan Isahaku
ASSIST2: Salau Deen Suleman
4th REF: Julian Nunoo
MC: Annan Lomotey
MATCH: N. KOTOKO VS PACIFIC HEROES
Venue: Azuluedawa
REF: Daniel Blabber
ASSIST1: Adotey Akwei
ASSIST2: Joseph Laryea
4th REF: Daniel Okutu
MC: Henry Adiku
MATCH: V. VIPERS VS N. EDUBIASE
Venue: Cape Coast
REF: Joshua Samadzi
ASSIST1: Constance Amarkwei
ASSIST2: Festus Ellettey
4th REF: Daw B Atuobi
MC: J K Mortey
MATCH: ACHIKEN VS SKYY FC
Venue: Obuasi
REF: Eso Morrison
ASSIST1: Abotsi Caleb
ASSIST2: Afetorgbor Kodjo
4th REF: Samuel Kunki
MC: Andrews Derry
MATCH: ALL BLACKS VS STAR MADRID
Venue: Swedru
REF: Dawell Dorgbetor
ASSIST1: Dauda Seidu
ASSIST2: Keneth T. Kodua
4th REF: Abdulai Ibrahim
MC: Ewuzie Sagoe
MATCH: F. C. SAMARTEX VS BYFA
Venue: Samaraboi
REF: Asante Brobea
ASSIST1: Kofi Kodua Mathias
ASSIST2: Gorden Cudjoe
4th REF: Hasim Yakubu
MC: G T S Inkum
ZONE THREE
MATCH: ACCRA LIONS VS AGBOZUME WEAVERS
Venue: Tema
REF: Joseph Addae
ASSIST1: Yussif Gafaru
ASSIST2: Mumuni Fuseini
4th REF: Yussif Mumuni
MC: E M Osamquaye
MATCH: AMIDUAS VS YOUNG WISE
Venue: Tema
REF: Gabriel O. Arhin
ASSIST1: A T. Kwame
ASSIST2: Abdulai Alhassan
4th REF: Ibrahim Ayaaba
MC: V. A. Davies
MATCH: KRYSTAL PALACE VS MIGHTY JETS
Venue: Akosombo
REF: Selorm Y. Bless
ASSIST1: Yevoo Yaw
ASSIST2: Tefe Wisdom
4th REF: Eric Donkor
MC: Samuel Ansah Aboagye
MATCH: HEART OF LIONS VS TEMA YOUTH
Venue: Kpando
REF: Bismark Appiah
ASSIST1: Julius Akuffo
ASSIST2: Isaac Asante
4th REF: E. Asare Darko
MC: William Gidiglo
MATCH: NANIA FC VS PLANNERS
Venue: Legon
REF: Hans Mensah
ASSIST1: Ebenezer Darko
ASSIST2: Isaac Nyarko
4th REF: Whittle Acquah
MC: B Danquah Wilson
MATCH: UNCLE T VS K. ROYALS
Venue: Prampram
REF: Ebenezer Tetteh
ASSIST1: Agbeshie Adam
ASSIST2: Moses Keti
4th REF: Richard Owusu
MC: Sampson Tabi
MATCH: S. P. MIRREN VS GT. OLYMPICS
Venue: MATHS
REF: Jacob Asaffuah
ASSIST1: Cosmos Amoah
ASSIST2: M M Bashiru
MC: G. E. Antwi
MATCH: VISION F C VS DANBORT
Venue: Amrahia
REF: J. K Ansah
ASSIST1: Gabriel Boateng
ASSIST2: Jones Boateng
4th REF: Isaac Osei
MC: Annie Ansah