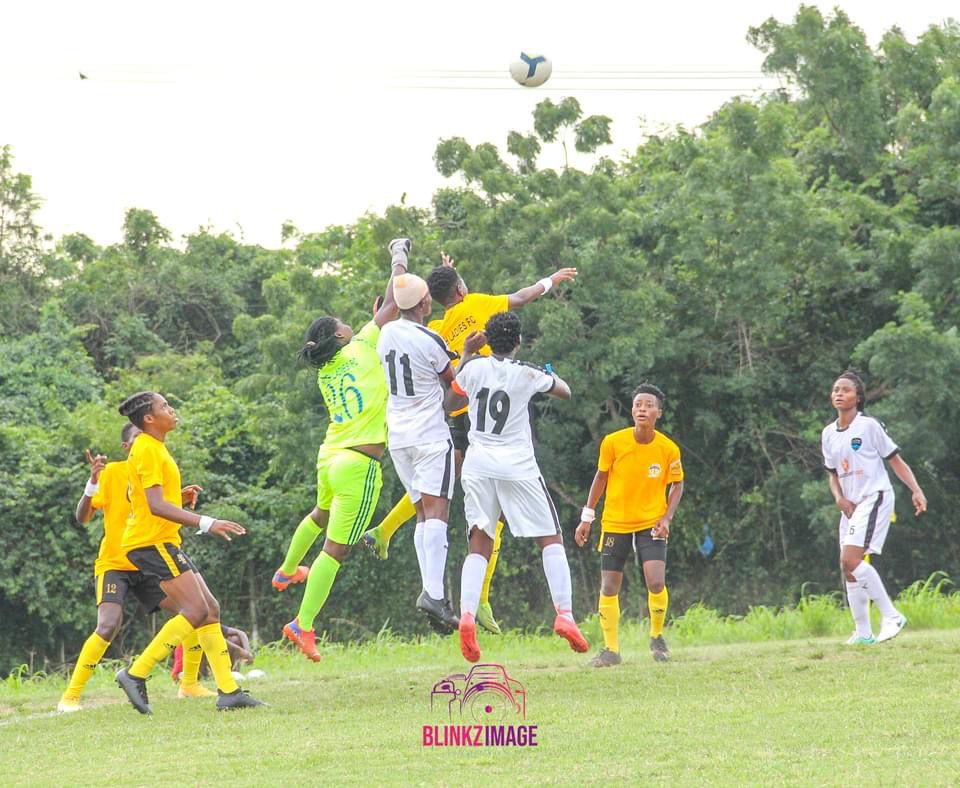 Former Champions Hasaacas Ladies, Berry Ladies and Army Ladies have started the season on a strong footing in the Southern Zone as the race heats up in the 2022/23 League season. Hasaacas Ladies are unbeaten after three matches following victories against Berry Ladies, Essiam Socrates and Police Ladies – picking all 9 points in the process. Army Ladies were off to a flying start on Matchday one but have failed to show consistency in their last two matches. Berry Ladies and Dansoman based Faith Ladies are in second and third place in the League table and this weekend's matches presents them a huge opportunity for their title charge.
Here is what to expect on Matchday 4 in the Southern Zone:
ARMY LADIES' VS RIDGE CITY
Army Ladies dropped points playing away to Faith Ladies last weekend and would be aiming to fight back this time, against a familiar foe, Ridge City FC on Matchday 4. Both sides have fought many battles in the lower tier before making it to the Premier League. The current form of Army Ladies put them slightly ahead of their opponents as the likes of Zainatu Alhassan and Zainabu Mumuni remain virtually invincible at home. Ridge City on the other hand commenced their debut season on a rather slow note and are gradually warming up. They come int the game fresh from a 3-3 draw against Thunder Queens – a result that would boost their confidence heading into this crunch fixture.
THUNDER QUEENS VS HASAACAS LADIES
Hasaacas Ladies are the only team with a perfect record in the Women's Premier League, sitting atop the table with nine points. The 'Doo Ladies' will be looking to make it four wins from four matches when they play guest to Thunder Queens at the PRESEC Park on Friday. Thunder Queens were expected to be fighting for survival this season but have had a solid start, sitting in fourth place on the log. Goalkeeper Rose Teye Baah is set to face the most lethal attack in the zone and must brace herself for it, as free scoring Hasaacas Ladies come to town. They have seven individual goal scorers – a major strength going into the match.
POLICE LADIES' VS SOCCER INTELLECTUALS
Police Ladies have been disappointing watch so far and their situation does not look impressive going into Matchday 4 against an unimpressive Soccer Intellectuals at the Achimota school Park. The 'Service Ladies' have made a dull start to the season, highlighted by their 4-0 drubbing of Hasaacas a fortnight ago. The story on the other side looks gloomy as Soccer Intellectuals have picked up only one point from a possible nine – coming on the back of two defeats and one draw. The two sides will definitely be looking at redeeming themselves for a better placing on the league log but the home side, Police Ladies looks favourites for the points with the advantage of playing at home.
BERRY LADIES' VS FAITH LADIES
A rather tough one from all perspectives, with two of the most consistent teams going head-to-head this weekend at the Madina Astro Turf. Berry Ladies, the home side have been enjoying all the hype, matching it with some classic performance so far as the team lies 2nd in the league log with 6 points. Faith Ladies follow closely in the 3rd position also with 6 points with goal difference separating them. One thing that has been a constant factor for both clubs is the number of goals scored thus far. That trend is expected to continue in this fixture. That notwithstanding, Faith Ladies look slightly poised to get the job done against Berry Ladies despite playing away.
ESSIAM SOCRATES VS LADYSTRIKERS
Another crunch game is brewing - as Essiam Socrates Ladies engage Ladystrikers in another central regional derby this weekend. Essiam Socrates after putting up a stupendous performance to share the spoils with Soccer Intellectuals last week, would want to maintain the form. Ladystrikers slumped at home to Berry Ladies, partly due to the loss of some top team performers to some European and local clubs – with the new recruits yet to find their spark. Right back, Catherine Arthur and Center back Ellen Coleman who last played for Ladystrikers will be up against their former employers. The two players have distinguished themselves in their new club and might play just above themselves in this fixture.
GFA COMMUNICATIONS