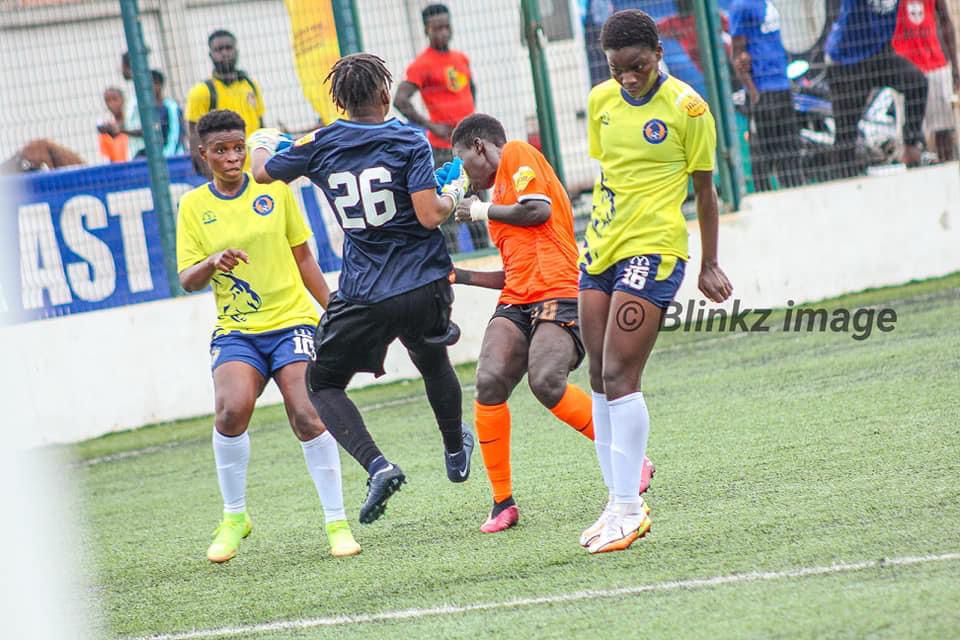 Some interesting matches were witnessed in the Southern Zone this weekend as former Champions Hasaacas Ladies scored in the 79th minute to pip rivals Berry Ladies 1-0 at the Gyandu Park. Army Ladies made giant strides on the opening weekend of the season as they won 5-0 against LadyStrikers on the road – an impressive outing that headlined the Matchday one results. Super Cup champions Faith Ladies also had a smooth take off following a 1-0 win against Soccer Intellectuals at Ajumako. There are some exciting matches to look ahead to on Matchday two across League centres in the Southern Zone.
Read on for the Preview of matches in the Southern Zone:
BERRY LADIES' VS SOCCER INTELLECTUALS
Berry Ladies will host Ajumako-based Soccer Intellectuals on Matchday 2. Berry Ladies suffered a painful 1 nil defeat to Hasaacas Ladies after Doreen Copson slotted home from a free kick in the second half at the Gyandu Park in Sekondi. Soccer Intellectual Ladies also got nothing from matchday 1 having lost 1-0 at home to Faith Ladies. When the two sides met last season in the first round, the game ended goalless at the Adu Yaw Assasan Park. This season's first encounter is scheduled for the Madina Astro Turf where the host have won all the two encounters against Soccer Intellectual Ladies. For Soccer Intellectuals, the team will hope to write a different script to avoid a repeat of last season's defeat.
FAITH LADIES' VS LADYSTRIKERS
Faith Ladies would once again count on midfielder, Matilda Bless Fodu as they host Ladystrikers on Saturday at the Presec legon Park. Having won their opening fixture against Soccer Intellectuals with a solitary goal last weekend, Faith Ladies would match onto the pitch with much confidence ready to display another sterling performance. LadyStrikers comes into this fixture with a heavy 4:0 defeat at home to Army Ladies on match-day 1. The Cape Coast-based side are hoping to turn things around with the likes of Edem Atovor, Linda Essien in their setup for this encounter.
ARMY LADIES' VS THUNDER QUEENS
A classic game is set to be served at the El-Wak Stadium as in-form Army Ladies welcome Thunder Queens on match day 2. Both sides began the season on a high by defeating their respective opponents on match day 1, a sign of good omen as the season unfolds. Army Ladies defeated giants, Ladystrikers 4-0 in Cape Coast whereas Thunder Queens dispatched Police Ladies 2:1 at the Presec Legon Park. Army Ladies appears superior on paper but would have to be tactically disciplined to win over a youthful Thunder Queens side with so much energy on any day.
POLICE LADIES' VS RIDGE CITY FC
The Achimota School park will be the venue of attraction when Police Ladies welcome debutants Ridge City this weekend. Police Ladies were defeated 2:1 in an away encounter to Thunder Queens at the Presec School Park. Mary Berko scored the consolation for Police Ladies as she connected from the spot in the second half to half the deficit. Ridge City Football Club were baptized at home by fellow debutants, Essiam Socrates Ladies in a 3-goal thriller. This particular fixture looks a tall order for the newbies, Ridge City as Police Ladies will hope to capitalize on their inexperience to secure their first win of the season.
ESSIAM SOCRATES VS HASAACAS LADIES
The Mankessim Astro Turf would will host Essiam Socrates Ladies and Hasaacas Ladies on matchday two. The two teams won their respective opening fixtures where Hasaacas Ladies pipped Berry Ladies 1-0 at Gyandu park whereas Socrates thumped fellow debutants Ridge City 3-0 on the road. Socrates have bolstered their squad with the experience Ellen Coleman and Catherine Arthur after Premier League qualification. Hasaacas Ladies would be hoping to establish dominance by bagging all the maximum points at stake with their experience in the League.
Here is the full fixture for the zone: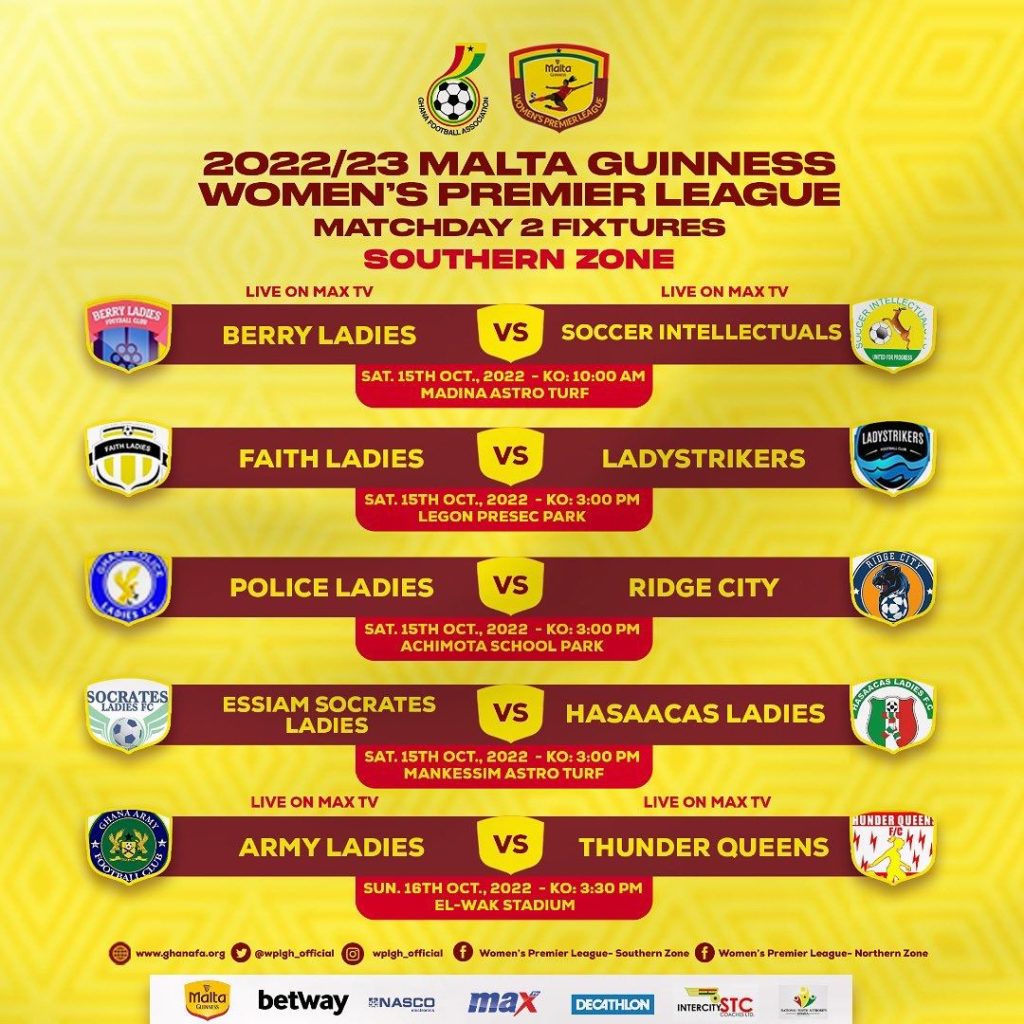 GFA COMMUNICATIONS