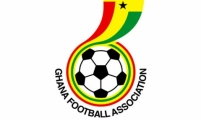 Below is the list of accredited media for the GFA 26TH Ordinary Congress scheduled for Tuesday September 1 at the GFA Technical Centre(GSCE) in Prampram.
Please note that any media personnel whose name is not on the list would not be allowed to enter the premises.
You are kindly reminded there would be strict observance of the COVID-19 Safety protocols and anyone without a nose-mask would not be allowed inside the premises.
GFA 26TH ORDINARY CONGRESS- LIST OF ACCREDITED MEDIA
| | | | |
| --- | --- | --- | --- |
| NO | NAME | MEDIA HOUSE | MEDIA |
| 1 | Andrews Kwesi Eshun | Aseda FM | Radio |
| 2 | Emmanuel Frimpong | Herosportsgh.com | online |
| 3 | Lawrence Amponsah | Twifoman FM | Radio |
| 4 | Dom Agbakpe | Soka25east.com | online |
| 5 | Isaac Worlanyo Wallace | Rainbow Radio International | Radio |
| 6 | Nicholas Akussah | Amanie FM | Radio |
| 7 | Samuel Yeboah | Vision FM | Radio |
| 8 | Romeo Oduro | Peace FM | Radio |
| 9 | Achore Bioh | Ghanasportsnew.com | Online |
| 10 | Adamu Seidu | 442gh | online |
| 11 | Sey Mubarik | Obangu | Radio |
| 12 | Owusu Elijah | Green FM | Radio |
| 13 | Emmanuel Kyeremanteng | Aben FM | Radio |
| 14 | Kwame Kusi | Ahotor FM | Radio |
| 15 | Abdul – Wadudu Jawando | Marhaba FM | Radio |
| 16 | Samuel Addo | Time FM | Radio |
| 17 | Bukari Muazu | Eagle FM | Radio |
| 18 | Kyei Stephen | Shalom Radio | Radio |
| 19 | Sammy Heywood Okine | African Sports Media Network | Print |
| 20 | Opoku Arhin Gabriel | Tamale 123 FM | Radio |
| 21 | Alhassan Babangida | Kingdomonline.com | Radio |
| 22 | Kwabena A. Dickson | Okwawu fm | Radio |
| 23 | Francis Kwadwo Agyekum | Fasportsgh.com | Online |
| 24 | Abubakar Seidu Shiddou | Obuoba FM | Radio |
| 25 | Joyce Amankwah | Top Radio | Radio |
| 26 | Gideon Okyere Anim | Kingdom Fm | Radio |
| 27 | Yakubu Ibrahim | AFA Media | Online |
| 28 | Martin Achoanya Seidu | Majesty FM | Radio |
| 29 | Amoabeng Raymond Owusu | Ahotor FM | Radio |
| 30 | Habib Mohammed | Ash FM | Radio |
| 31 | Courage A. Kwame | Kickgh.com | online |
| 32 | Nana Yaw Amponsah | No1 FM | Radio |
| 33 | Charles Sampah | Max Radio | Radio |
| 34 | Alex Kobina Stone | Adom Fm | Radio |
| 35 | Andy Obeng | Nhyira FM | Radio |
| 36 | Benedict Kwadwo Mensah | Asempa FM | Radio |
| 37 | Naa Mickey | Sikafotos | Online |
| 38 | Kofi Gyekye Tuffour | Oman Fm | Radio |
| 39 | Awal Mohammed | Otec FM | Radio |
| 40 | Ntow Gyan Richard | Nimde3 fm | Radio |
| 41 | Ernest Kusi Boateng | Life FM | Radio |
| 42 | Kingsley Adu | Kasapa fm | Radio |
| 43 | Prince Osei Sarpong | Kessben FM | Online |
| 44 | Raubil Gariba | sportsworldghana.com | Online |
| 45 | Betty Yawson | Starr FM | Radio |
| 46 | Simon Asare | GNA | Radio |
| 47 | Thierry Nyann | 3FM | Radio |
| 48 | Bismark Kwaku Sarpong | Onua FM | Radio |
| 49 | George Mahama | Happy FM | Radio |
| 50 | Muftaw Nabila | Joy FM | Radio |
| 51 | Joojo Ephson | Free lancer | |
| 52 | Andy Asante Okyere | Radio Univers | Radio |
| 53 | Nathaniel Obeng | Angel FM | Radio |
| 54 | Fentuo Tahiru | Citi FM | Radio |
| 55 | Bernard Agboza | FootballmadeinGhana | Online |
| 56 | Theresa Adu Yeboah | Bright FM | Radio |
| 57 | Nii Armah Ashong Katai | Karela.com | Online |
| 58 | Jerome Otchere | Kotoko Express | Online ` |
| 59 | Osenkafo Addo | Atinka FM | Online |
| 60 | Asante Forkuo | ATL FM | Radio |