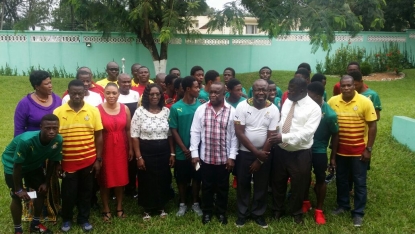 Ghana's Embassy in Ivory Coast had a lunch buffet in honor of the Black Starlets on Sunday October 2 after their goalless draw with the young Elephants which saw them qualify to the 2017 African U-17 tournament.
The National U-17 male side who qualified with a 3-1 aggregate, were hosted at the Ambassador's residence in Cocody, Abidjan a day after the game with their Ivorian counterparts.
The Ghanaian Embassy had earlier presented water, fruit juice and fruits to the team on their arrival in Abidjan and and assured the team of their support.
Deputy Ambassador, His Excellency James Amuzu who hosted the players and officials on behalf of the Ambassador, congratulated the team for breaking the jinx surrounding Cote D'Ivoire and Ghana matches by qualifying and lifting high the country's flag.
He further urged the players to be disciplined and heed instructions from their coaches at all times especially as they prepare for the tournament.
Mr. Amuzu wished the team well and prayed they win in Africa and also conquer the world.
The team has since returned to Accra and will re-group early next year to begin preparations for the tournament which will begin from April 2-16, 2017.