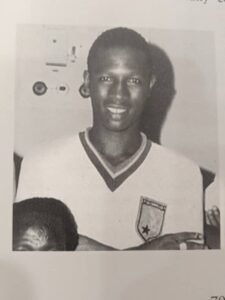 The football fraternity will join scores of mourners for the 7th day Dua of former Ghana player Dogo Moro on Saturday, June 3, 2023.
The football family will be led by President Kurt Edwin Simeon-Okraku. Executive Council Members, Alhaji Abdul Karim Grusah (President of King Faisal), Osei Tutu Agyemang (Chairman, Ashanti Regional Football Association Chairman), former footballers and football administrators are expected to attend.
The legendary defender was pronounced dead on Tuesday, May 30, 2023 at the Komfo Anokye Teaching Hospital, Kumasi where he was on admission for about five days.
Dogo Moro was an integral part of the then amateur senior national team, then known as the Black Stars Group, helping the team to secure the 1959-1960 and 1960 Nkrumah Gold Cup.
He was also a member of the Asante Kotoko SC team that won the 1970 CAF Champions League.
Witnesses of his playing days attest to the fact that his style of play as a defender is incomparable, noted for his power in the air, challenging strikers for the ball despite the fact that he wasn't that a tall person.
He was laid to rest on Tuesday, May 30, 2023.
Dua in Islam means invocation - to call out - and is an act of supplication, meaning asking or begging for something earnestly or humbly. For Muslims, it is an act of worship in which they ask Allah for His forgiveness and mercy, to grant them His favours and answer our requests.
GFA COMMUNICATIONS