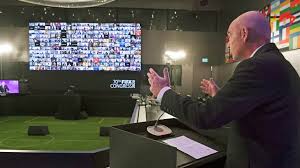 FIFA President Gianni Infantino has opened the 3rd FIFA Compliance Summit aimed at bringing together governance and compliance experts and practitioners from across football, in a virtual format from 12 to 16 October 2020.
This year's summit which kick started today is separated into two parts including opening and closing sessions and virtual working meetings for FIFA member associations and the confederations.
FIFA President Gianni Infantino and General Secretary Fatma Samoura gave the opening remarks at the summit which began at 15:00CET.
Opening the summit, President Infantino said:
"Since my election in 2016, FIFA has worked tirelessly to successfully implement reforms in the fields of governance and compliance. Today, the new FIFA now stands here as a credible, accountable, modern, professional and transparent organisation – one which aims to be at the service of football and aims to ensure that football makes an active and positive impact on society.
"All of this would not have been done without embracing compliance and good governance. In 2016, we brought in transparency and accountability at every level – including mandatory auditing, term limits for senior officials, transparent bidding processes for FIFA competitions as well as establishing a dedicated compliance subdivision and internal function within FIFA.
"As we look to continue our efforts to make football truly global, it is now more important than ever, particularly in these difficult times, for football to continue to move in the right direction by working together and ensuring that the right governance and compliance structures and processes are in place at all levels."
Other keynote speakers include former US Attorney General Loretta E. Lynch and Director, Ethics Office, United Nations Secretariat, Elia Yi Armstrong.
The summit is being streamed live on FIFA.com from 15.00 CET on Monday 12 October 2020.
Here is the agenda for the summit from October 12-16: Tuesday October 13 - 3rd FIFA Compliance Summit -Working session in English, presenting confederation: AFC - 3rd FIFA Compliance Summit -Working session in English, presenting confederation: CONCACAF
Wednesday October 14 - 3rd FIFA Compliance Summit -Working session in Spanish, presenting confederation: CONCACAF, CONMEBOL
Thursday October 15 - 3rd FIFA Compliance Summit -Working session in English/French, presenting confederation: OFC - 3rd FIFA Compliance Summit -Working session in English, presenting confederation: CAF
Friday October 16 - 3rd FIFA Compliance Summit -Working session in English, presenting confederation: CAF - 3rd FIFA Compliance Summit -Working session in English, presenting confederation: UEFA