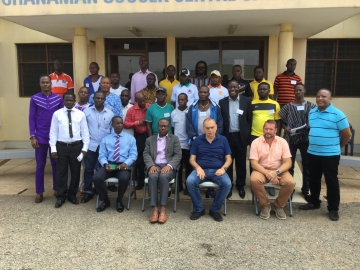 President of the Ghana Football Association (GFA) Mr Kwesi Nyantakyi officially opened the FIFA Pitch Maintenance course for groundsmen on Thursday July 28 at the Ghanaman Soccer Centre of Excellence in Prampram.
The seminar is aimed at training groundsmen of the various national and club pitches on how to maintain the natural grass pitches to ensure its longevity.
It's also to teach the groundsmen on the importance of good maintenance of football pitches and to maintain their quality.
GFA President Kwesi Nyantakyi, in his opening remarks at the opening ceremony on Wednesday morning said that the seminar is in fulfillment of the GFA's promise to maintain football pitches and encouraging proper maintenance of football pitches as well.
"Key to this mission is to ensure that Ghana has well trained groundsmen who can develop and maintain pitches to meet up to international standards".
"This will also ensure a new career path for most of the participants of this course",the GFA boss stressed.
He added that the course will help prevent many career threatening injuries associated with rock-fill pitches in Ghana which our footballers have endured over the years.
"Such pitches have prevented many footballers from reaching their full potential as they are unable to fully express themselves when playing", he added.
On his part, Black Stars head coach reminded the groundsmen about how important their work is to the development of the players and the performance of their teams.
He called on the participants to learn from the seminar and implement what they learn at their various clubs or national pitches.
FIFA Pitch Consultant Matthew Dean Gilasbey added that if the pitches are not well developed, players cannot exhibit their skills and perform well.
The seminar is expected to end on Friday July 29 after the groundsmen are taken through the modern technology in pitch management.