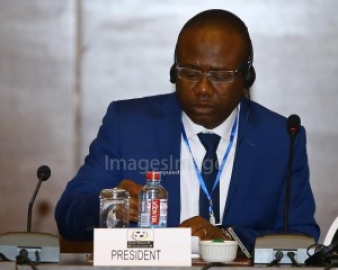 FIFA have cleared Ghana FA President Kwesi Nyantakyi to contest for the World Football governing body's upcoming Executive Council election scheduled for March 16 in Addis Ababa.
Mr. Nyantakyi who is an incumbent member of the current FIFA Council, is eligible to contest for a slot on the council after passing an integrity check carried out by the Governance Committee in conformity with article 27.5 (d) of the Governance regulations.
Under the new FIFA reform laws, persons who hold or seek to hold an official FIFA position, must undergo an integrity check prior to their election or re-election.
And failure to pass the check would have disqualified the CAF executive member.
Below are the candidates who have been confirmed as eligible to contest for slots on the FIFA Council:
Mr. Issa Hayatou (Presidency CAF and vice-president FIFA Council)
Mr. Ahmad (Presidency CAF and vice-president FIFA Council)
Mr. Constant Omari Selemani (member of the FIFA Council)
Ms Lydia Nsekera (member of the FIFA Council)
Mr. Kwesi Nyantakyi (member of the FIFA Council)
Mr. Leodeger Chilla (member of the FIFA Council)
Mr. Almamy Kabele Camara (member of the FIFA Council)
Mr. Hany Abo Rida (member of the FIFA Council)
Mr. Tarek Bouchamaoui (member of the FIFA Council)
Mr. Augustin Sidy Diallo (member of the FIFA Council)
The following members Associations have withdrawn nominations for the following persons:
Chabur Goc Alei (South Sudan)
Kalusha Bwalya (Zambia)
Daniel Alexander Jordaan (South Africa)