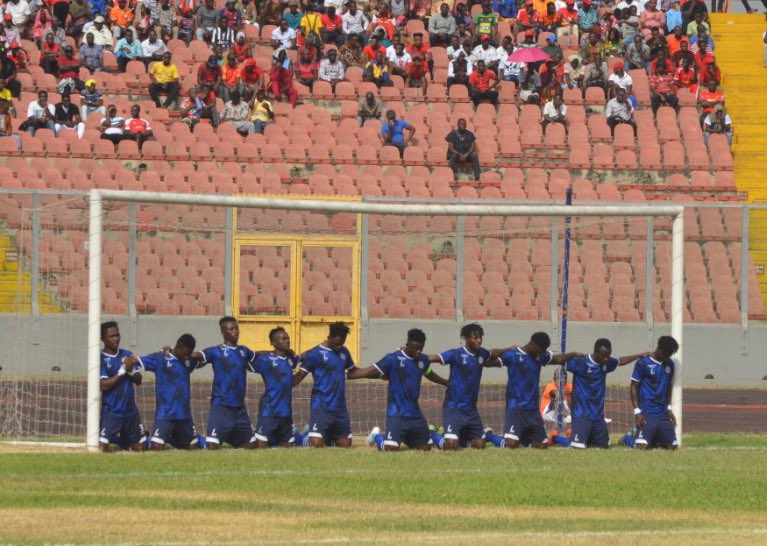 Berekum Chelsea maintained their fine form after a 1:0 win over Dreams FC at the Golden City Park in Berekum.
Captain Zackaria Fuseini tapped in from a resultant corner kick in the 15 min of the exchanges. Though the victory is their first home win in the 4-week old league, it came on the heels of a similar result against troubled Asante Kotoko last Sunday in Kumasi.
The home side started exerting lots of energy in the early minutes of the game as the home fans enjoyed the skillful foot works of Stephen Amankonah on the wings.
Their early efforts were rewarded when Zackeria Fuseini notched the ball home after a low grounded corner kick was smartly flicked to his direction by Kofi Owusu, to beat Dreams goalkeeper Peter Sarkodie.
An innocuous challenge, however, resulted in Cletus Daho Nombil of Dreams sustaining a minor head injury in the 21st min but managed to play the full throttle of the game.
The exchanges continued with the away side slightly bossing the midfield in the rather dry unfriendly weather being experienced in the northern part of the country, resulting in center Referee Bernard Domfeh, calling for a 90 seconds cooling break for the players to take in water in the 34th and 75th minutes.
Peter Sarkodie produced fantastic double save from tormentor Stephen Amankonah to ensure Dreams ended the half conceding just a goal.
The second department failed to excite the fans as both sides could not make the few chances, that came their way, count. 
The tactical tinkering of the teams by both coaches also could not alter the scoreline as Nasco Man of the Match, Zackaria Fuseini's first-half strike won them their first home victory.
"We lost due to lack of concentration. The goal came as a result of a slight mistake by my lateral defender", Dream FC coach, Abdul Karim Zito lamented. He, however, noted that though both sides did well, they failed to take their chances. "The season is still young and we have a lot to play for, with our young team", he assured.
Berekum Chelsea coach, Joseph Asare Bediako opined that people thought because they beat Kotoko and Hearts, playing against Dreams would be easy but it came out very tough especially playing at home. 
"I capitalized on the weakness of their side", he said, adding, "They are tall and good in the air. So we decided to play more on the ground, which also happens to be the weakness of their goalkeeper who I have trained before".
Coach Bediako assured his fans of his team maintaining focus as they strategize for their next game against AshantiGold at Obuasi in week 5 of the Ghana Premier League.
Berekum Chelsea has amassed 10 points out of a possible 12.