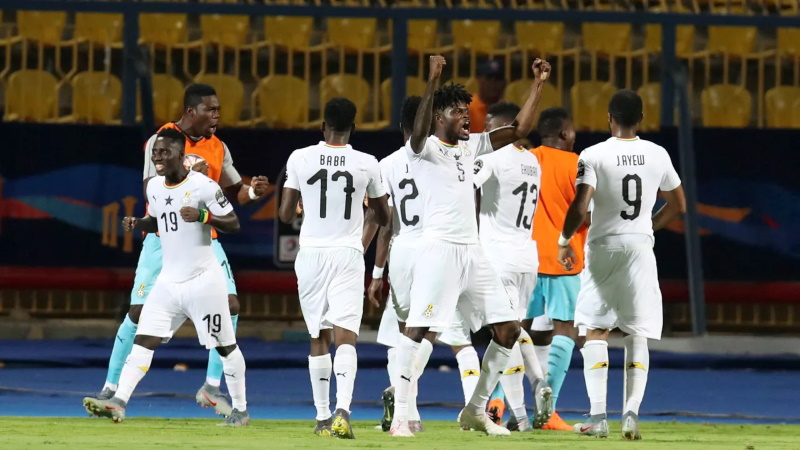 The Black Stars have been commended for their gesture towards society following the donation of Personal Protective Equipment (PPEs) to the Ghana Football Association.
Players of the senior national team on Friday, July 24, 2020 donated PPEs worth one hundred thousand Ghana cedis (GH¢100,000) to the GFA for onward distribution to the general public.
The news has been well received by key figures in the football circles including President Kurt E.S Okraku, former Vice President Fred Pappoe, Black Stars Head Coach C.K Akonnor and former international Samuel Osei Kuffuor among others.
Here is how they reacted to the news:
Kurt E.S Okraku – President, Ghana Football Association
This is a big surprise. Honestly, for the FA to receive this amazing support from our own players, our gallant Black Stars players who have been thinking about not only their health but also the health of our general populace.
So, it is very, very gratifying that members of our senior national team, the Black Stars, will also make this amazing contribution of hundred thousand Ghana cedis that has been used to purchase this PPE's for the use of the general public.
On behalf of the Executive Council, we extend our heartfelt gratitude to our players, the members of the Black Stars Management Committee for this amazing support. These items will be distributed across, and it will reach the homes of many, many.   We thank you so much and may the Almighty God bless us all.
George Amoakoh – Chairman, Black Stars Management Committee
We make this presentation on behalf of our Black Stars players. In view of the COVID-19 pandemic, members of the team decided to make contributions towards this presentation we are making this afternoon. Black Stars Management Committee Chairman George Amoako said in an interview with the GFA media team
The contributions put together came up to the tune of GH¢100,000. The Black Stars Management is presenting to the GFA for onward distribution to the general public
CK Akonnor – Head Coach, Black Stars
They have done it individually which I know. but for them to come together as a team to do it shows oneness, togetherness and it shows that the team spirit is very, very high. We have always known them to be taking bonuses and others. But this time around, they have decided to give back to society. They have shown a lot of love...
Samuel Osei Kuffuor – Member, Black Stars Management Committee
Well, I think it means a lot, in my opinion, to the people of Ghana. And we have to congratulate the boys for thinking about other people. They didn't think for themselves alone. But to think about the health of the people of Ghana is very touching.
Fred Pappoe – Member, Black Stars Management Committee
It is a good sign because they have always shown the desire to reconnect with the fans and the Ghanaian public and they couldn't have done it in a better way in a more trying time than this. We can only thank them for doing that and we only hope and pray that this kind of relationship will be both ways and then it will continue forever.
Jones Alhassan Abu – Member, Black Stars Management Committee
For them to be so thoughtful as to make such a significant financial contribution towards the provision of very essential materials that are needed for the public to stem the spread of this deadly virus is something that we have to commend.
GFA COMMUNICATIONS