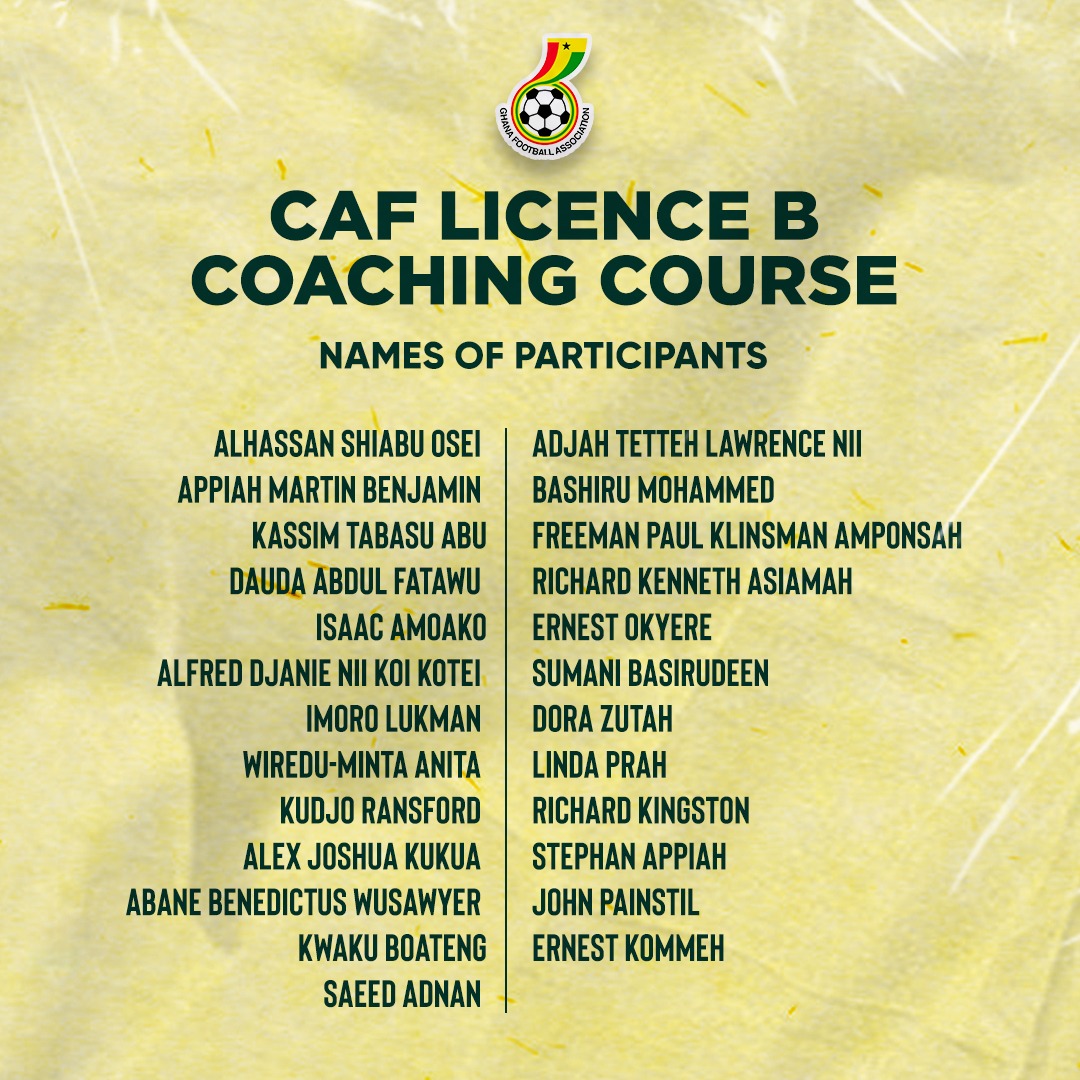 The upcoming CAF License B Coaching course in Ghana has generated significant anticipation, attracting a diverse group of ambitious coaches and retired footballers who are eager to enhance their coaching skills and elevate football standards in the country. Notable applicants include Stephan Appiah, John Painstil, Lawrence Adjah Tetteh, Richard Kingston, Isaac Amoako, Dora Zutah, Anita Weridu-Mintah and Fatawu Dauda.
Stephan Appiah, former captain of the national team, has chosen coaching as his next career path. With his exceptional vision and strategic prowess on the field, he aims to nurture young talents and share his wealth of experience with them. The CAF License B course is a crucial milestone for him to refine his tactical acumen and learn from experienced mentors.
Anita Wiredu Mintah, a trailblazer for female coaches in Ghana, she has dedicated to empower young girls through sports, particularly in Women's football. As she prepares for the course, Mintah seeks to deepen her understanding of player development and establish a network of coaches who share her vision of promoting Women's football across the continent. Anita is a former player of the senior Women's team - otherwise known as Black Queens.
Fatawu Dauda, a former goalkeeper for the national team and a current CAF License holder, is known for his unique coaching methodologies and innovative approach to the game. He emphasizes nurturing individual talents, making him highly sought-after as a coach. The CAF License B course presents an opportunity for him to connect with like-minded professionals and further develop his coaching philosophy.
Other key individuals who will undertake the course include former Black Stars right back John Painstil – a player who won 89 caps for Ghana and played in the World Youth championship final in 2001. John also played in two World Cup tournaments in Germany 2006 and South Africa 2010 where Ghana reached the quarter final stage.
Two-time FIFA World Cup participant Richard Kingston will also join his former team mates for the course. Richard made 93 appearances for Ghana in an International career that spanned 16-years. He previously played for Accra Great Olympics, Galatasaray, Wigan Athletic, Birmingham City, Blackpool FC among others. Richard Kingston is currently the goalkeepers' coach for the senior Men national team, otherwise known as Black Stars.   
Former Dawu Youngsters and Accra Hearts of Oak midfield dynamo Lawrence Adjah Tetteh -  CAF Confederation Cup winner and Asante Kotoko legend Isaac Amoako – who now works with Premier League club Nsoatreman FC as goalkeepers coach are all included in the list.
These individuals are just a few of the aspiring coaches who have applied for the CAF License B course. With their collective ambition, passion, and expertise, they are poised to drive change, nurture talent, and shape the future of Ghana football.
As the course approaches, the spotlight is on these remarkable individuals, eagerly awaiting the transformation it will bring to their coaching careers and the African football landscape. Their dedication and commitment to football in Ghana inspire hope for a brighter future in the sport.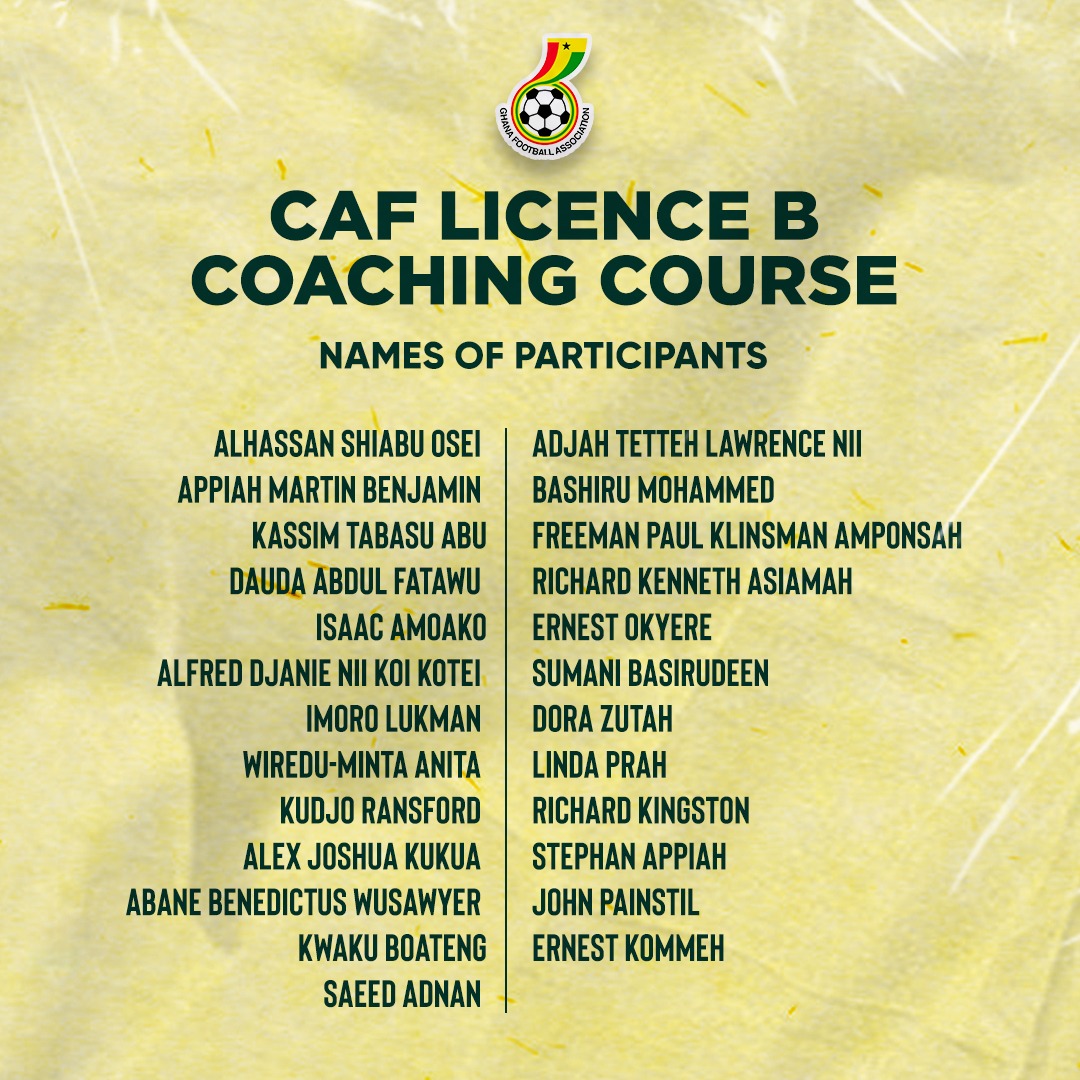 GFA COMMUNICATIONS