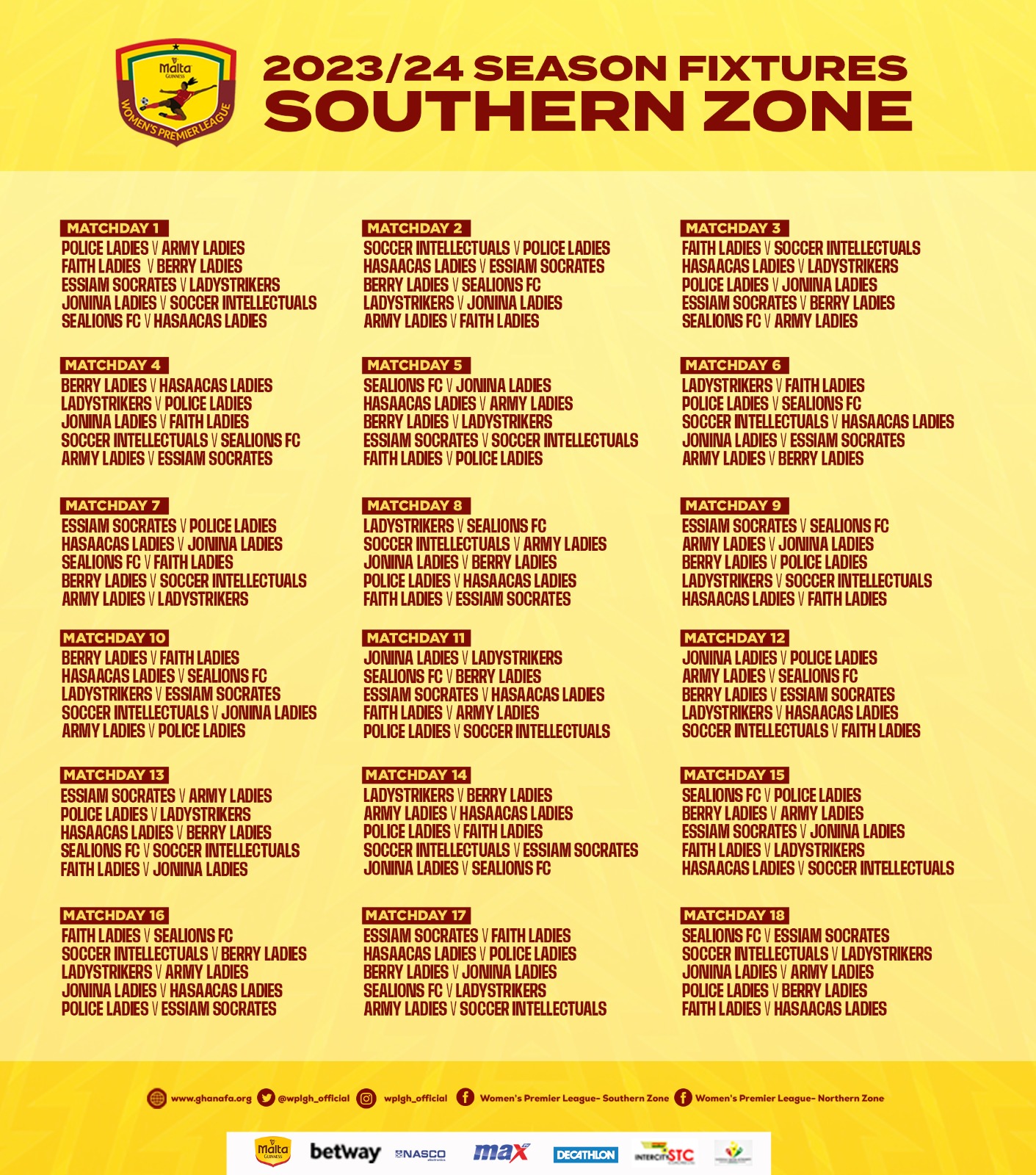 The 2023/24 Malta Guinness Women's Premier League Southern Zone fixtures are in and promises a lot of interesting games throughout  the season.
The season opener is scheduled for the weekend of 31st October to 2nd November, 2023 and here is a brief highlight on some key games in the first round.
A service derby headlines match day one as Police Ladies welcomes Army Ladies at the Achimota School.
Still riding the wave of euphoria from the past seasons, Berry ladies will host returnees, Sea lions FC at the Madina Astro turf on match day two and that seems to be a top liner for the week.
Old foes, Hasaacas Ladies and LadyStrikers will rekindle the fire on match day three at the Gyandu park. Meetings between these two are always dicey and go either way to make week three an interesting week to anticipate.
Match day four comes with the clash of the Titans at the Madina astro turf where Berry ladies host Hasaacas ladies. Games between the two sides come with lot of action and is a game to watch out for in the season.
Match day 5 will see a repetition of a game we witnessed in the women division one zonal championship between newbies Jonina Ladies FC and returnees Sea lions FC. It was a nerve wracking experience in Kyebi and fans of the Premier league would be served another dose of the game.
Faith ladies will trek all the way to the Adu Yaw Assasan park in Ajumako with hope of claiming victory on the road against Soccer Intellectuals. The most fascinating thing about this encounter will be the youthful exhibition of talent on the day.
Elsewhere in match week seven, Essiam Socrates will face off with Police Ladies at the comfort of their home, the Mankessim Astro turf.
Match week eight will serve a friendly fire as Jonina ladies FC come face to face with Berry Ladies in the week. Even though this will be their first encounter in a league match, it promises to come with some excitement.
A repetition of last season Zonal final will take place on match day nine where Hasaacas Ladies lock horns with Faith Ladies. This  rivalry was the talk of the season and it's believed to be another fascinating one loading.
Find below the fixtures as scheduled to unfold in the season;