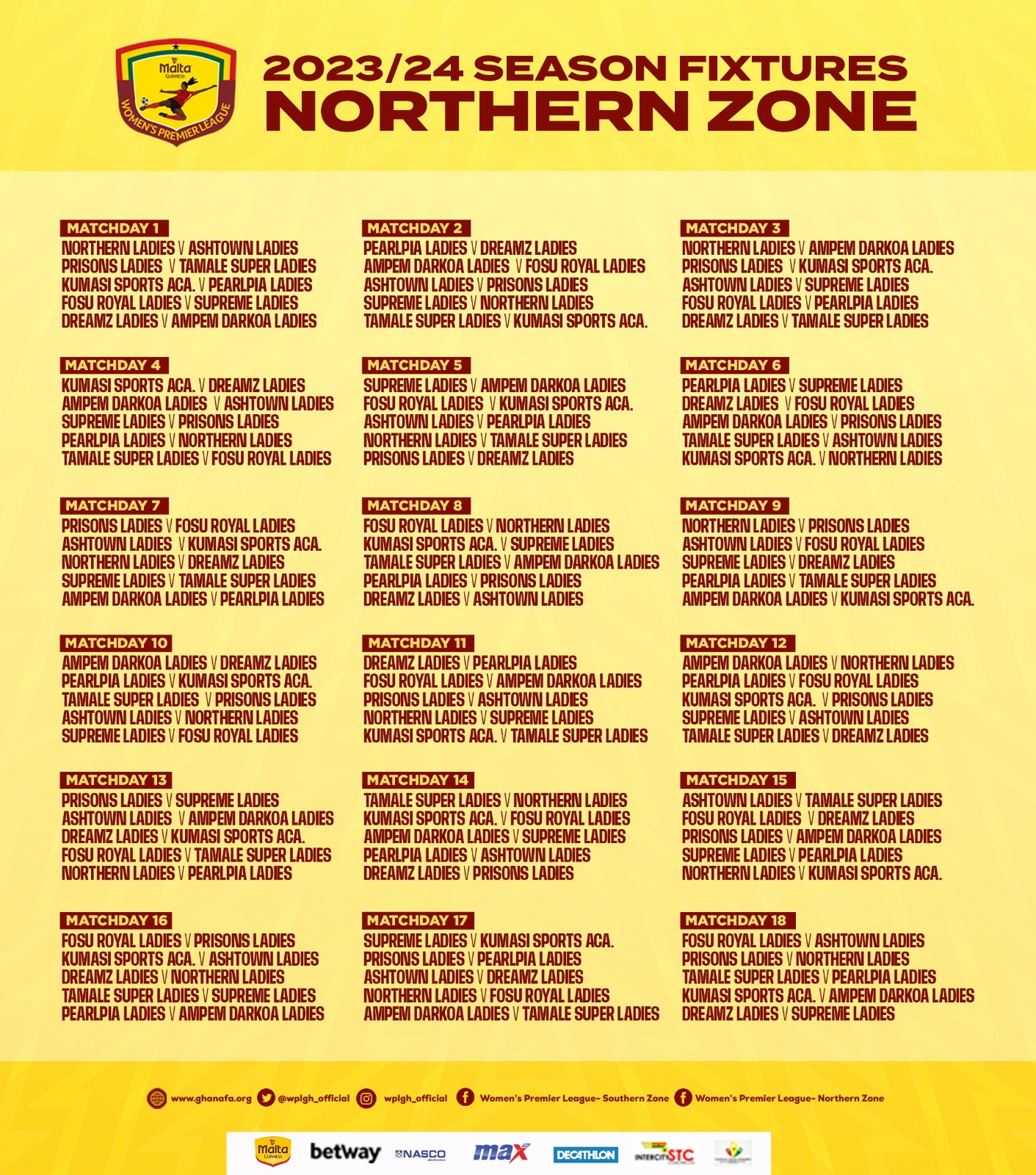 The 2023/24 Malta Guinness Women's Premier League Northern Zone fixtures come with lot of interesting clashes throughout the season. Here is a brief highlight on some key games in the first round.
Familiar foes, Dreamz Ladies coming up against League champions, Ampem Darkoa Ladies in surely a suitable opener for match week 1 in the Northern Zone. Games between both sides are usually unpredictable and week one promises to dish out nothing but an exciting thriller.
Ashtown Ladies has over the past season been the nemesis of Prison Ladies in Kumasi and match week two presents an opportunity for their fans to enjoy a feel of sumptuous football.
The much anticipated Kumasi derby features Ashtown Ladies and Supreme Ladies for the first in the season on match day 4 and promises to be nerve racking infront of Kumasi fans.
Pearlpia Ladies and Northen ladies will present the biggest northern derby of the season on match day four. Games between both side are u predictable and could easily go either ways.
Match day five will see newly promoted side, Fosu Royal Ladies and returnees Kumasi Sports Academy are likely to produce a bang and pressure could be mounting on both teams to deliver.
Ampem darkoa Ladies and Prisons Ladies'encounter on match day 6 is likely to create so much buzz in the Techiman and it's environs just as it has always been for the past seasons.
Ashtown Ladies versus Kumasi Sports Academy produces another derby in the Ashanti region and promises to be a thrilling encounter to headline match day seven.
Pearl Pia Ladies and Prisons ladies will rekindle a long lasting rivalry on match day eight at the Aliu Mahama Sports stadium and will be an inviting game for the week.
Pearlpia Ladies and Tamale Super ladies will present fans of the Malta Guinness premier league another opportunity to to witness good football in the Northern Regional capital.
Find below the fixtures as scheduled to unfold in the season;