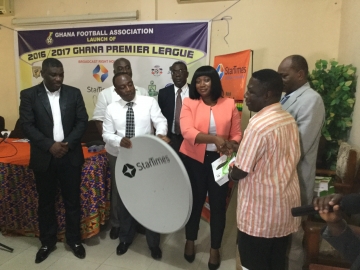 The 2016/17 Ghana Premier League has officially been launched and is set to commence on 12 February.
The launch of this year's edition of the competition was held at the FA secretariat on Wednesday February 1.
The event also saw officials of broadcast sponsors Star Times announce the package they have for the nation's top flight League.
"It has been great honour partnering the GFA as well look to improve the standard of viewership of the league and the standard of play" a director of Star Times said at the launch.
"The Premier League package for 10 years has been broken in three parts thus from 1-3, 4-6, and 7-10. The first three years will receive an amount of $700,000, the second part which is from 4-6 will receive an improved sum of $1,008,000 with the last part receive a whooping sum of 1,232,000, which accumulates to the total sum of $10,520, 000 for the 10-year duration"
"Aside the various packages for the GALA, FA Cup competition, Women's Cup we will provide 10 football pitches in all regions in the country during the period of sponsorship", he added.
StarTimes will pay an amount of US$ 17 million for a ten-year period.
The competing Clubs also outdoored their jerseys ( home & away) for the new season
Vice Chairman of the Premier League Board Mr George Amoakoh announced that the Board has agreed to postpone the start of the League from February 4 to 12th in solidarity with the Black Stars who are in the semis of the ongoing AFCON.
All clubs received a satellite dish and a Digital box from Star Times.