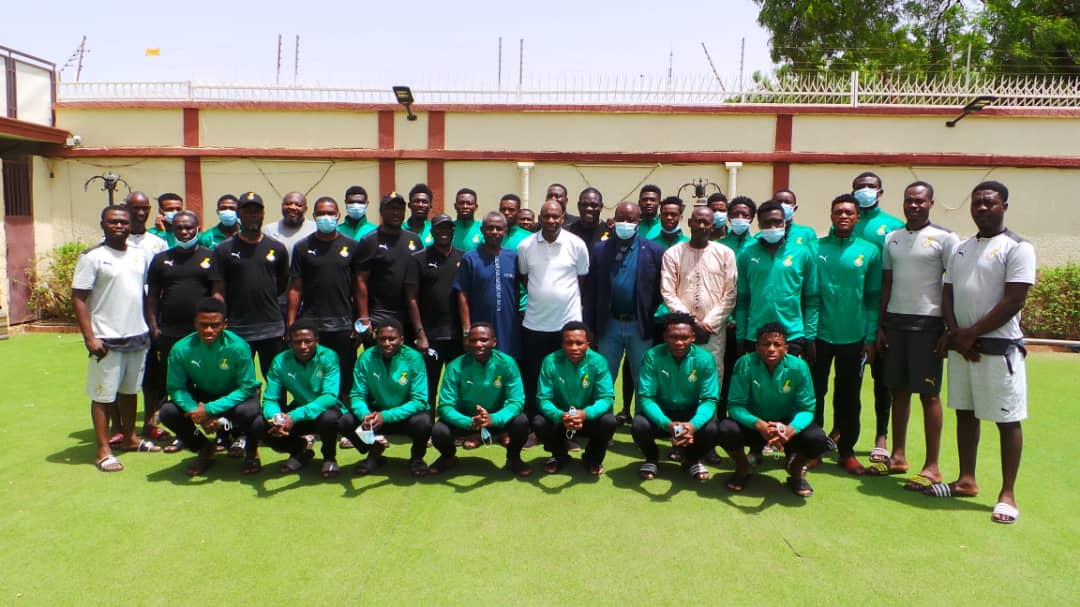 Video available on this evening's edition of GFA News at 6pm.
Ghana's players at the 2022 WAFU B U-20 Championship have to improve their game if they are to retain the title they won two years ago, says President Kurt Edwin Simeon-Okraku.
The WAFU B President made these remarks when he visited players and officials of the team at their camp base in Niamey, ahead of their final group match against Burkina Faso on Saturday.
He was in the company of the leadership of the Local Organizing Committee (LOC) of the tournament when they visited the team on Thursday.
The Black Satellites had a difficult start to the competition when they were defeated 2-0 by arch rivals Nigeria in their opening game in the three-team Group B.
They must win their clash with the Young Stallions of Burkina Faso to be able to advance to the semi-final and the WAFU B Boss says they have to improve their play to achieve that aim.
"We are on a visitation tour to all seven nations that are playing in the WAFU tournament. We've been to Benin, Togo, Niger and it's your turn to receive us" Simeon-Okraku told players and officials of the Ghana team at their team hotel on Thursday.
"As defending champions of this tournament, I am sure you came to defend your title. You've played one game already which didn't go well but you have the chance to play another game on Saturday.
"On behalf of the WAFU Executive Committee I wish you well. I hope you make yourselves and your country proud. Anytime you go on the pitch remember that you are one of the chosen few who are here to make your country proud.
"You must not take this opportunity for granted. There are thousands and more who could have been here but you are the chosen few. WAFU will continue to offer young players the opportunities and platform to excel. We will continue to give such platforms to make yourselves and your country proud.
"Ghana is a good football nation and as defending champions everybody is looking up to the performance of this team. That's why it's important that the next time you get the opportunity to show your quality, you just really show your quality.
"As defending champions WAFU B will want to see you go far. On behalf of the Executive Committee I wish you well and I wish that you enjoy your game. Whenever you put on your boots give off 100 million percent performances. It's a platform that you can't take for granted because it can determine who you become in your career.
"Again, I wish you well and the best of luck and May the better team win. As a Ghanaian, I want you to win so go and win." he added.
The leader of Ghana's delegation at the WAFU U-20 Championship, Dr. Randy Abbey, assured the WAFU and the LOC that the Black Satellites will up their game when they face Burkina Faso on Saturday.
"On behalf of the Management, technical team and players we would like to express our profound gratitude for the visit. We know this visit is not restricted to us alone but also to the other six participating teams in this competition," Dr. Abbey said.
"It is important to check up on the teams and to encourage the players and remind them of the platform that has been offered to them to hone their talents for themselves and their countries.
"Yes our first game didn't go as we wanted but fortunately yesterday's result puts our destiny in our own hands. We expect to pull out a performance on Saturday as defending champions and continue to compete and make our country proud.
"We thank you once again for your visit and we are encouraged by your words and we hope that we will lift high the flag of our country on Saturday.
The 2022 WAFU B U-20 Championship is currently taking place in Niamey, Niger with all the seven countries in the zone taking part.
The competition started in Niamey on 7th May and will end on 20th May.
The top two sides in the tournament will qualify for the next U20 AFCON tournament that will take place in Egypt from February 18, 2023 to March 12, 2023.
The top four teams from the championship will qualify for the FIFA U20 World Cup held in Indonesia later in that same year.
GFA COMMUNICATIONS