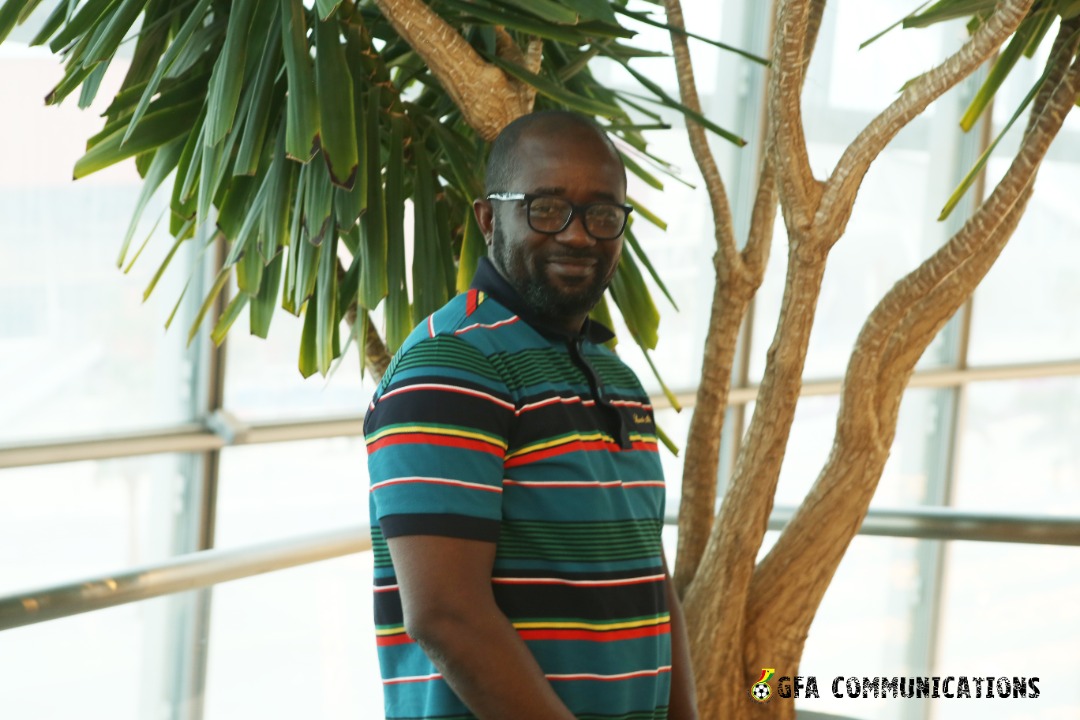 President of the Ghana Football Association Kurt Edwin Simeon-Okraku has described the year 2021 as a pretty good year in an Exclusive interview with ghanafa.org. In the interview, Mr. Simeon-Okraku who has been in office for two-years, two-months, one-week and 7 days touched on some of the remarkable achievements chalked during his leadership,. He also spoke about the Catch them young Refereeing policy, support for Women's football, the performance of Hasaacas Ladies in last month's CAF Women's Champions League, governance and administrative policies and many more:
Read on for the full transcript:
On the 2021 season and how wonderful it was
Yeah it's been good. I don't know what you think though, but from my side it's been pretty good. I think that 2021 was a very good year for us if you look on my left, you will see KGL, you will see Puma, you will see Bethel, Wooden, Awake, share Ghana and Beyond the return. Clearly these are key indicators for anybody at all to see that there are a lot of people especially from the private sector who are seeing the positives that Football can offer the country. Generally I think that we had a very good year. Some amazing stories were told.
On challenges during the year
We had some few challenges I must be honest. But that's the essence of a building process, that's the essence of a changing process. Change we always say is a very difficult process but when it is that people believe in the vision, when it is that people are able to put people at the right levels of skill sets together and believe in the vision and they pursue the visions, obviously you expect that the end will be good. So I will say that generally, in very, very broad terms the future of our today looks very good because of what happened yesterday.
On Black Satellites winning WAFU and Africa Cup of Nations as well as other national teams
I will start from a very bold decision taken by the Executive Council to set up our national U-15 boys and girls teams. For me that was a bold statement because it's very important for us to have a clear pathway for the development of intangible assets which are the players. So we brought back our national U-15 boys and girls and for me that gladdens my heart a lot. Now fast forward we competed in the U-17 WAFU competition - we also competed in the U-20 WAFU competition. Unfortunately the U-17 team was not successful but that is part of football development.
But the U-20 won the WAFU competition and went on to completely dominate in the African continent. So we are African Champions and that's what gladdens my heart a lot. In the years that Ghana was dominant at youth level, our national team especially our A national team was very, very strong.
In the years of 2006, 2010, 2014, where Ghana was ever present at every youth international meet, our A national team were very strong. So for me as a leader of this family, my single ambition is to ensure that for every international meet at the youth level Ghana is represented and represented well and I'm very happy the U-20 made us proud and obviously we've had the likes of Dalad Ibrahim, Fatawu Issahaku and Philemon Baffour all gaining promotion to the A national team of Ghana and that's what we set out to achieve.
Beyond that we also re organized U-17 boys and U-20 girls and they are all in camp. The Black Queens unfortunately were paired against Nigeria - the two super powers in the West Coast of Africa and unfortunately one has to go out and the Black Queens lost. But that tells you clearly the quantum of energy and effort this Football Association is investing in the female game.
I think we are encouraging more female participation in the sports across all facets of the football ecosystem be it governance, refereeing also via the catch them young refereeing policy, by way of personnel who administer our female national teams. But I think there is a general push for Women's football in this country and the performance of Hasaacas Ladies at the WAFU tournament, their performance at the African championship speaks volumes of the quantum of intangible access that we have here and also about the quality of investment that we have in the female game. So on national team front I think it's been very, very positive at both male and female sides.
On Asisat Oshoala's advocacy to change CAF zonal qualification for Women's Africa Cup of Nations
Well I think I've taken this discussion to the very highest level of African football governance. I don't think the current structure and format is fair enough, same is the opinion of my colleague in Nigeria, President Pinnick and a few others. I think that it's something that the competition department of the Confederation of African Football is having a look at because we made a good case for CAF to relook at the format of that competition. At the end, Africa has to be represented by the best teams. Now beyond that, I've been calling for a special qualification tournament for the women's World Cup. We should have a different qualification tournament for Women for the World Cup and a separate competition for the AFCON Women. It's something that I'm pushing. At the Executive Council level at CAF, I'm going to pick up and follow up this conversation.
On bridging the gap between national teams ie organizing friendly matches for U-17, U-20, U-23, and home based Black Stars. What is the motive?
Well when we set out to work in the year 2021, I had a lengthy discussion with the national teams Department. And the target was to ensure that our national teams are exposed to competitions, to games, to expose our players to give them the right levels of confidence when it comes to competition proper so our single ambition was to ensure that we open doors for every national team to be active so from the U-17 boys and girls up to 20, we found a way to keep everybody in games and I think that is the way to go and indeed, in this new year we intend to follow the same strategy to ensure that both boys and girls always have friendly games or international games to participate in. It's part of the general developmental agenda of this Football Association and that will only go a long way in improving the confidence of the players, the technical team and everybody who is part of the developmental agenda of our Football Association.
On Ghana's journey to the Africa Cup of Nations – Cameroon 2021
I think that normally giving the history of our Black Stars and the history of Ghana and giving the kind of teams we had to complete against, normally everybody will expect the Black Stars will clear everybody but the truth of the matter is that ,the Black Stars had been unstable. Not only by way of Technical direction, but also a way of personnel and therefore it was always going to be a big fight for among the less indulge football nations. But at the end, the team achieved qualification, we shouldn't take anything away from the team, the team worked for it, they qualified and now gradually the team is having a more stable character, a more stable personnel and I believe that we have a very good assembly of some of the very best talents Ghana can have currently. I have so much confidence in this squad - age is on their side and I think this team will soon dominate the African continent and beyond. I believe that as we prepare for the AFCON, the platform that Africa presents will give each one of these players the opportunity to show what they are made of.
On if he had doubts about Ghana's qualification to Cameroon 2021
No way, I always believed in the squad, I believed the technical team had done enough for us to make it. At that time C. K Akonor and his guys, I think did enough to make sure we qualify and we did qualify. Now qualification is behind us, the team is improving by the day and we only have to support our own - that's what i believe in.
On being nervous the day Ghana played South Africa in Cape Coast
I mean South Africa will always be a good opponent and therefore giving what was at stake I always knew it was going to be a difficult game. I knew Ghana needed to win; South Africa needed to avoid defeat. Therefore the stakes were very, very high but if you were with the team, if you had a closer look at that level of comradeship, the level of determination on the faces of each one of them including the captain of the side I had no doubt whatsoever in my mind that on that day he will score a goal and make it to the next level okay and from what we saw the team gives all of us hope for the future. This was a team of brave warriors who truly, truly wanted to make themselves Ghana proud and they fought for everything that day and I wasn't surprised that at the end we won and we deserved to win.
On the nervy end to the game and the reaction of Sports Minister Mustapha Usssif (Hon.).
Hon. Mustapha, obviously an ardent supporter of our Black Stars will always want the team to make it to the highest level. He was in the game himself, he was behaving as if he was part of the players on the pitch, he was very deep into the game so were all of us. And we reacted to the situation in different manners. We are both emotional and obviously that poured out at the end of the game. I think it was a very, very difficult challenge but through the mighty God, through the mercy of the Almighty God we went through. I've always believed that God will see us through. He has never failed me especially throughout this journey. And on such day at that moment he spoke and He spoke very loud.
On AFCON 2021 expectations
President: To put it blunt, I expect this team to go all the way. I've not seen a collection of young but united warriors like we currently have in this squad. Twenty Eight (28) warriors who ready to represent their country, ready to make their country proud and i think the atmosphere around the team, the preparation, the work of the Technical team will eventually pay off. I've always said that when it comes to talents, we can match up against any country in the African continent and this team is full of talents and the talent will show on the pitch and the team will compete very well in Cameroon.
On catch them Young refereeing policy
I want to talk about refereeing in general taking cognizance of where we started this journey we came at the time that Anas expose had taken away about 77% of our most experienced referees were affected and we were faced with the Issue of introducing new ones and we identifying new ones. So we first of all had to identify the problems within the refereeing sector, and what we did was to set up the various facets of the referees' structure to ensure there is a clear division of responsibility. We had at the top of the referees committee and below the referees committee we had the match review panel, we had the grading and classification panel, we had the Physical instructors Panel and then we had the Technical instructors Panel. And all the committees hold different responsibilities, they have different powers. And that ensured that there's equity and good spread of responsibility across the board.
On Investment in Referees and training 
Then we look at investing in training of referees - We've invited across board by way of training capacity building. Physical instructors went through training, Match Commissioners went through training, Technical instructors went through training, referees went through training, and we also had integrity training taking place. We had communication in refereeing taking place etc.
Then we said look, we have a large scale of referees in this country so let's go down again and what we did was to introduce the catch them young refereeing policy where kids from the age of 10, 11, 12 up to 20 were given the opportunity to express their passion to join the frame and to be thought into the act of refereeing.
This we have done across all the ten regions, we have close to a thousand young girls and boys who have expressed interest, who have gone through various forms of training and currently officiating matches. This was manifested during the KGL U-17 club Champions League where products from the catch them young refereeing policy were given the platform to be part of the U-17 soccer fiesta.
This is what gladdens my heart. If you look at the talents nobody will tell you Ghana holds a big future in refereeing. And very soon we are going to produce super fantastic referees in the game on the African continent. We got to stick to this strategy and invest more in the young boys and girls and I believe that refereeing in general will improve. Don't forget that we've enhanced compensation to referees in this country when they officiate games.
We've also introduced our partnership with InterCity STC as partner for our Leagues – the Women's League, the Division One League, and the Ghana Premier League. All these is aimed towards improving refereeing in this country plus a sponsorship form ZAZ that ensures that all the referees have well kitted and neatly dressed in uniforms during the season. Refereeing has been key on the agenda and we've been very proactive.
Referees who have not been up to speed are taken through due process ie when clubs complain about bad officiating etc. - the match review panel is there to look at the performances and also advise accordingly. I think we are on the right track - refereeing will definitely be on the rise.
Don't forget we also invested in Communication gadgets for match officials and we are going to continue to invest more in communication gadgets. We are part of a team engaging CAF and and FIFA for the introduction of the Video Assistant Referee (VAR) in Ghana so I think we are in the right way.
On active players taking part in GFA Licence D coaching course
President: I think that first of all, the end game is to offer the D License to everybody who is interested as a beginner to enter into the course. We've been offering the D License across all the 10 regions as many as we can and I'm extremely happy that players like Emmanuel Clottey and Yahya Mohammed took the opportunity to educate themselves even when they are still active players and that's very positive. Going into coaching very early in your career takes time but you can make it.
I've always said that capacity building is key for me and I believe that giving people the opportunity to learn and share ideas is the only way our Industry can grow so you can see that we've been very aggressive with the capacity building, by way of coaching, administration and other areas of the football ecosystem. We've been very proactive and we are not going to stop with the capacity building so we are going to roll out License C, License D, License B and License A very soon. The whole idea is to ensure that our coaches are up to speed in coaching in the world.
On KGL-U-17 Champions League concept and how it began
Well, so right from the word go, I offered myself to be Chairman of the national juvenile committee as the President of the Football Association and at the national juvenile committee level, one of the key things we settled on, was to make sure that juvenile football was properly organized in Ghana and to ensure that the we give the RFA's support in that direction.
We ensured that registration of players took place; we ensured that all the leagues in all the regions took place and took place successfully and at the end of the season the champions from various regions qualified to participate in the KGL inter club youth 17 which was staged in Accra. All the regions were represented by their champions with the exception of Greater Accra and Ashanti Regions that were represented by two clubs so in total, we had 12 clubs competing. We did form an LOC chaired by Dr. Daniel Mckorley and they ensured the competition was very well organized.
Like I had already said, we had products of the Catch them young refereeing policy being the match officials for the tournament and I believe any young boy who participated in the competition went home very excited because they are already national heroes and for the first time, Juvenile football was live on Television and on social media platforms almost all the games were broadcasted which was unprecedented in the history of Ghanaian football and the super talents that came out have already gained national recognition and some of them are receiving call ups to the national  U-17 team.
On transitional plan for these kids
They have their current teams in front of them and I'm very happy about this. And beyond this competition, we also introduced the Women Super Sup and Division One League Super Cup and there is one more competition I'm going to propose to the Executive Council for us to introduce this particular year.
On plans for other GFA competitions aside the Leagues
My idea for this year is to take all competitions to every corner not only by TV but by organization and for e.g.: we'll have Volta region organizing one of the competitions, we'll have Central region hosting another competition and then maybe have Western region being the host for another competition. I'm going to take all the competitions to every corner of the country to boost visibly, community consumption, generate interest and build local heroes.
Support for Regional Football Associations (RFA)
It is the responsibility of the Executive Council to recognize that the RFAs are part of the governance structure of football in this country. They truly represent the national secretariat at the regional level for which reason they also need support and resources even though they are also mandated to look for their own funding. So what we decided to do was to support the RFA chairmen and for the first time every RFA chairman do receive monthly allowance from the Association. This has never been the case.
So we have started a monthly financial support for our RFA leadership across the 10 regions. Beyond that, there are the annual subventions we do send to the RFAs for the running of their offices and for payment of salaries for some of the staff at the various regions.
The FA also decided to invest $100,000 in footballs and these footballs were distributed to the various FAs across the country for Regional grass root football to commence and beyond that he FA also invested about $280,000 in the borehole strategy and the borehole strategy are being constructed across all the regions and some of the Game Centers that are controlled by the RFAs are beneficiaries of the borehole strategy.
The whole idea is that, we want to support the RFAsto really execute their mandate. The $1million relationship we have with KGL will also be a support to juvenile football across the country. In the New Year, we are going to invest the trophies, medals and some footballs the RFAS are going to use in their organization of juvenile Leagues across the country. If the RFAs do well, Ghana Football will also do well. So it's very important for all of us to place premium on the work of the RFAs.
On financial support from CAF, FIFA and internally generated income Clearly, the newly established Marketing Department headed by Jamil Maraby have been working very well. In the new year, my intention is for the Executive Council to add at least two more personnel to the Department because of the workload and to ensure that we are able to be very aggressive in the market to get more partners and more resources and obviously we do receive support from FIFA, Puma, CAF and the rest. Fortunately, through our relationships that we've set up whether via, awake or Beyond the Return or advertising during the national team games have brought us few money here and there and that's what we used to develop the general agenda of the Football Association.
On Technical Centre at Prampram and how much it brings to the Association in terms of revenue
It's something we intend to really harness with our project in Prampram. Prampram will receive a facelift beginning this New Year and we hope the face lift will enable us bring some money because clearly we need to diversify and bring new strings and look at non-conventional ways of bringing money.
On having too many domestic competitions
No I think that we need to do more , we have to introduce more because that's the essence of development, we need to create products that are attractive, that will excite the people and we need to give opportunity to every kid in the country to play Association Football and the competitions that we currently have are just not enough.
On last season's Ghana Premier League
Well, Last season was one of the best seasons I've seen in recent times. The energy levels from the clubs, the quality of play, and quality of officiating and normal football ambiance that we created at the football games. I remember clearly the game involving Hearts of Oak and Olympics, Hearts of Oak and Kotoko, the duels between Dreams FC and Asante Kotoko, Dreams FC and Hearts of Oak and many, many more.
I remember the battle between Gold Stars and Samartex, I mean amazing games, amazing football atmosphere and amazing coverage to millions of homes which was unprecedented. One weekend we have WPL games live, DOL games Live, GPL live and you don't know which one to watch at the same time and that's where the work of the competitions Department comes in for me and that's why they are taking schedules very serious this time around because it's important that we offer everybody the opportunity to watch the games as and when they want.
StarTimes are broadcasting more games, the GFA are streaming a lot of games and the GFA app will ensure that the games will come to millions of homes across the country and beyond. I think we've given a lot of opening to people to have access to Ghanaian games and digitization of football – bridging the gap between the digital world and football is taking much more prominence than before and I'm extremely happy about the future.
On financial position of the FA
The Marketing Department of the GFA led by Jamil Maraby has been amazing to be honest. Yes we've relied on our relationships that we've created to bring in some revenue and to be fair, that is what has supported all these developmental strategies that we've had, but it's not been easy to be honest with you. The support form FIFA has come in handy all the time, CAF has also come in handy and I think if we are able to strengthen the marketing department given the way the Communication Department have been working, I think the FA is opening up a lot more and there'll be more partners and there will be more money.
On the creation of other Departments
I did say at the very beginning that I'll love to lead a set up that'll ensure that there is an efficient national Secretariat and efficient national secretariat means finding the right personnel to fill the various departments. The FA never had an HR Department, we set up a Marketing Department, Competitions Department, we enhanced the Finance Department with new personnel and of course the Integrity Department, National teams Department and all these ensures that we brought more efficiency in the system and each was specialized in the areas and that is helping in the forward match of our Association.
There's a new feel when you enter into the Association because of the new way we are doing football and I think that if we continue this way, the game will improve. Introducing the same day service, for people who make request for introductory letters etc. has been so useful and beneficial and we are striving to make it more efficient. I think we are in the right way.
We resourced the Communications Department, you can say that the FA is very visible on all fronts. We've opened the FA for people to have all the information that they want, it's available. We introduced the GFA News which is our news outlet, we've revamped the official website, and we've brought more energy to our Twitter platform, our Facebook platform, Instagram platform.
I think that we've made the FA a lot more visible for people. The FA has become more appealing to the consumers of football and the information is available everywhere, you go on the website it's up to speed, you go on Twitter there's news, GFA news is coming up with news items. Now we've introduced another online representation which is the App - The Ghana Football App. We are just carrying the field to the door step of the consumer.
On Research and statistics Department
I think that is very, very important, data collection is one, data keeping is another. It's important that we move into this area. We will collect more data and archives so that the data will stand a test of time. At times it's quite disappointing when people want a certain level of information and it's not available or information's are distorted which is not what we want so definitely that Department will be coming up soon.
On Hearts of Oak's disappointing campaign in Africa
I think specifically with Hearts of Oak, a lot of factors point into the way things went for them. I think that if they were to compete again today things will look different. I think our League is very, very competitive, it's also true that when you want to compete in the Champions League it's important for you to look at your squad, beef up your squad, make sure that you have the right levels of intangible assets for the platform in which you are going to compete. I think Hearts of Oak clearly have learnt their lessons. They had not been on that Africa platform for so long and obviously they had lost some of the time. And I believe that if they had the opportunity again to complete in Africa they will do much better, just like every other club in the League.
On his name being mentioned over poor refereeing in domestic competitions especially the Ghana Premier League
I'm not worried, but I sometimes get concerned because as a leader of this family, if things are good someone will definitely mention your name, If it things turn out to be bad, someone will definitely mention your name. It's normal in our chosen career. But when my name comes up it tells me that, there's the need for us to continue with our way of doing the business especially capacity building, with information sharing with communication and with engaging. And for me that's the motivation that comes up when my name comes up every day. I will not renege on that effort to ensure that our people are educated, our people are engaged, our people get the rights to information that they want and we open our doors at every time for people who want to engage us.
On hooliganism in Division One League especially in Zone One
I think that last year we had a lot of work to do, just to ensure that people believe in the work, for people to know that referees do not intentionally come to games with pre-determined mind sets. But most importantly to re assure members that, we will continue to offer a level playing field to every member of the Football Association to be able to be competitive and I think we did good. Engaging our members, speaking to them and feedback opportunities is always the way to go. The football association will not depart from it.
On borehole project being implemented
The borehole project is part of the clear strategy in improving competitions. How do we do that? We want to ensure that our pitches are healthy and that can only be achieved when there's regular flow of water, hence our investment in the borehole strategy. In all we are constructing 80 boreholes across the country. At the moment 60 have been constructed and soon the last batch will be done. And once water starts to flow all over the country, I believe everybody will start to enjoy. What's important is the life beyond the construction of the borehole. We need to think about how to effectively use the borehole, how we keep our pitches healthy, how to ensure that our boreholes are kept in a safe manner to ensure that it's life span is not short. So there will be a lot of engagement opportunities between ourselves and our members just to ensure that there is regular flow of water and our pitches are always healthy and of course that will result in producing good players for the industry.
On support for Division One League clubs through regular supply of footballs
We say football is all about balls. And without balls there will not be football. So again through our relationship that we established, we have been able to supply TEMPO footballs to Premier and Division One League clubs. Let me be the first to admit that some of the footballs have delayed but I'm very positive that the next two weeks or there about we will have some of the balls coming through. Again we are going to repeat the same strategy this year. Clubs have already been informed that they are going to have 40 footballs for the Division One clubs, Premier League clubs will receive 50, and Women's Premier League clubs have received theirs already via our partnership with Decathlon. So we intend to stay in that line, we will invest more into footballs to ensure that footballs are available for every footballer in our dear country.
On the performance of Hasaacas Ladies at WAFU and Africa level
Let me use this opportunity to say kudos to Hasaacas Ladies, especially to the leader of the team uncle NAB we call him, to Evelyn Nsiah, to Coach Yusif Basigi, and to all the players led by Jenet Egyir. They have made themselves proud, they've made me proud, and they've made Ghana football proud. It encourages me; it encourages the Executive Council to do more for Women's football. They have just reconfirmed what we've all believed in. That Women's football if encouraged will take Ghana to a level that we all desire. Don't forget that in 1999 the Black Queens were the first to take Ghana to the senior World Cup. They were the first senior Ghana team to take Ghana a senior world cup. So they've shown that if we give them the right level of support they can deliver and the performance of Hasaacas Ladies gives us believe that it can be done. Also tells all of us that our Women's League is of the highest quality. And this year the Women's Leagues are going to receive more attention by way id sponsorship, they are going to be more visible on free to air TV through our partnership with MaxTV. Live games will be available for everyone to watch. I think this is the highest level of motivation we can offer our girls who belong to that industry.
GFA COMMUNICATIONS