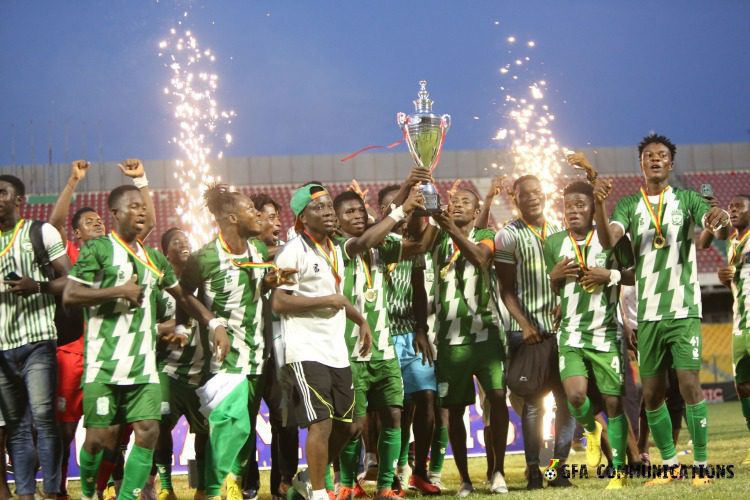 President Kurt Edwin Simeon-Okraku has extended his heartfelt congratulations to Bofoakwa Tano on their qualification to the Premier League after a 16-year absence.
The Sunyani based club defeated Techiman Eleven Wonders in a crucial playoff final at the Accra Sports stadium on Tuesday, May 30, 2023.
''It is with immense pleasure that I extend my warmest congratulations to you and Bofoakwa Tano F.C. on your promotion to the Ghana Premier League after a remarkable 16-year journey. Your club's dedication, perseverance, and unwavering spirit have finally paid off, and you have rightfully earned your place among the elite clubs of our nation.
This momentous occasion is a testament to the hard work, commitment, and passion that you have displayed throughout the years. The road to the Premier League is often challenging and demanding, but your determination to succeed has been truly inspirational.
The return of Bofoakwa Tano F.C. to the top-flight of Ghana football carries immense significance, not only for your club but also for the entire footballing community. The memories and the joy that you will bring to your loyal supporters cannot be understated. They have demonstrated unwavering support and loyalty even during the most challenging times. This promotion is a testament to their unwavering faith and dedication, and it is a moment that they will cherish for a lifetime.
As the President of the Ghana Football Association, I want to assure you that we recognize the magnitude of your accomplishment. Your promotion showcases the strength and competitiveness of our domestic leagues, and it serves as a beacon of hope and inspiration for clubs at all levels. Your remarkable journey reminds us that with hard work, unity, and a strong sense of purpose, dreams can indeed become a reality.
I would like to extend my congratulations to the entire Bofoakwa Tano F.C. family who have contributed to this extraordinary achievement. This promotion is a testament to your collective efforts and teamwork.
As you embark on this new chapter in the Ghana Premier League, I encourage you to carry forward the values and principles that have defined your club throughout its rich history. Remain committed to promoting fair play, respect, and sportsmanship, both on and off the field. Embrace the challenges that lie ahead with the same tenacity and determination that has brought you this far, and I am confident that you will continue to achieve great success. And you will continue to make us all proud in the seasons to come.
Wishing you every success in your Premier League journey. Congratulations on your historic achievement!'' the letter read.
Bofoakwa Tano joins Kpando Heart of Lions and Nations FC for next season's betPawa Premier League.
GFA COMMUNICATIONS