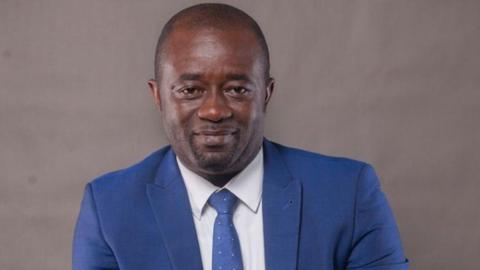 Mr Kurt Edwin Simeon-Okraku was elected as President of the Ghana Football Association on Friday 25th October, 2019. Coming from a football-family, his love for the game saw him establish a Colts football club in Accra, Shooting Stars FC at the young age of 17 years. He earned a Bachelor of Arts Degree at University of Ghana in 1997, where he  became one of the first volunteer sports presenters/producer for the campus-based radio station, Radio Univers. Still at a young age, Kurt became the Chairman of the ever famous Colts club Jawara Babies and later served as Communication Director of Accra-based Afienya United FC.
Kurt has always believed that preparation is everything and that has guided him throughout his journey. From pursuing a Diploma in Journalism at the Ghana Institute of Journalism he went on to study Marketing at the Emile Woolf Colleges in London where he earned an Advanced Certificate. With a desire to prepare himself in all aspects of the game, Kurt attended a First Aiders Course and a Microsoft Certified System Engineering course all in Manchester, UK.  The current President of the Ghana Football Association also holds an MBA in Business Administration- Football Industries from University of Liverpool as well as a Certificate in Hospitality and Tourism Management at the Manchester Trinity College, UK.
On his return to Ghana, he was appointed as the Communications and Marketing Director of Ghana's oldest football club, Accra Hearts of Oak and later as Administrative Manager of the Ghana League Clubs Association (GHALCA).  Even after forming his own club Dreams FC in 2009, he served other football clubs in various capacities such as Wassaman FC where he was the General Manager. Kurt's rise in the game caught the attention of the Ghana Football Association's leadership which saw his appointment as a member of the FA Cup Organising Committee. He rose steadily to become a vice Chairman of the Committee from 2016-2017 and eventually chaired the Committee from 2017-2018.  His spectacular performance on the FA Cup Committee resulted in his election onto the GFA's Executive Council between 2015-2018. In 2018, Kurt named as Chairman of the Black Stars "B" Management Committee. Now 49 years old, Kurt is married with two daughters and a son.