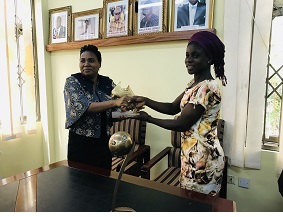 Ghana captain Mukarama Abdulai has received the FIFA Adidas Golden Boot and Bronzeball she won at the 2018 FIFA U-17 Women's World Cup staged in Uruguay.
The Black Maidens captain emerged as topscorer of the competition with seven goals in four matches and also collected the Adidas Bronze Ball (third best player) behind Spain's Claudia Pina and Nicole Perez of Mexico.
FIFA sent her award to the Ghana FA recently to be handed over to the player since Ghana had been eliminated from the competition before the awards presentation at the end of the competition.
GFA Normalisation Committee member Madam Naa Odofoley Nortey presented the awards to the player on Tuesday in the presence of officials of some female clubs who were at the GFA Secretariat for a meeting.
Abdulai who is Ghana's all-time top scorer in FIFA U-17 Women's World Cup history was also nominated for the African Women's Player of the Year award.