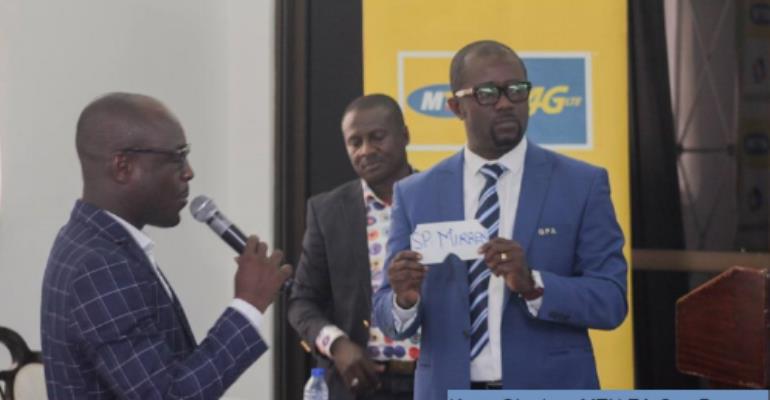 The draw for the 2017/18 MTN FA Cup Round of 64 will be held at the M Plaza Hotel on Tuesday, May 15, 2018 at 11am.
The draw involving 16 Premier League clubs, 24 qualified clubs from the Division One League and 24 clubs from the Division Two League will be paired to determine which club qualifies to the next stage of the competition.
This round will see the "big boys" of the premier league such as the defending MTN FA Cup champions, Asante Kotoko SC, last year's runners up Accra Hearts of Oak SC, reigning Premier League champions Aduana Stars and other topflight sides all joining the competition to fight for the giant trophy, the prize money and the prestige of representing Ghana in the Confederations Cup.
This season marks the eight year of MTN's sponsorship of the FA Cup competition since its reintroduction in the 2010/2011 football season.
Here are the teams who will be in the draw of the Round of 64 of the competition:
 
HOME
Town & REGION
DIVISION
1
Sunyani DC United FC
Sunyani, Brong Ahafo Region
2nd Division
2
Emmanuel FC
Accra, Greater Accra Region
2nd Division
3
Immigration FC
Accra Greater Accra Region
2nd Division
4
Oil City FC
Takoradi, Western Region
2nd Division
5
Bolga Soccer Masters FC
Bolgatanga, Upper East Region
2nd Division
6
Bamboi City FC
Bamboi, Brong Ahafo Region RFA
2nd Division
7
Enchi All Stars FC
Enchi, Western Region
2nd Division
8
Bis Paradise FC
Sekondi, Western Region
2nd Division
9
Suamponman FC
Suamponman, Central Region
2nd Division
10
Soccer Intellectuals FC
Cape Coast, Central Region
2nd Division
11
Winneba United FC
Winneba, Central Region
2nd Division
12
Sankara Nationals FC
Tamale, Northern Region
2nd Division
13
Kintampo Top Talent FC
Kintampo, Brong Ahafo Region
2nd Division
14
Kenyasi New Dreams FC
Kenyasi, Brong Ahafo Region
2nd Division
15
Jeffisi United FC
Wa, Upper West Region
2nd Division
16
River Plate Athletic Club
Duase, Eastern Region
2nd Division
17
Thunderbolt FC
Apremoase, Ashanti Region
2nd Division
18
Mepom Vatens FC
Mepom, Eastern Region
2nd Division
19
Kwahu Youth Academy
Nkawkaw, Eastern Region
2nd Division
20
Zuarungu FC
Paga, Upper East Region
2nd Division
21
Beberto FC
Agbozume, Volta Region
2nd Division
22
Akatsi All Stars FC
Akatsi, Volta Region
2nd Division
23
Likpe Heroes FC
Likpe, Volta Region
2nd Division
24
Madina Republicans FC
Madina, Greater Accra Region
2nd Division
1
Tema Youth FC
Tema, Greater Accra Region
1st Division
2
Tamale City FC
Tamale, Northern Region
1st Division
3
Brong Ahafo United FC
Sunyani, Brong Ahafo Region
1st Division
4
Wa Suntaa FC
Wa, Upper East Region
1st Division
5
Achiken FC or Asokwa Deportivo FC
Ashanti Region
1st Division
6
Venomous Vipers FC
Cape Coast, Central Region
1st Division
7
Berekum Arsenals FC
Berekum, Central Region
1st Division
8
Vision FC
Accra, Greater Accra Region
1st Division
9
Tudu Mighty Jets FC
Tudu, Greater Accra Region
1st Division
10
FC Nania
Legon, Greater Accra Region
1st Division
11
Unity FC
Kenyasi, Brong Ahafo Region
1st Division
12
Techiman City FC
Techiman, Brong Ahafo Region
1st Division
13
Real Tamale United FC
Tamale, Northern Region
1st Division
14
New Edubiase FC
Bekwai, Ashanti Region
1st Division
15
Bibiani Goldstars SC
Bibiani, Western Region
1st Division
16
FC Samartex 1996
Samreboi, Western Region
1st Division
17
Nzema Kotoko FC
Nzema, Western Region
1st Division
18
Kotoku Royals FC
Oda, Eastern Region
1st Division
19
Agbozume Weavers FC
Abgozume, Volta Region
1st Division
20
Heart of Lions FC
Kpando, Volta Region
1st Division
21
Unistar Academy FC
Kasoa, Central Region
1st Division
22
Young Apostles FC
Sunyani, Brong Ahafo
1st Division
23
Accra Young Wise FC
Amafrom, Greater Accra Region
1st Division
24
Star Madrid FC
Kasoa, Central Region
1st Division
1
Accra Hearts of Oak SC
Cape Coast, Central Region
Premier Division
2
Asante Kotoko SC
Kumasi, Ashanti Region
Premier Division
3
Wa All Stars FC
Wa, Upper West Region
Premier Division
4
Aduana Stars FC
Dormaa, Brong Ahafo Region
Premier Division
5
Berekum Chelsea FC
Berekum, Brong Ahafo Region
Premier Division
6
Bechem United FC
Bechem, Brong Ahafo Region
Premier Division
7
Techiman Eleven Wonders FC
Techiman, Brong Ahafo Region
Premier Division
8
Ashanti Gold SC
Obuasi, Ashanti Region
Premier Division
9
Dreams FC
Dawu, Eastern Region
Premier Division
10
WAFA SC
Sogakope, Volta Region
Premier Division
11
Inter Allies FC
Tema, Greater Accra Region
Premier Division
12
Liberty Professionals FC
Dansoman, Greater Accra
Premier Division
13
Elmina Sharks FC
Elmina, Central Region
Premier Division
14
Cape Coast M. Dwarfs FC
Cape Coast, Central Region
Premier Division
15
Medeama SC
Tarkwa, Western Region
Premier Division
16
Karela FC
Anyinase, Western Region
Premier Division